November 13, 2023 | Food Trends
---
Roland Foods' 2024 Fine Foods Industry Trends & Predictions Guide
---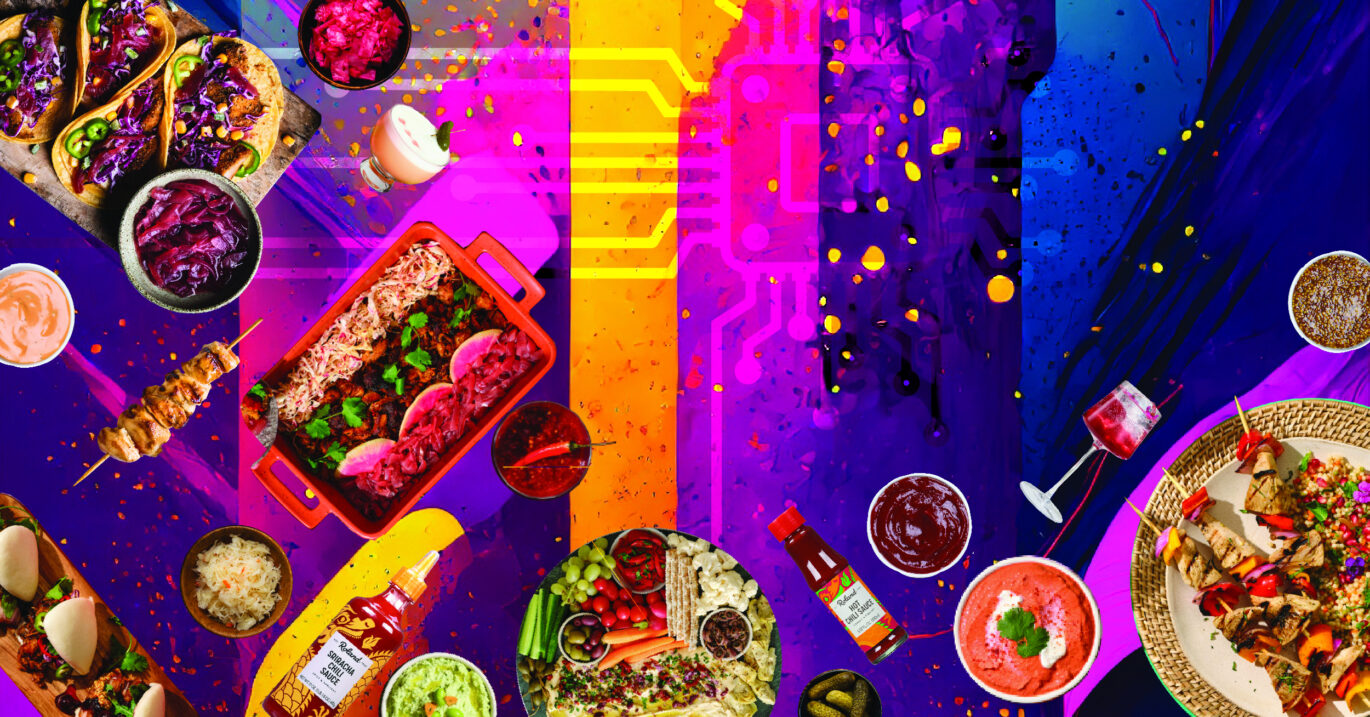 2023 was a year full of exciting advancements, flavor exploration, and delicious food. We saw a boom in umami flavors, unique fusion cuisines, and innovative dining experiences.
Roland Foods is celebrating our 90th anniversary in 2024, and in our nine decades in this industry, we have witnessed some of the greatest evolutions in food. We predict this new year will bring with it even more innovation and exploration when it comes to what we eat.
With that said, we are pleased to share our predictions for 2024's trends in food, dining, and retail.
In this Guide:
FUNctional Foods – Fermented Foods. NoLo Beverages. The Mediterranean Diet.
Sauce on Everything! – Menu Penetration. Social Media Sensation. Global Exploration.
Going Global – Authentic Flavors and Regional Cuisine From Latin America.
Moving Forward in the Restaurant Industry – Flavor Tourism. Generation AI. Mega Menus and Time-Saving Ingredients.
Keep reading for the full trend guide!
Prefer a PDF version? Get the digital guide here.
FUNctional Foods
Foods with function. We predict that consumers will continue to be extremely conscious about the food they eat. Especially at the top of the year, people will be reevaluating their diets with a renewed focus on health. Food is not just a source of sustenance, it's a vital component of one's overall well-being.
Did You Know? Year after year, the top three most popular New Year Resolutions include living a healthier lifestyle. In order, exercising more, eating healthier, and losing weight were the top resolutions in 2023.
We predict the three health-focused food trends outlined below will be all the rage in 2024.

A Fermentation Frenzy!
It may sound hard to believe, but virtually every culture in the world practices fermentation. This popular style of preserving food dates back to 2030 BC. Fermentation is a natural process that not only prolongs the lifespan of a product but in turn, also offers many health benefits.
Fermentation occurs in many ways; chances are some of your favorite foods go through a fermentation process. Aside from anything pickled, wine, beer, cheese, tea, bread, and even chocolate are all products of fermentation!
So why fermentation? Fermented foods are natural probiotics, meaning they aid in digestion and encourage a healthy gut microbiome. The enzymes and bacteria produced during the fermentation process can aid in reducing inflammation and promoting a healthy immune system.
Consumers are curious about fermentation. In 2020, the overall interest in fermented foods increased by over 149%. With the growing conversation around fermentation, the global fermented foods market is forecasted to grow exponentially, reaching about $989.2 billion by 2032.

Pickle This
Bread and butter or classic dill? Pickles of all shapes, sizes, and flavors were all the rage in 2023. Consumers flooded social media with their love for the salty and sour fermented snack and got creative with pickle recipes and creations. Dill pickle soup, pickle pizza, pickle dip, and pickle bread are just a few innovative dishes we've been seeing.
In addition to increased interest in pickles and other preserved vegetables, fermented dairy products are dominating the fermentation market and are major stakeholders in the market's projected rise. Between 2022 and 2030, the global fermented ingredients market is expected to grow a Compound Annual Growth Rate of 4.5%. Yogurt, buttermilk, kefir, and cottage cheese are some of the most popular fermented dairy products available at most major grocery retailers.
Cottage cheese is #trending! Have you seen the social media buzz around cottage cheese? In the summer of 2023, consumers took to social platforms to rage about cottage cheese's health benefits and share hundreds of recipe ideas.
Check out our recipes for three unique whipped cottage cheese sandwiches.
We predict this trend will expand from retail into foodservice in 2024 with new and innovative fermented menu items emerging in national chains and quick-service restaurants. In 2023, pickled foods were on 30% of menus; we expect that number to continue to rise in 2024. We also predict that more unique fermented items such as kimchi and kefir will become regulars on some of the most well-known menus across the US.
At Roland Foods, we've noticed an increase in customer interest of our own fermented products, including our white miso paste, pickled red onions, and cornichons.
Thirsty for a fermented cocktail? Discover our Cornichon Pickle Whiskey Sour recipe.
Want to learn more about our pickled offerings? Discover our product spotlight here.
A New Wave of NoLo (No and Low Alcohol)

As consumers (especially younger generations) focus on their health and lifestyle, we expect to see non-alcoholic beverages take over in 2024. In 2023 alone, 34% of Americans were trying to reduce their alcohol consumption, and we anticipate an even higher percentage in 2024.
Non-alcoholic beverage sales have been soaring over the last two years, and according to Fior Markets, the global non-alcoholic beverages market is expected to grow from $923 million to $1.7 trillion by 2028. Generation Z is leading the way in the NoLo trend - on average, they are drinking 20% less than millennials and are hyper-aware of how alcohol consumption is impacting their mental health.
No alcohol does not mean no fun! Today, there are numerous options for nonalcoholic beverages including low- or no-ABV beer, wine, and spirits. In fact, the nonalcoholic beer industry is projected to reach $40 billion in the next 10 years.
Mocktails are staples for those abstaining from alcohol, but gone are the days of the basic "virgin" cocktails. Mocktails can be just as exciting as any boozy cocktail and require the same skills, time, and attention from a mixologist or bartender. For this reason, some bars are turning away from the word "mocktail" and are using "zero-proof" or "non-alcoholic" instead.
This desire to cut back on booze has helped spark more interest in mocktails and other non-alcoholic beverages. In fact, a recent survey by Heineken 0.0 and OnePoll found since the start of the pandemic, 52% of Gen Zers and millennials said their consumption of mocktails and alcohol-free beer had increased. And people continue to look for alcohol-free solutions, if only for a short commitment period such as Dry January or Sober October.
Want to learn more about non-alcoholic cocktails? Read our full guide here.
In 2024, every restaurant and bar should have a selection of zero-proof and low-alcoholic beverages on the menu. In 2023, non-alcoholic beverages were on 24% of fine dining menus, a 12% increase from 2022. In the new year, we predict to see this number rise not only within fine dining restaurants, but also in national chains and casual dining establishments.
Not sold on the mocktail yet? This is why we think NoLo beverages are a menu must in 2024:
Inclusivity –Offering non-alcoholic beverages outside of the typical soft drinks will broaden your customer base and attract new consumers looking for no- or low-ABV options.
Profitability – A survey by Nielsen CGA concluded that 80% of consumers will pay the same amount or more for a mocktail or non-alcoholic beverage as they would an alcoholic one. Depending on the ingredients used, the absence of alcohol costs may make mocktails more profitable for your bar.
Visibility – Don't get left in the dust! Google searches for mocktails are up 59%, and consumers are searching for restaurants and bars that offer these no-ABV options.
Looking for some non-alcoholic beverage inspiration? We've got you covered. Explore our zero-proof recipes for Raspberry Rosé Spritzer, Cookie Butter Coconut Horchata, Spicy Virgin Bloody Mary, and Lychee Watermelon Refresher.
From Fad Diet to a Feel-Good Lifestyle | Embracing the Mediterranean Way
Unrealistic and unattainable fad diets are a thing of the past. In 2024, we predict to see more consumers switching to dietary lifestyles instead of restrictive diets.
Specifically, we expect the Mediterranean diet to become the new norm for many. Unlike so many of the fad diet trends, the Mediterranean diet is not restrictive and allows followers to lead a healthy and sustainable lifestyle. Whole grains, healthy fats, fish, fruits, and vegetables make up the bulk of this diet, but there are no restrictions on other food groups.
This dietary lifestyle has been around for centuries and was discovered rather than invented. The Mediterranean diet is based off the eating patterns of people in the Mediterranean region and encompasses much more than recipes and ingredients. The Mediterranean diet is truly a way of life. UNESCO, the United Nations Educational, Scientific and Cultural Organization, refers to the diet as "a social practice based on all the 'savoir-faire,' knowledge, and traditions ranging from the landscape to the table and covering the Mediterranean Basin, cultures, harvesting, fishing, conservation, processing, preparation, and cooking" (National Library of Medicine).
Of the world's five blue zones --areas with the lowest rate of chronic illness and highest life expectancies -- two of them fall in the Mediterranean region. Ikaria, Greece and Sardinia, Italy are both recognized for having some of the healthiest populations. The blue zones were identified by Dan Buettner during his search to locate pockets of the world where people are living the longest. Buettner's research has sparked quite the conversation and piqued the interest of health-conscious consumers across the globe. In August, Netflix released a documentary following Buettner to each of the blue zones in a quest to unlock their secrets of health.
2023 marked the sixth consecutive year the Mediterranean diet has been named the "Best Overall Diet" by US News and World Report. With proven health benefits and great-tasting meals, it's no wonder this diet has consistently been trending - see how Google searches for Mediterranean Food have steadily increased over the last five years. The diet's popularity is also attributed to its accessibility and sustainability.
Mediterranean ingredients have been at the core of the Roland Foods portfolio for 90 years, and we were founded on the principle of importing the highest quality ingredients from around the globe. Our Mediterranean selection has always been authentically sourced and remains at the center of our assortment. With such a rich selection of these items, we've accumulated more than a few recipes for mouth-watering Mediterranean dishes. These are just a few of our favorites:
Looking to learn more about the Mediterranean diet? Dive deeper in our comprehensive guide, The Mediterranean Kitchen: A Guide to Mediterranean Cuisine.
Sauces, Condiments, and Dips (Oh My!)

Sauce is a simple yet effective way for consumers to customize dishes and experiment with global flavors. In fact, Innova Market concluded that 39% of consumers are most likely to experiment with flavors through sauces, seasonings, and coatings. We've been noticing an uptick in unique sauce flavors and offerings across foodservice and retail. In 2024, we're predicting an expansion of global flavors in the sauce market, as consumers become more eager to try authentic ethnic cuisines.
Ready to try global sauces? Discover our full assortment of condiments, sauces, and spreads here.
Awesome Sauce!
Sauces are everywhere – they can be found on a staggering 94% of US menus across all restaurant concepts from QSR to fine dining. Not only are they popping up on menus, but they are taking center stage. Sauces are no longer an afterthought or add-on; they are becoming the focal point of dishes.
Social media is often a strong indicator of what's on the horizon for trends and fads. In the past 2 years, we've noticed some major sauce trends penetrating social media platforms like TikTok. The Pink Sauce, a mysterious dipping sauce with a vibrant bubble gum pink color, captivated TikTok users across the platform in 2022. The creator, Chef Pi, cultivated over 680 million views on the app under the hashtag pink sauce.
Sauce has even infiltrated mainstream media. Pop mogul Taylor Swift sparked some major sauce news when she was photographed enjoying a chicken finger with a side of ketchup and "seemingly ranch." X user @tswifterastour, who coined the phrase "seemingly ranch", became an overnight sensation, catching the attention of condiment giant Heinz. In response to the "seemingly ranch" social movement, the company announced they would be releasing a limited-time product, a mix of ketchup and ranch.
The YouTube channel First We Feast features a popular segment called HotOnes, where host Sean Evans interviews A-list celebrities while they eat chicken wings coated in extremely hot sauces. The segment has over 58 million views and has even released its hot sauce lineup for consumer purchase.
United States of Sauce
Nationally, ketchup has been America's most commonly used condiment for years. However, sauce preference varies drastically from state to state, and even between generations. Studies from Datassential have concluded that each generation has unique sauce preferences. Gen Z and Millennials are more adventurous, trying global sauces like gochujang, Thai sweet chili, and peanut sauce. On the other hand, Gen X and Boomers tend to stick to the classics, favoring mustard, tartar sauce, and mayonnaise.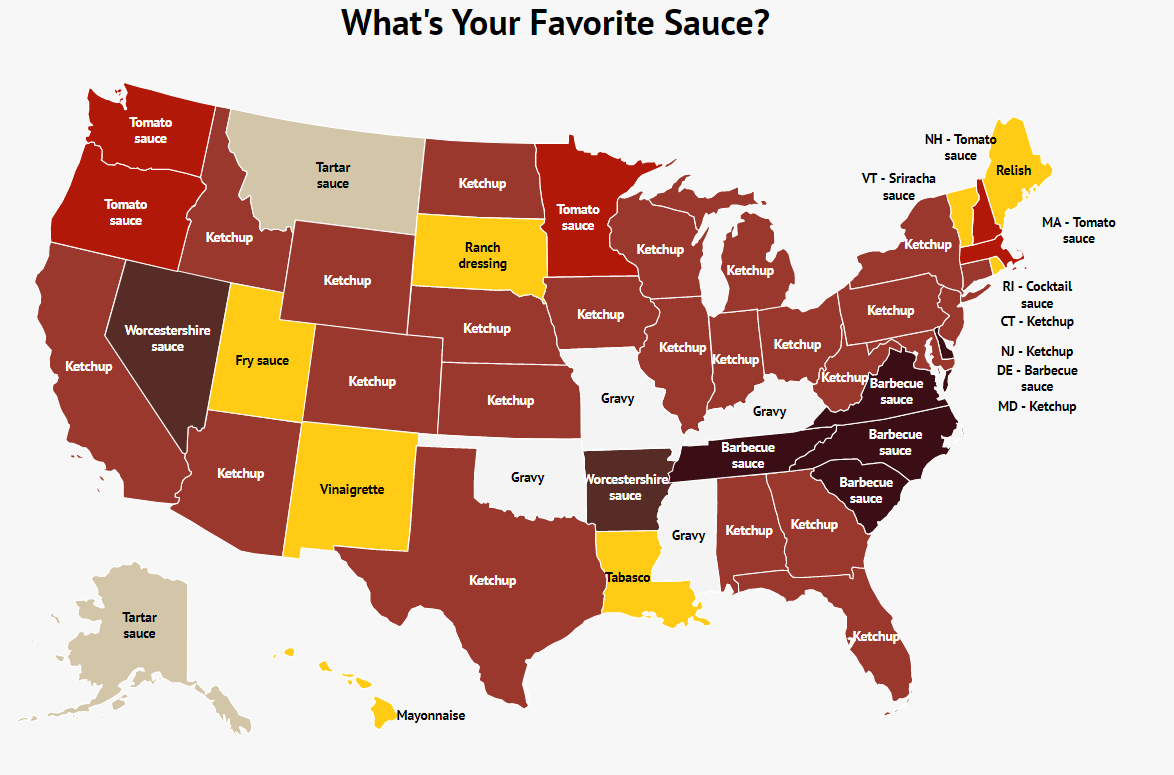 Ready to get saucy? Discover our recipe for three seafood sauces here.
Saucy Sustainability
Sauces, dips, and condiments are good for more than just dunking and dipping. Sauces can be comprised of common kitchen ingredients and byproducts of other dishes, making them a sustainable addition. By using leftover ingredients, kitchens can not only cut down on food waste, but on cost as well. For example, reserve leftover tender stems and small leaves from herbs like parsley and oregano and combine with oil, vinegar, garlic, and chili flakes to create a delicious and flavorful chimichurri sauce.
Saucing Up Foodservice
In the past year, we've been keeping a pulse on sauce impact within national chains and casual dining. In 2024 we're predicting a sauce renaissance within foodservice through new signature sauces, limited-time offerings, and a focus on bold flavors to attract the masses.
Not sure where to begin your sauce journey? Here are two of our favorite foodservice sauce offerings from 2023:
TGI Fridays Grilled and Sauced - Why We Love It: Innovation and Global Flavors
This is one of the biggest updates to the chain's menu since the launch of their Whiskey Glaze in the 90s. In this sauce promotion, guests can choose between nine signature sauces that feature flavors from around the globe. The Korean Red Chili and Al Pastor caught our eye.
McDonald's Big Mac Sauce – Why We Love It: Customer Appreciation and Strategic Limited-Time Offers
Since its launch in 1967, the McDonald's Big Mac has been the number two bestselling item for the fast-food magnate, behind only their iconic french fry. The signature Big Mac secret sauce has been a consumer favorite for decades, with many copycat recipes floating around the internet. In the early summer of 2023, the company announced that for a limited time, the famed Big Mac Sauce would join their assortment of pre-packaged dipping sauces. This sauce drop cultivated a swarm of media attention, landing features from major news outlets like Fox and NBC.
Sriracha Sensation | A Springboard for More Global Hot Sauces
Sriracha is just one of the many hot sauce varieties loved by consumers. In 2023, the conversation around sriracha exploded, causing major buzz in the news and on social media. Sriracha is a fiery hot sauce made from red chili peppers, and authentic recipes feature notes of chili and garlic with a subtle touch of sweetness. The sauce originated in Thailand but has become ubiquitous due to its versatility. The sauce can be added to a variety of dishes far beyond Asian cuisine.
Searching for a sriracha-forward recipe? Check out our Club Sandwich with Sriracha Mayo recipe, or our Sriracha Chili Garlic Noodles for a more traditional application.
We've experienced a massive leap in interest in our Roland® Sriracha Chili Sauce over the past two years. In 2022, we reported a 271% increase in sriracha orders, and current orders of foodservice sriracha are on trend to increase 194% by the end of 2023.
Our Sriracha is available in retail, foodservice, and industrial pack sizes. Discover our selection here.
So, what does this mean for 2024? We predict that sriracha is just the tip of the iceberg, and we're expecting to see an uptick in interest in other global chili sauces. Global heat has been a flavor trend observed for years now, as predicted in our 2022 trend guide. We believe the pursuit of heat will manifest itself in new and exciting hot sauces from across the globe in the coming year.
At Roland Foods, we've noticed a major increase in customer interest in our global chili sauces across retail and foodservice channels. From 2022 to 2023, we witnessed a 375% increase in foodservice Sambal Oelek orders, and a 133% increase in foodservice Garlic Chili Sauce orders. Our Chili Garlic Sauce is a top seller - from 2022 to 2023, we observed a 557% increase in retail orders, and a 433% increase in foodservice orders!
Speaking of global sauces…Check out our Fried Artichokes with Maple-Gochujang Dipping Sauce recipe.
Roland Foods' Global Hot Sauce and Condiment Glossary:
Sambal Oelek: A fiery Southeast Asian paste made from crushed red chilis. Less acidic compared to other hot sauces, it adds a well-balanced heat to dishes without overshadowing other elements within the meal. Try it in soups, dressings, grain bowls, stir-fries, and much more.
Discover our selection of Sambal Oelek here.
Chili Garlic Sauce: A spicy and savory condiment that can be used to spice up just about any dish. With the delicious flavor of garlic and the mouth-watering bite of chili peppers, this well-balanced hot sauce can be added to countless recipes or used during a meal to add heat where desired.
Discover our selection of Chili Garlic Sauce here.
Thai Sweet Chili Sauce: A simple and delicious accompaniment to a wide variety of dishes. This vividly colored sauce has visible chili pepper bits and garlic pieces, creating a rustic texture that is a vibrant addition to Asian and contemporary cuisine. Balanced by the addition of sugar, its sweet and spicy flavor is perfect for dunking grilled or fried seafood and chicken wings, dumplings, or spring rolls.
Learn more about Thai Sweet Chili Sauce in our blog, and discover our full product selection here.
Harissa Red Chili Spread: A flavorful North African condiment made from roasted hot red peppers, spices, garlic, and lemon juice. Spicy yet balanced and savory, it is an excellent replacement for sriracha when spread on sandwiches or combined into hummus.
Discover our selection of Harissa Red Chili Spread here.
Click here for our Asian Chili Sauces product spotlight.
Interested in other global sauces? Learn more in our What is Tahini Blog and the Glazes & Dunking Sauces product spotlight.
Going Global: Latin Cuisine & Authentic Flavors from Central and South America
"Latin" cuisine encompasses the food of many nations and several continents, covering 21 different countries and territories. Mexican, Colombian, Guatemalan, Peruvian, and Argentinian are just some of the many types of Latin cuisine!
Mexican cuisine has been one of the top international cuisine types enjoyed by Americans for years. As popularity around the cuisine grew within home cooking and restaurant dining, the cuisine took over QSR and fast-casual concepts with establishments such as Chilis, Taco Bell, Qdoba, and Chipotle highlighting Mexican flavors.
2023: The Year of the Burrito Bowl: Data from GrubHub concluded that, in 2023, the burrito bowl was America's favorite food, outranking burgers, fries, and pizza! (The delivery platform (GrubHub), which includes 320,000 restaurant partners in more than 4,000 cities, analyzed data from hundreds of thousands of users to gather these results.).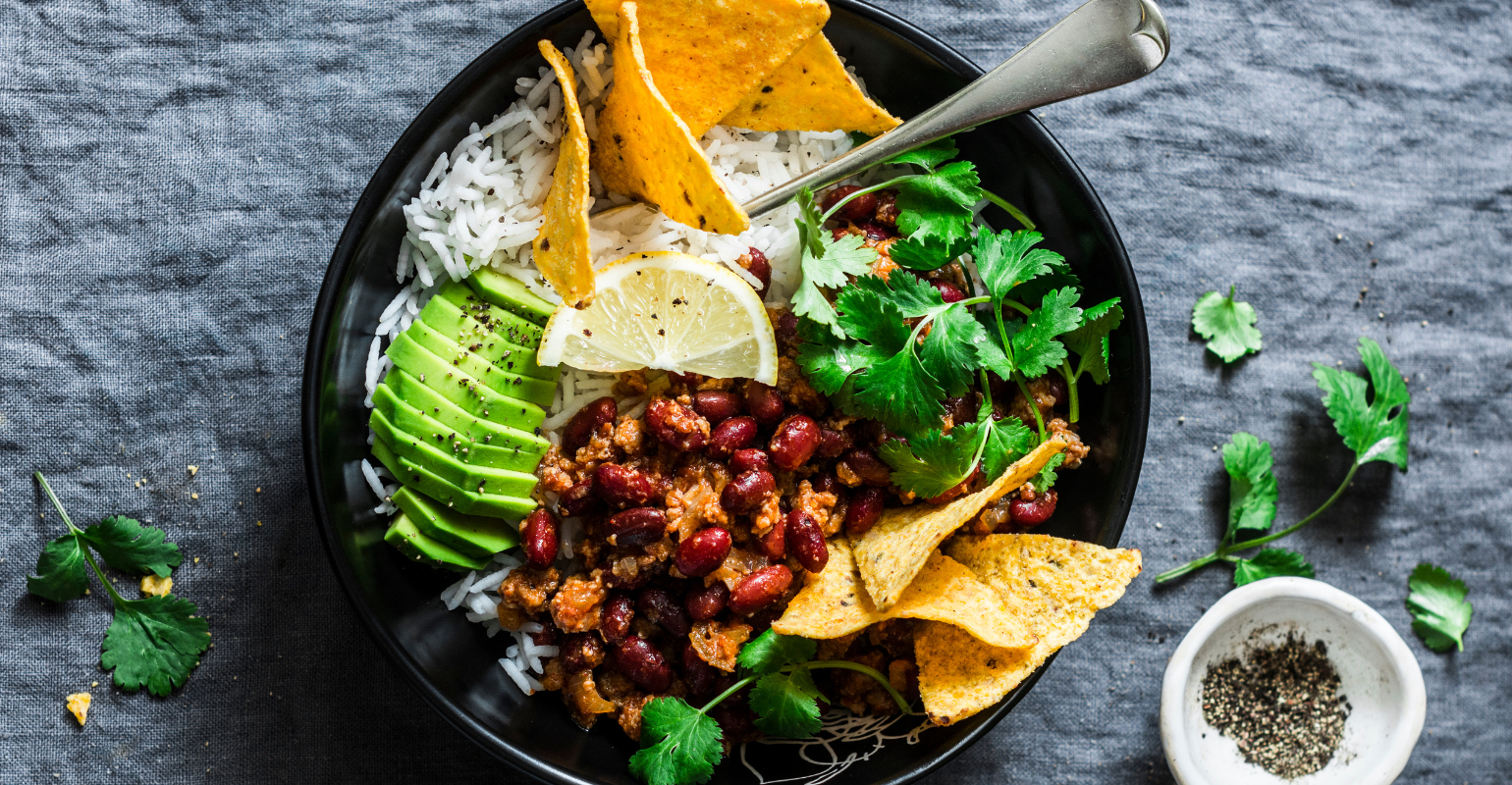 Now, consumers are ready to expand their palates and try something new. According to Datassential, 75% of US customers are interested in trying new and unique flavors. We're predicting to see spiked interest in regional Latin cuisine in 2024, with exploration into smaller nations' local dishes, and bold, spicy flavors. Americans' familiarity and love for Mexican cuisine leads us to believe they are ready to experiment with different Latin cuisines they have not tried before.
The numbers don't lie: Check out the steady increase in Google searches for "Latin Cuisine" over the last five years!
Latin Cuisine by Region:
Mexico – Corns, beans, squash, and avocados are just a few indigenous ingredients to Mexico that are commonly found in dishes across the country. Within the country, the nine major regions have each curated their own unique cuisines. Mexican cuisine is heavily influenced by the climate and geography of the country. Spanish and Mediterranean cuisines shaped the foundation of modern-day Mexican cuisine since the country's colonization in 1521.
Central America – The rich soil found in Central American countries is responsible for the abundance of fruits and vegetables in the region's cuisine. Unlike Mexican, Caribbean, and South American cuisine, chili peppers are not widely used in Central America. Corn, beans, rice, coconut, tropical fruits, and native vegetables are the basis of this region's dishes.
South America – South American cuisine features culinary influences from Spanish, Portuguese, and French cultures. Like other Latin cuisines, the dishes from South America vary by country, however, seafood is a staple for many. Ceviche is one of the most popular South American dishes, and chimichurri is a popular sauce choice for proteins. The 12 countries of South America have each defined a unique cuisine based on the country's geography, agriculture, and customs. The most notable differences from country to country come from the international influences. For example Argentinian cuisine is heavily influenced by Italian cooking, while food from Brazil features Portuguese and African influences.
Caribbean – Cuban, Puerto Rican, and Dominican cuisines are largely influenced by African and Spanish culinary traditions. The Hispanic Caribbean nations often use corn, beans, and starchy vegetables in their diets, as many other Latin nations do. Adobo seasoning and sofrito pastes are unique to this region and add tremendous flavor to Caribbean dishes.
Discover our Latin American-influenced recipes for Pork Carnitas Taco and Pork Belly Mostarda Bao Buns.

Stand-Out Latin Sauces

Many Latin cuisines have their own unique sauces and salsas that range from hot and spicy to sweet and salty. Salsa macha, for one, is quickly growing in popularity. Originating from Veracruz, Mexico, salsa macha is a condiment with chopped nuts, chili peppers, garlic, and seeds fried in oil. The texture of the sauce is very similar to our Spicy Chili Onion Crisp. According to Datassential, salsa macha is on 0.6% of US menus. While this may seem small, in the past 12 months, there has been a 72% increase in salsa matcha menu offerings, and a 343% increase over the last 4 years. This trend will only continue to grow in 2024.
Chimichurri is another popular sauce used across many Latin cuisines, most commonly in Argentina, Paraguay, and Uruguay. Recipes vary from country to country, but the foundation remains the same: a plethora of herbs, seasonings, and spices are added to olive oil and served on steaks and other meats or used as a dipping sauce for vegetables.
Sofritos are also unique to Latin American cooking and they can be used as a sauce, marinade, base for soups and stews, and much more. Like chimichurri, sofrito recipes are unique to each chef, but typically include a combination of tomatoes, spices, peppers, onions, and herbs sauteed in oil. Depending on the peppers used, sofrito can be hot and spicy! We predict more instances of these Latin staples being infused into American cuisine.
The Latin Cuisine of the Year
Out of all the Latin American Cuisines, we're predicting Peruvian will lead the way in 2024. Interest in this South American cuisine has been picking up pace in the United States. Not only have consumer searches been growing, but Peruvian restaurants have been popping up across the nation. We believe we'll see this trend transfer across all levels of dining, but specifically within the fast casual and QSR landscape.
Peruvian cuisine features bold, spicy flavors and ancient techniques that have been acquired from other nations, making it a true fusion cuisine. Traditional Peruvian food emphasizes native flavors but often borrows preparation methods from other cultures like Chinese, Japanese, Italian, and French. Common indigenous ingredients in Peruvian cuisine include ancient grains, seafood, chili peppers, and tropical fruits.

Must-try Peruvian Eats
Juane – Juane is a traditional Peruvian delicacy prepared for the festival of San Juan Bautista. In this dish, chicken and seasoned rice are wrapped in banana leaves and boiled in a large casserole. Typically, Juane is served alongside boiled yucca and plantains.
Papa a la Huancaína – This comforting dish is a Peruvian must-try. Originating in Huancayo, Peru, in this dish, boiled potatoes are covered in a rich, creamy, and slightly spicy cheese sauce.
Ready to dive in? Discover our portfolio of Latin American ingredients here.
What's Next in the Service Industry
Flavor Tourism and Innovative Chain Menus
Flavor tourism is a new food movement that involves experiencing global flavors without traveling to far-away destinations. Consumers are seeking authentic cuisines in their areas, both in local restaurants and specialty food stores. To accommodate this spiked consumer interest in global flavors, restaurant groups and national chains are diverting from their usual menus to incorporate international cuisines.
Fusion dishes are common in higher-end restaurants, allowing chefs to incorporate global flavors and experiment with different cuisines without straying too far from their typical menu offerings. Now, we're seeing more global fusion penetrate casual dining and QSR, and we expect this trend to continue in 2024. We look forward to seeing what national chains think of next!



Global Tourism Menu Highlights:
Krispy Rice TGI Fridays – The American chain recently introduced a line of "Krispy Rice" menu items. The crispy rice trend has been all the rage in Asian dining, so it's no surprise to see a casual American chain adopt the concept. Our favorite option is the Truffle Avocado Krispy Rice, a fusion of Italian and Japanese flavors.
Quiznos Kimchi Phili – A Korean twist on the classic American favorite, Philly Cheesesteak. This sub is piled high with thinly sliced steak and topped with spicy Korean gochujang sauce, tangy kimchi, melted white American cheese, and sautéed green peppers and onions.
California Pizza Kitchen Jambalaya Linguini Fini – A unique addition to the American pizza joint's menu, this dish is an enticing combination of creole and Italian flavors. Their Kung Pao Spaghetti also caught our eye!
Generation AI
Artificial intelligence ("AI") took off in 2023. Software like ChatGPT is captivating the country, and by 2024, it is expected that there will be more than 100 million users.

While some of the technology is still relatively new, it is crucial to understand where AI will lead the food space. In particular, we're predicting to see the use of AI in the foodservice industry in 2024. As operators become familiar with the concept and function, we expect to see AI incorporated into both front-of-house and back-of-house operations. Many fast causal establishments like Chipotle, IHOP, and Starbucks are already testing the technology with online chatbots, drive-through ordering, and personalization of menus. In the coming year, we anticipate higher-end establishments to take advantage of other AI capabilities, such as answering phone calls, taking reservations, and adding guests to a wait list. AI tools will be extremely beneficial in streamlining back-of-house duties, including inventory control and spend optimization.
The Return of the Mega Menu
Restaurant menu sizes decreased drastically between 2020 and 2021 as a result of the COVID-19 pandemic. As operator budgets tightened, menu offerings became limited, but in 2024, we're predicting to see a resurgence of larger menus and extended offerings. Datassential has already reported an early indicator in a return to larger menus, specifically within the midscale dining space. Expect to see a wider offering in each menu segment, from appetizers to desserts and even beverages as well.
Creating a larger menu has many benefits, the most important of which is that it will attract a wider customer base. In addition to offering diners tastes of global cuisines, operators should consider including items for vegans, vegetarians, and gluten-free diners as well. The Cheesecake Factory is notorious for its extensive menu that spans across multiple cuisines with more than 250 items. While we don't expect a menu of this capacity to become the new industry norm, we expect to see others follow suit in incorporating a wide range of items from several types of cuisines.
How LTO Will You Go?
Limited time offers ("LTOs") are not only great for boosting sales but can also help beef up the size of your menu, if only for a short time. LTOs provide businesses with a low-risk opportunity to reach a new audience, experiment with unique flavors, and feature seasonal offerings. Leveraging LTOs is important for all levels of dining, whether it be a limited-time sauce offering from your favorite fast-casual joint, or an exclusive seasonal menu item at a fine-dining restaurant.
Chick-fil-a's new promotional Honey Pepper Pimiento Chicken Sandwich recently caught our eye. The LTO not only went viral on social media, but was also the first new sandwich added to their menu in over 8 years!

Roland Foods' unique selection of globally sourced products can bring authenticity and appeal to your LTO. With a portfolio that spans more than 12 cuisine types, we are here to help you brainstorm exciting culinary fusions to attract new business.
Time Savers | Prepare for Increased Demand
With larger menu offerings comes a need for more staffing. Since the 2020 pandemic, labor shortage has been a constant pain point in the restaurant industry. In 2023, restaurant labor was still down 0.5% from the February 2020 peak. As the staffing shortage persists, operators will need to invest in time and labor-saving ingredients and materials to keep up with increased demand. Roland Foods offers an extensive selection of time-saving products, which can save up to 24 hours in cooking and prep time.
Roland Foods' Time-Saving Products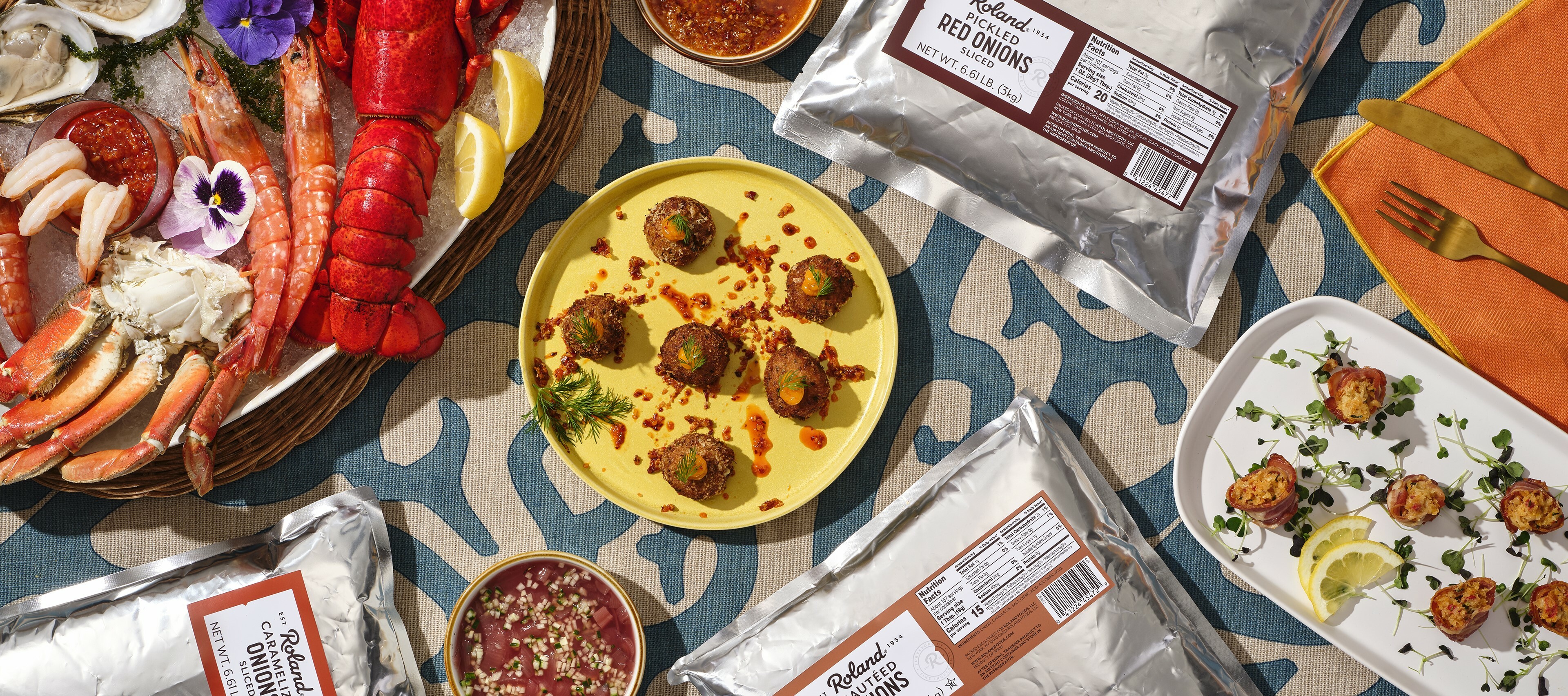 PRE-COOKED ONIONS:
We currently offer four options of precooked onions: Caramelized Onions, Pickled Red Onions, Sauteed Onions, and Crispy Fried Onions. Each of these products eliminates processing time and offers ready-to-use convenience. Plus, the foodservice-size packaging can be easily transferred to a Cambro for extended storage. Sprinkle crispy onions on top of salads or soups and try pickled red onions on salads, sandwiches, burgers, wraps, and grain bowls.
Find our recipes for Jackfruit Skewers with Caramelized Onion Israeli Couscous Salad and Fish Tacos with Coleslaw and Pickled Onions.
PRE-COOKED GRAINS:
Roland Foods offers several varieties of pre-cooked grains designed to reduce preparation time and labor. This line includes rice, quinoa, lentils, farro, and grain mixes, each of which can be quickly added to complement soups, stews, curries, risotto, and grain bowls.
Discover our full inventory of precooked grains here!
COOKED & MARINATED VEGETABLES:
Save time and money with pre-cooked and marinated vegetables. From artichokes and zucchini to eggplant and tomatoes, Roland Foods offers an impressive selection of ready-to-use marinated vegetables. Products like our Chicago Style Hot or Mild Giardiniera save up to 24 hours in prep and cooking time!
Discover our full selection of time saving ingredients here.
Honorable Mentions
There is so much innovation happening within the food and beverage industry! It was challenging for us to narrow down our list of top trends, so we added our 2024 honorable mentions that just missed our top four.
Asian BBQ

By now, most consumers are familiar with Korean BBQ, which catapulted in popularity in 2020. Hotspots like Bonchon quickly gained consumer interest, and the cuisine rapidly became mainstream. Korean BBQ is still a favorite for many, and we don't see this trend slowing down any time soon. However, in 2024 we are predicting other Asian BBQ cuisines will gain some traction. Be on the lookout for Japanese BBQ. Bachan's Japanese BBQ Sauce has recently taken off in retail and is sparking conversation on social media about their authentic and delicious line of Japanese BBQ sauces. Japanese BBQ is already readily available across the US, with Gyu-Kaku, a Japanese BBQ restaurant, operating in 20 states!
Middle Eastern Cuisine
Following regional Latin cuisines, we are predicting to see a rise in popularity of authentic Middle Eastern cuisine, especially within the fast casual space. As traditional middle eastern flavors like za'atar and sumac become more mainstream, we're anticipating an increase of middle eastern quick-service restaurants like NAYA. In particular, we expect to see Lebanese cuisine lead the way - just check out the increase in Google searches for "Lebanese Cuisine."

Interested in Middle Eastern flavor? Try our recipe for Tahini Dip Trio featuring our Black, Harissa, and Garlic Tahini.
Discover Roland Foods' entire portfolio of Middle Eastern Ingredients.
A Tastes of 2024 At Roland Foods, we closely monitor industry outlets to keep a constant pulse on the food and beverage space. With social media usage at an all-time high, trends come and go quicker than they ever have before. As 90-year veterans of the fine foods industry, we are confident in our ability to stay ahead of the curve and forecast upcoming trends in food and dining.
From exciting global flavors to rapidly evolving technology, we can't wait to see what's in store for 2024. Happy cooking!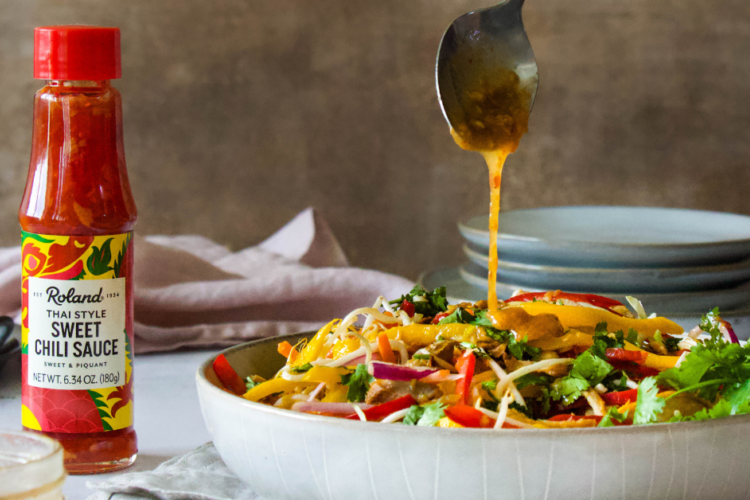 September 11, 2023 | Ingredients 101
---
What is Thai Sweet Chili Sauce?
What is Thai Sweet Chili Sauce? This in-depth guide explores the sauce's origins, suggested applications, and culinary inspiration.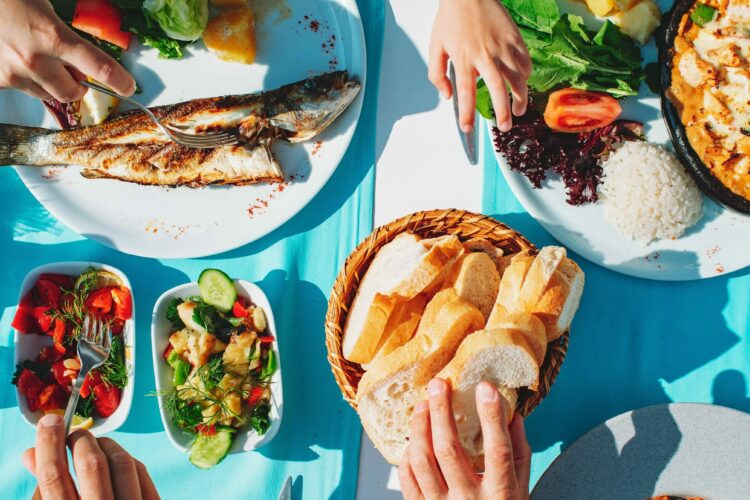 August 03, 2023 | Food Trends
---
The Mediterranean Kitchen | A Guide to Mediterranean Cuisine
Looking to create your own Mediterranean kitchen? In this comprehensive guide on the Mediterranean diet, we explain the method behind the Mediterranean lifestyle, how to follow the cuisine, its proven health benefits, and how it's popping up on restaurant menus across the United States.
July 07, 2023 | Foodservice Guides
---
Experiential Dining 101 | Giving Customers Unique Dining Experiences
Experiential dining is a valuable strategy to increase customer interest in your restaurant, as well as affiliation for your brand. In this blog, learn all about creating unique dining experiences for your guests. With ideas for every restaurant type, you can achieve experiential dining with something as simple as the ambiance or as elaborate as an immersive sensory meal.