July 11, 2022 | Food Trends
---
What is a Mocktail? The Non-Alcoholic Trend Shaking Up What We Sip On
---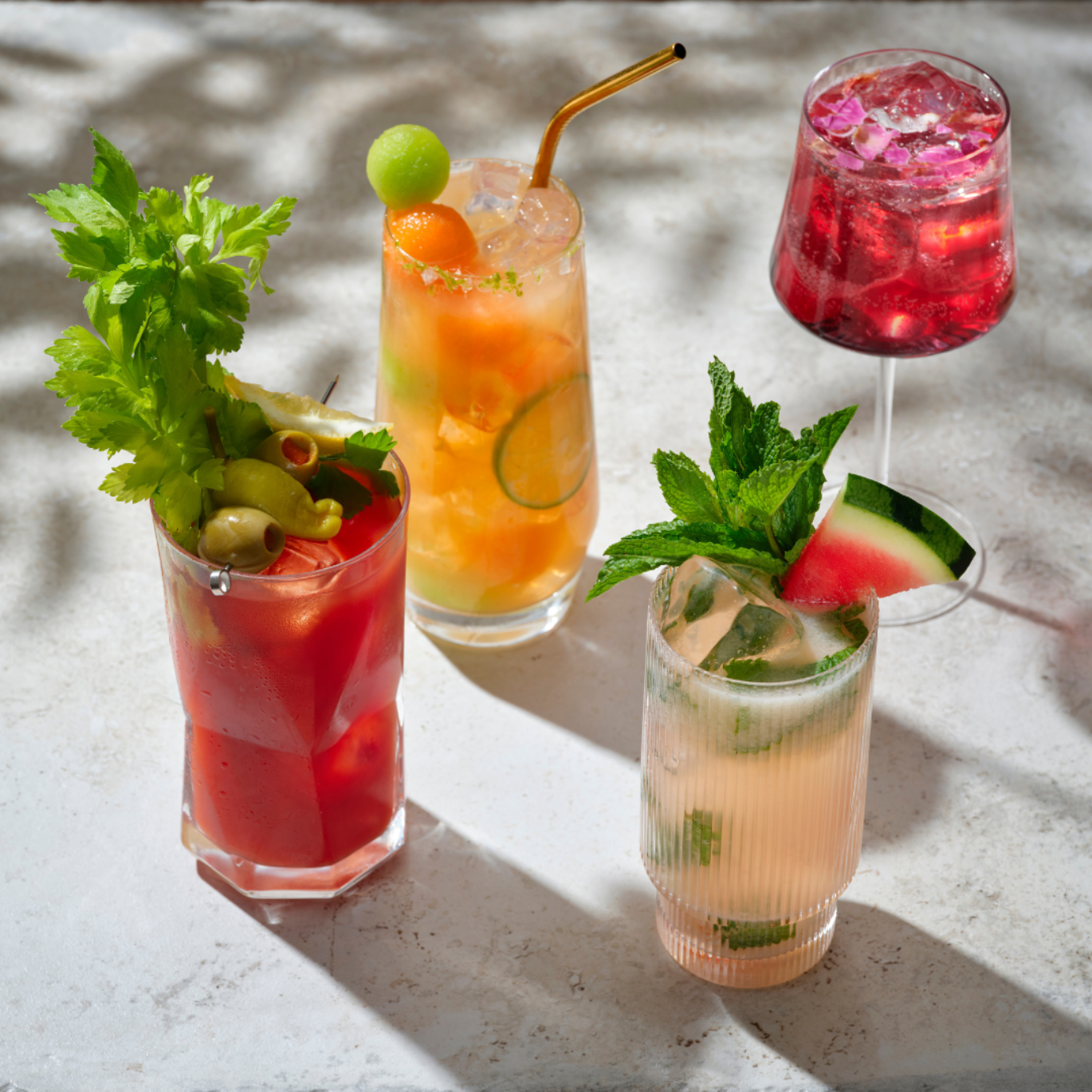 What is a mocktail, you ask? If you haven't experienced the allure (and deliciousness) of an inventive non-alcoholic beverage yet, you're not too late. In this blog, we'll break down what a mocktail is and why these spiritless drinks are on trend right now. And of course, we're providing several innovative mocktail recipes we encourage you to try at home. Trust us - when you're done reading this, you'll replace "what is a mocktail?" with "where is my mocktail?" Cheers!

What is a Mocktail? Think Cocktail, But Hold the Booze
A mocktail is a flavorful non-alcoholic drink, typically comprised of imaginative ingredients – shaken, stirred, or blended, just like their boozy counterparts. Closely mimicking a cocktail without the alcohol, a mocktail comes with several benefits. As the appeal of craft cocktails continues holding strong, mocktails, also referred to as zero proof drinks, offer tasty solutions to those who want to share in that experience without a headache the next day. Mocktails maintain many of the delicious flavors, ingredients, and garnishes of traditional alcoholic drinks, making them ideal for social settings (but perfect for at-home sipping too).
Mocktail Popularity is On the Rise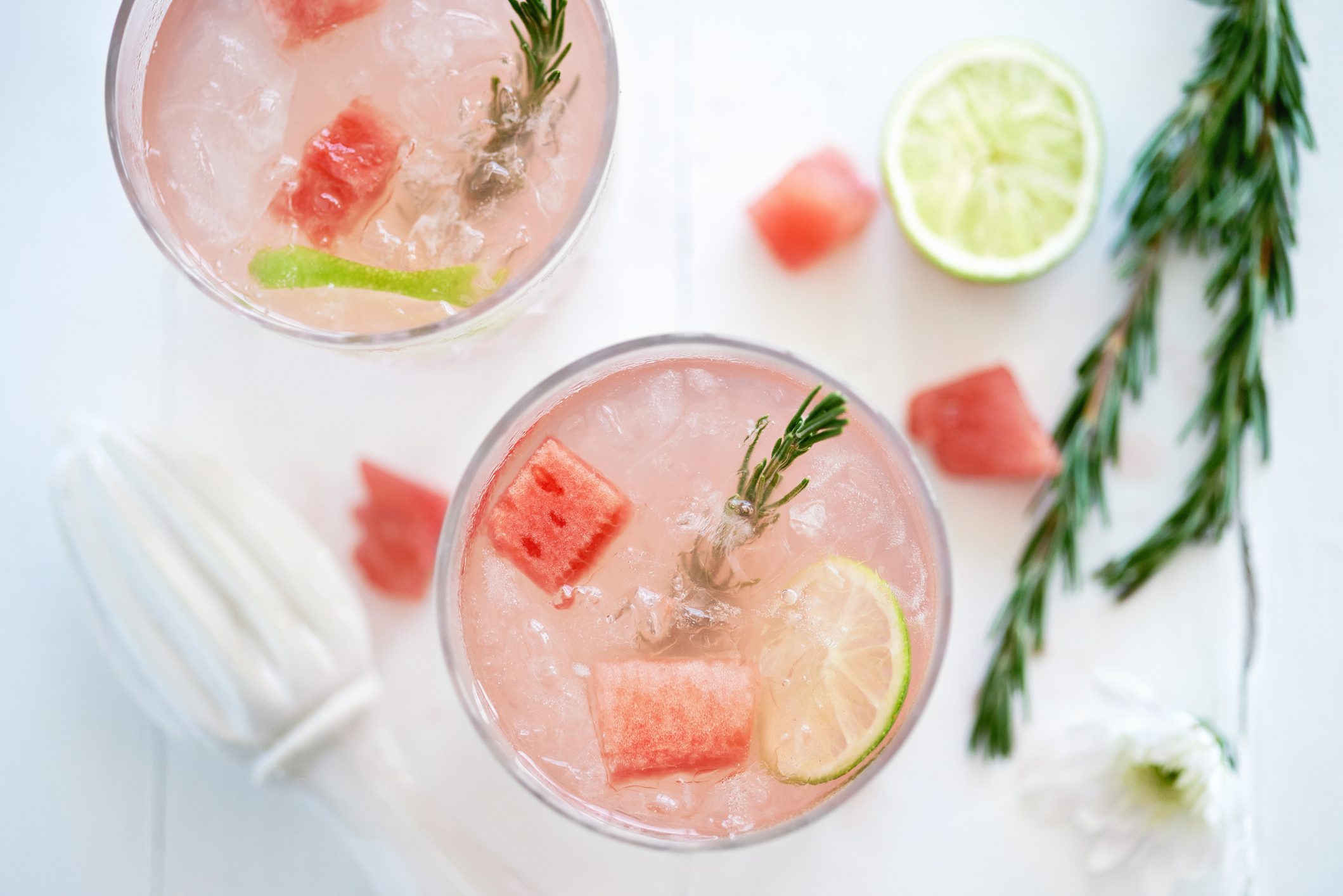 Trends come and go, often influenced by pop culture, social media, and the mainstream. And although mocktails have been around for a very long time (we'll get to the history in a bit), "mocktail" has become a buzzword recently. You can see here how consumer interest in this topic has significantly increased over the past few years.
Millennials and Gen Z are the leaders of the pack in the mocktail fan club. Known to be health-conscious, this crowd appreciates that mocktails offer a solution to combat FOMO and a hangover. And their interest in alcohol-free drinks has grown over the past few years.
Several studies, including one from Cedars Sinai, have shown a significant increase in overall alcohol consumption at the onset of the pandemic, with consumption in adults over 30 rising 14% since March 2020. Yet, in 2021, a shift toward "sober curiosity" ensued, with Nielsen reporting that 22% of consumers said they were cutting back on alcohol. And when asked why they were curbing their alcohol intake, people noted going out less and losing interest in alcohol as the top two reasons.
This desire to cut back on booze has helped spark more interest in mocktails and other non-alcoholic beverages. In fact, a recent survey by Heineken 0.0 and OnePoll found since the start of the pandemic, 52% of Gen Zers and millennials said their consumption of mocktails and alcohol-free beer had increased. And Nielsen calls out buzz-less beverages as a strong trend for 2022. People continue to look for alcohol-free solutions, if only for a short commitment period such as Dry January or Sober October.
And although mocktails have recently become in vogue, we don't foresee their appeal diminishing any time soon. According to a report by Fior Markets, the global non-alcoholic beverages market is expected to grow from $923 million in 2020 to more than $1.7 trillion by 2028, growing at a compound annual growth rate of 8.19%. Long live the mocktail!
Mocktails are undoubtedly here to stay, but where did they come from in the first place? Let's dig up their interesting history.
The History of the Mocktail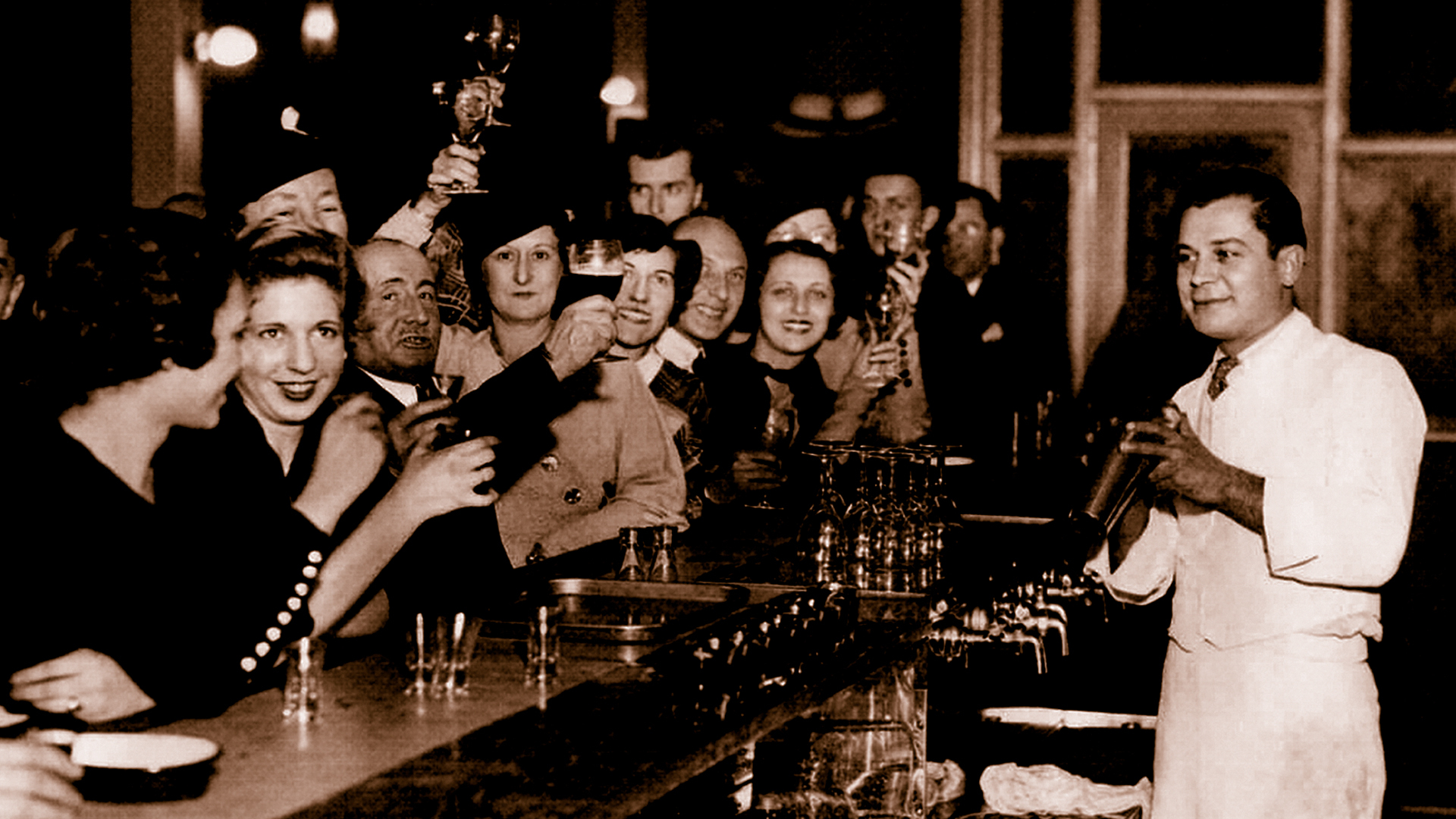 There is not 100% certainty of the exact origins of the mocktail, but according to the Merriam-Webster dictionary, the word "mocktail" was first used in 1916. The word just slightly predates Prohibition, which is fitting given this United States alcohol ban that began in 1920. Still, 1916 isn't even the earliest year that the mocktail can be traced back to; the 1862 The Bar-Tender's Guide makes mention of "temperance drinks," defined as beverages without alcohol. It may be safe to assume that as long as there have been cocktails there have been mocktails.
Shirley Temple | A Mocktail for the Ages
A mention of a mocktail often brings the Shirley Temple to mind. This fun and fruity favorite is typically comprised of 7Up® or Ginger Ale, grenadine, and a maraschino cherry. Because it resembles a fancy cocktail, ordering a Shirley Temple has been an exciting delight for kids for decades.
The jury is still out about whether child star Shirley Temple had anything to do with the creation of the drink; some say she ordered a virgin cocktail when dining out with her parents, others claim the beverage was the brainchild of someone at the Hollywood restaurant, The Brown Derby, and that Shirley was not fond of her association with it. Whatever the case may be, this drink has become somewhat of a cult classic, still enjoyed today by kids and adults alike.
Other Classic Mocktails
The possibilities are endless when it comes to mixing up a mocktail, but there are a few well-known classics. "Virgin" drinks that are common include Virgin Piña Coladas, Virgin Margaritas, Virgin Strawberry Daquiris, and Virgin Mojitos. The Roy Rogers, Shirley Temple's counterpart, swaps the lemon-lime soda for cola, giving the drink a darker whiskey appearance minus the booze. And of course, instead of sipping on the boozy bubbly, some brands offer sparkling apple juice or cider to toast with.
Craft Cocktails | Paving the Way for Inventive Drinks of All Kinds
Craft cocktails have become wildly popular, especially as the quest for the most "Instagrammable" food and drink continues to boom. Craft cocktails are typically made with interesting high-quality ingredients, attractive garnishes, and sometimes even a theatrical element (smoke show, anyone?) As interest in these nifty elevated drinks has risen, so has the number of cocktail bars. Especially in metropolitan areas like New York City, Chicago, and Los Angeles, swanky haunts are popping up to offer curated menus of dazzling drinks and atmosphere.
Of course, at-home drinking increased significantly in 2020, but the cocktail bar industry is experiencing a reawakening as coronavirus guidelines soften; according to IBISWorld, industry revenue is expected to increase 16.4% in 2022. People are excited to get back out into society and revel in experiences they missed out on in the past two years.
The Modern Mocktail | Getting Crafty with Zero Proof Sips
With a focus on craft cocktails comes more inventiveness with mocktails. Bars are even dedicating space on their cocktail menus specifically for zero proof drinks. Ardor of West Hollywood, a vegetable-forward spot, offers a selection of mocktails on their cocktail list. Meanwhile, Getaway Bar in Greenpoint Brooklyn is completely alcohol-free, offering up mocktails alongside non-alcoholic beer and wine. Some bars and restaurants have even introduced limited time mocktail menus for Dry January, meeting consumer demand for non-alcoholic options at a specific time of year.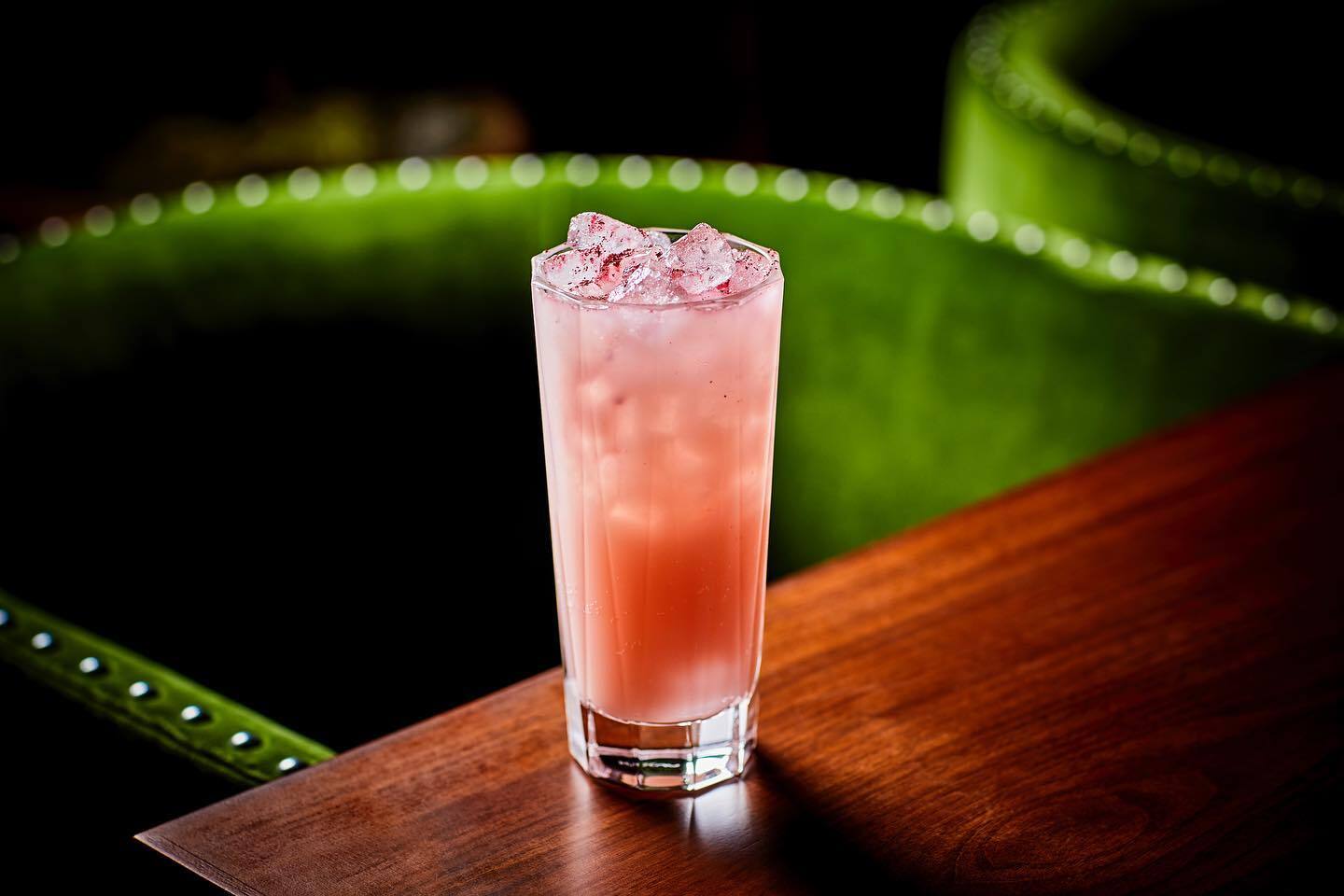 Gone are the days when a mocktail simply meant mixing grenadine and soda. Mixologists are branching out to create striking sips for all kinds of tastes. With the help of non-alcoholic spirits, such as Seedlip, fruit infusions, herbs and spices, shrubs, and other accoutrements, mocktails are truly having a moment.
In that spirit, let's discuss a few techniques that can be incorporated into your own mocktails.
Steep in the Name of Shrub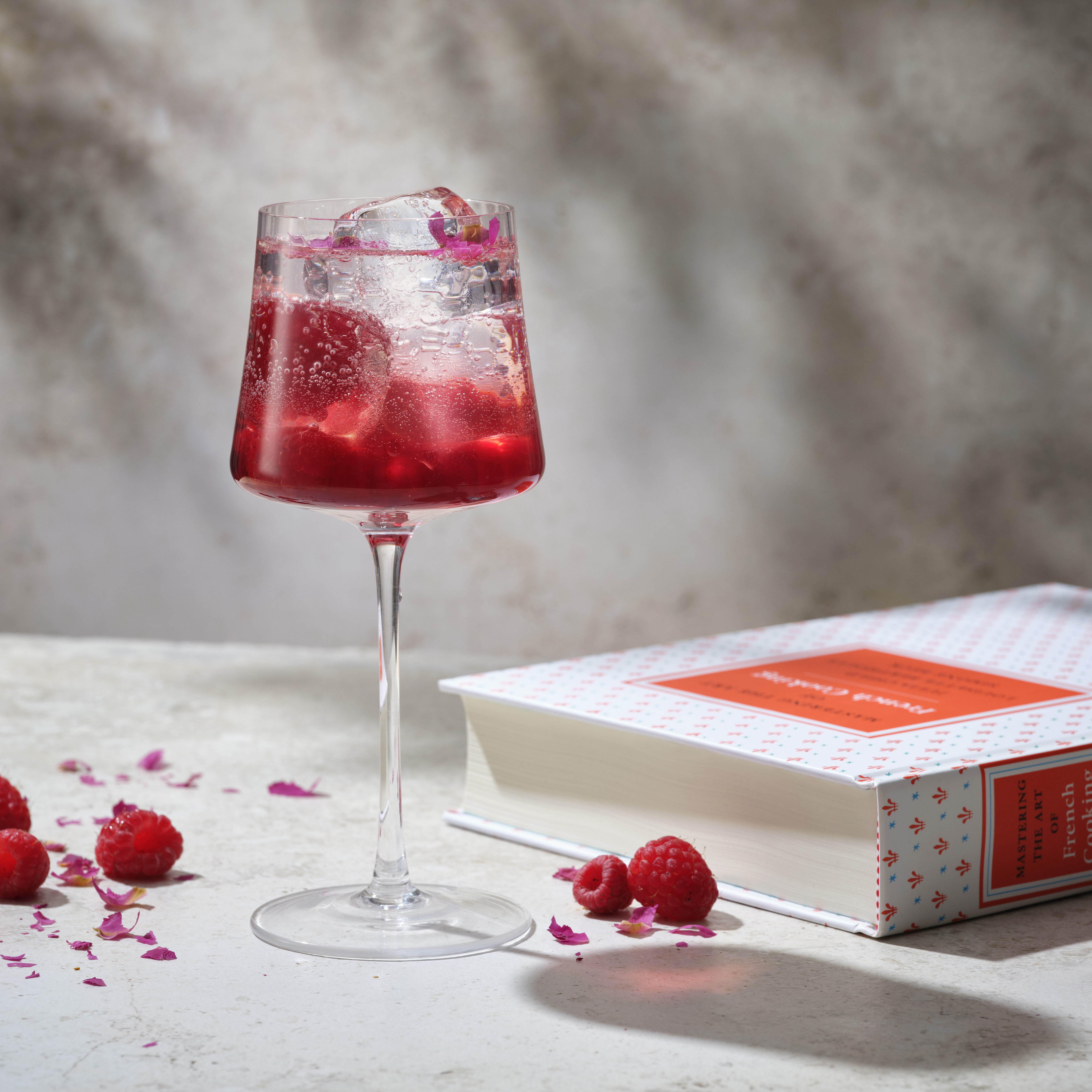 A shrub is an acidulated drinking liquid made from infusing the sweet flavors of fruit and sugar into vinegar. Typically, you'll use a 1:1:1 ratio (aka equal parts) of each ingredient. Any vinegar can work for a shrub, and apple cider vinegar or white wine vinegar are two popular options. In our recipe below, we utilize Roland® Rosé Wine Vinegar for a crisp and fruity option.
Combine your sugar and fruit (sliced or mashed) and add vinegar. Cover the mixture tightly and let it sit out at room temperature for about 2 days and stirring occasionally. Once the time is up, strain the mixture, keeping just the syrup and discarding the fruit. Add more vinegar to the syrup slowly, tasting it along the way until your desired flavor is achieved. And you're done! Add this shrub to club soda or a cocktail for a flavorful zing.
Check out the recipe for our Rosé Shrub Spritzer (pictured above).
Muddle Up
Muddling is the act of crushing ingredients like fruits, citrus, and/or herbs, in the bottom of a glass to release the juices and flavor. To muddle, you'll need a muddler or similar tool and a glass. Put your ingredients into an empty glass and press forcefully with the muddling tool until their juices are released. Muddling is used often in mojitos.
The Art of Blending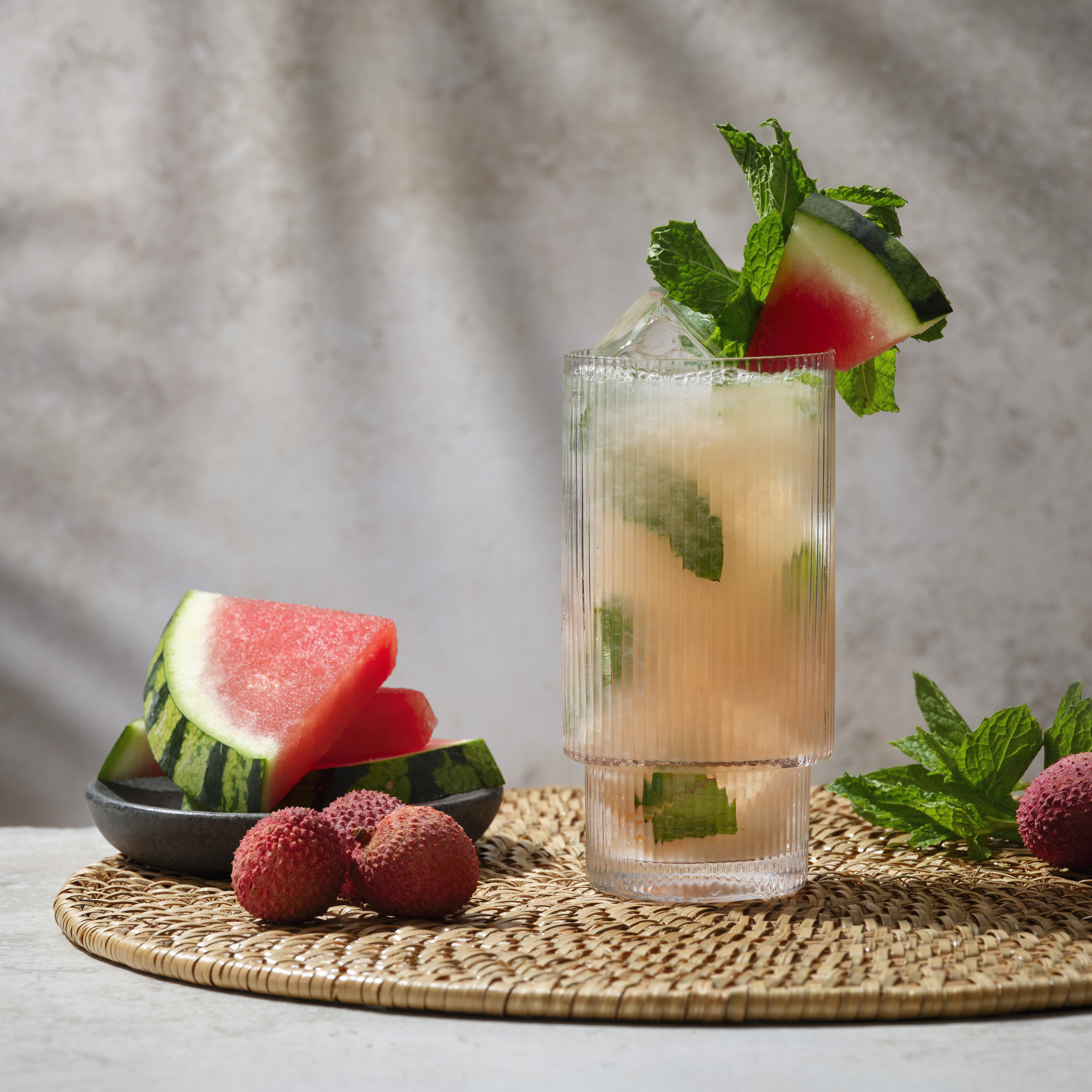 Blending ingredients together is a simply way to achieve maximum flavor without too much work. Frozen drinks, like daquiris and pina coladas, use the blending technique to make a thick and icy beverage. We also use a blender in our Lychee Watermelon Refresher (pictured above).
Check out the Lychee Watermelon Refresher recipe.
Layer it On
Layering is a tricky technique that involves layering different liquids on top of each other to create a visually striking stacked effect. To do so, you'll want to start with the heaviest liquid at the bottom and build from there. Liquids with the most sugar content are the heaviest, while alcohol is lighter. To achieve the layered look, pour your first liquid into the bottom of the glass. Then, turn a spoon upside down and get it as close as possible to the first liquid without touching. Pour your second liquid over the spoon slowly. Repeat this process for all your layers, taking your time as you go. Voila!

Roland Foods Mocktail Recipes
Feeling inspired to explore mocktail making in your own kitchen? We have four original recipes for you to whip up the next time your zero-proof drink craving strikes. Each recipe utilizes a Roland® ingredient perfect for both mocktails and cocktails.
What's Next for the Mocktail?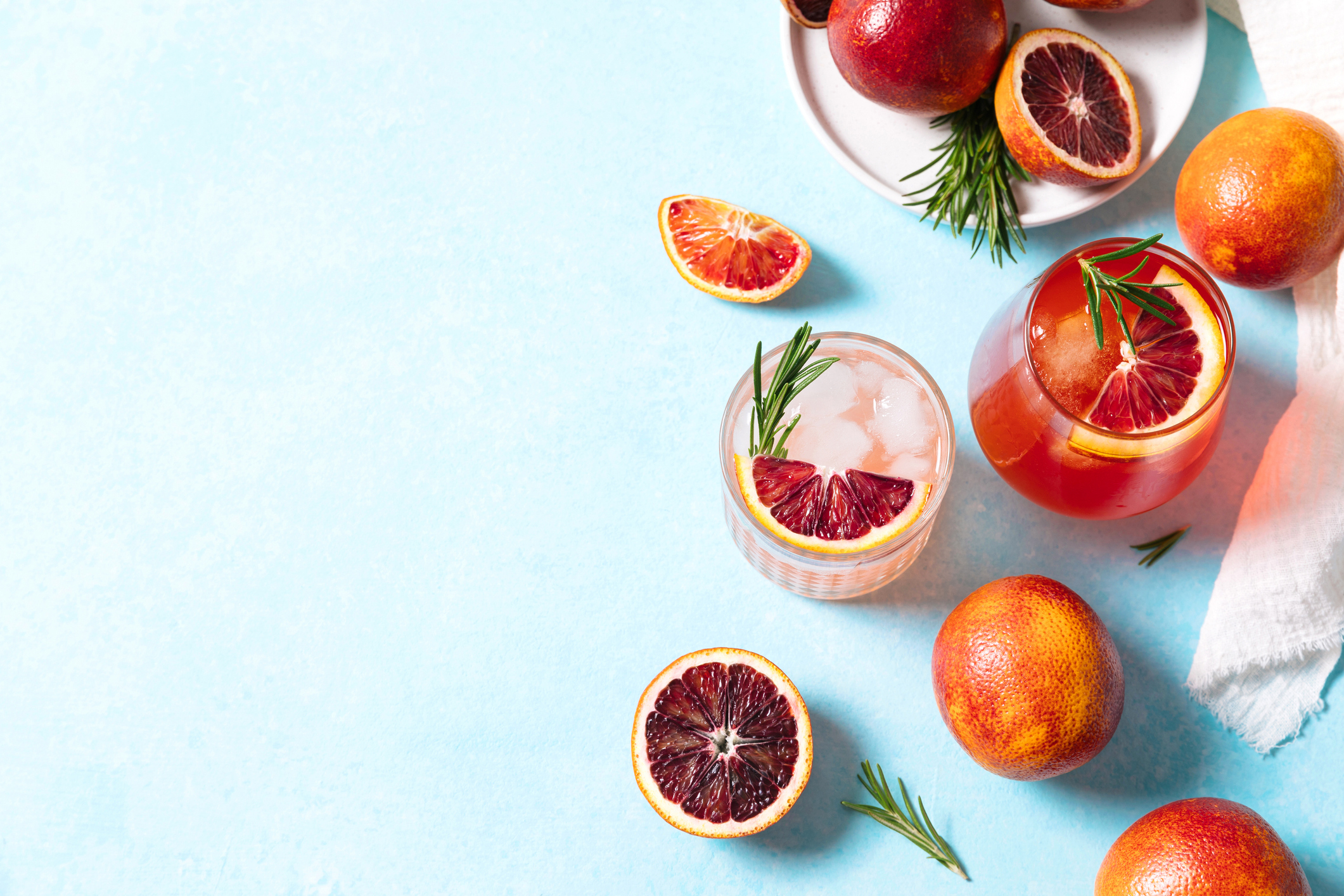 At Roland Foods, we're excited about the recent buzz around mocktails. These inventive drinks allow mixologists and home bartenders alike explore different flavor profiles, garnishes, and presentation. And plenty of our Roland® ingredients – from juices to fruits to vinegars – are perfect additions to zero proof creations.
We predict that mocktail popularity with remain steady as people look for unique alternatives to alcohol-focused socializing and hope to see more bars and restaurants incorporating these drinks into their menu options in unique ways. And we encourage you to test some recipes out on your own! With a few ingredients, a shake or a stir, you can easily whip up your own mocktails for any occasion or no occasion at all.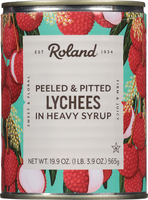 Lychees in Heavy Syrup
#90010 | 19.9 OZ.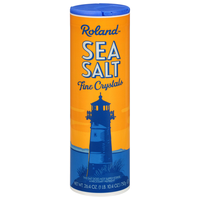 Fine Crystal Sea Salt
#70806 | 26.5 OZ.

Clam Juice
#21232 | 8.1 FL.OZ.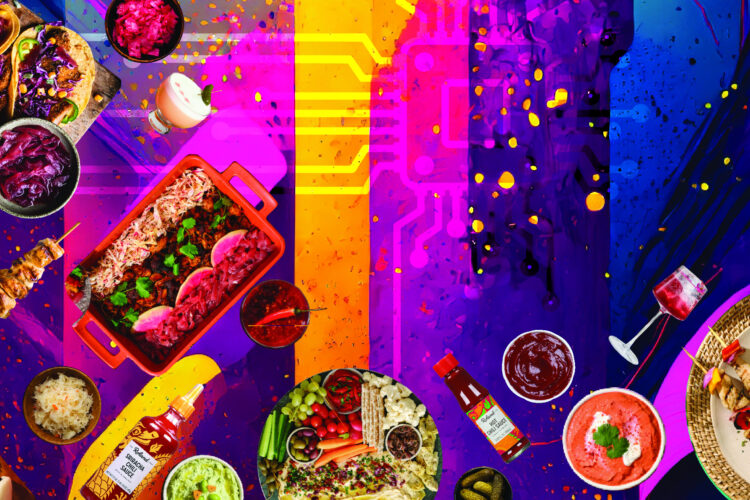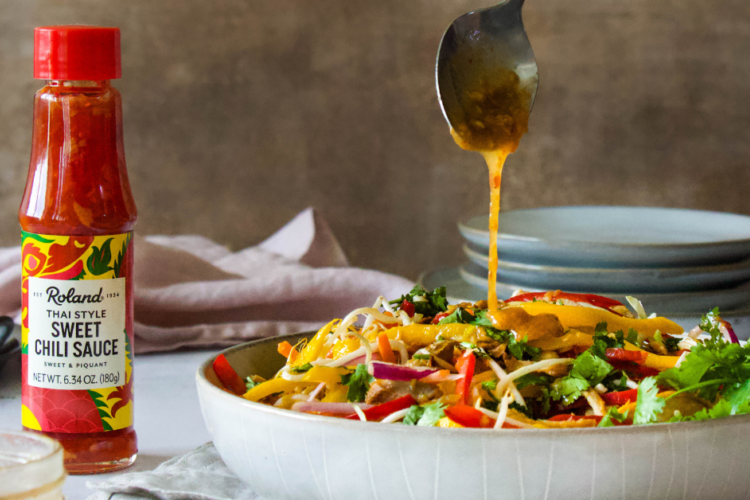 September 11, 2023 | Ingredients 101
---
What is Thai Sweet Chili Sauce?
What is Thai Sweet Chili Sauce? This in-depth guide explores the sauce's origins, suggested applications, and culinary inspiration.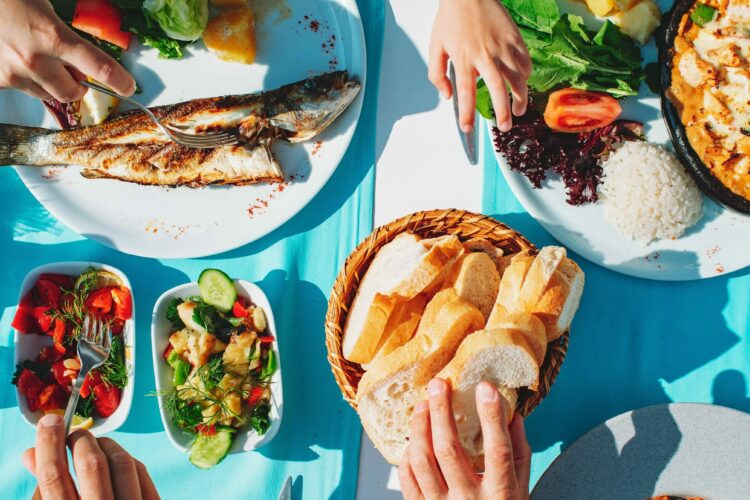 August 03, 2023 | Food Trends
---
The Mediterranean Kitchen | A Guide to Mediterranean Cuisine
Looking to create your own Mediterranean kitchen? In this comprehensive guide on the Mediterranean diet, we explain the method behind the Mediterranean lifestyle, how to follow the cuisine, its proven health benefits, and how it's popping up on restaurant menus across the United States.