Pork Belly Mostarda Bao Bun
Difficulty: Medium | Makes: 4-6 Servings
Try this Latin American twist on a classic pork belly sandwich!
Ingredients
1 1/2-2 pounds pork belly

1/4 cup salt (67g)

1/2 teaspoon dry sage (1g)

1/2 teaspoon dry rosemary (1g)

1/2 teaspoon fennel seed (1g)



For the Mostarda sauce
Directions
Preheat oven to 430 degrees F. Make herb and salt mixture for top

Score the fat on top of the pork belly in a cross hatch pattern. Season generously with herb and salt mixture and olive oil

Roast for 30 minutes until the skin on the top is crispy. Reduce heat to 320 degrees

F and roast for another 2 hours



Rest for 20 mins under tin foil then slice
Mostarda

sauce:

Combine everything except mustard and cook on medium low for 30 mins. Then add mustard and blend in blender or immersion blender

To serve, lay the pork belly on the bao bun. Top with mostarda sauce, arugula and parsley
Whole & Broken Amarena Cherries in Syrup
#60420 | 6.83 LB.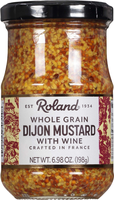 Whole Grain Dijon Mustard with Wine
#70314 | 7 OZ.
Balsamic Vinegar of Modena
#70568 | 33.8 FL.OZ.