August 03, 2023 | Food Trends
---
The Mediterranean Kitchen | A Guide to Mediterranean Cuisine
---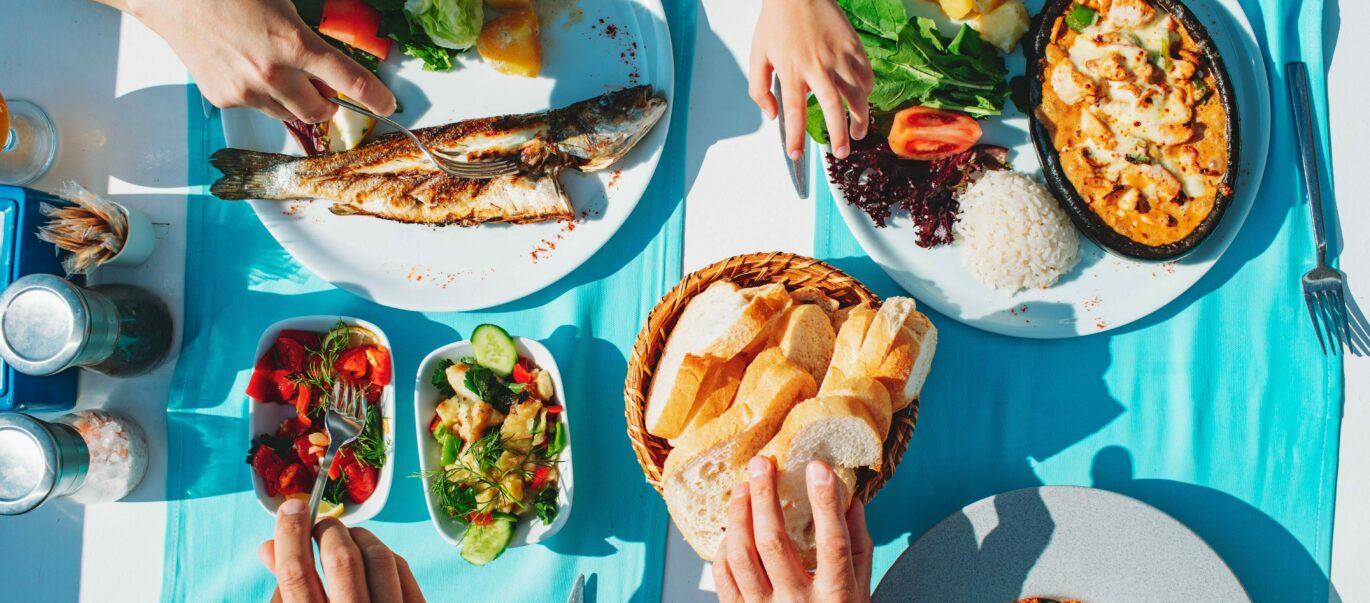 The Mediterranean diet is renowned for its health benefits and has been recognized for years as one of the best eating plans to follow. This style of eating blends the traditional flavors and cooking methods of the people of the Mediterranean region and emphasizes plant-based and anti-inflammatory foods. Looking to create your own Mediterranean kitchen? Whole grains, healthy fats, fruits, and vegetables are the bulk of this diet, but there are no restrictions on other food groups.
This popular diet is inspiring foodservice professionals and home cooks alike as the cuisine continues to appear on menus and take off on social media. Keep reading to understand the method behind the Mediterranean style of eating, how to follow the diet, its proven health benefits, and its popularity in restaurants across the United States.
Discovered, Not Invented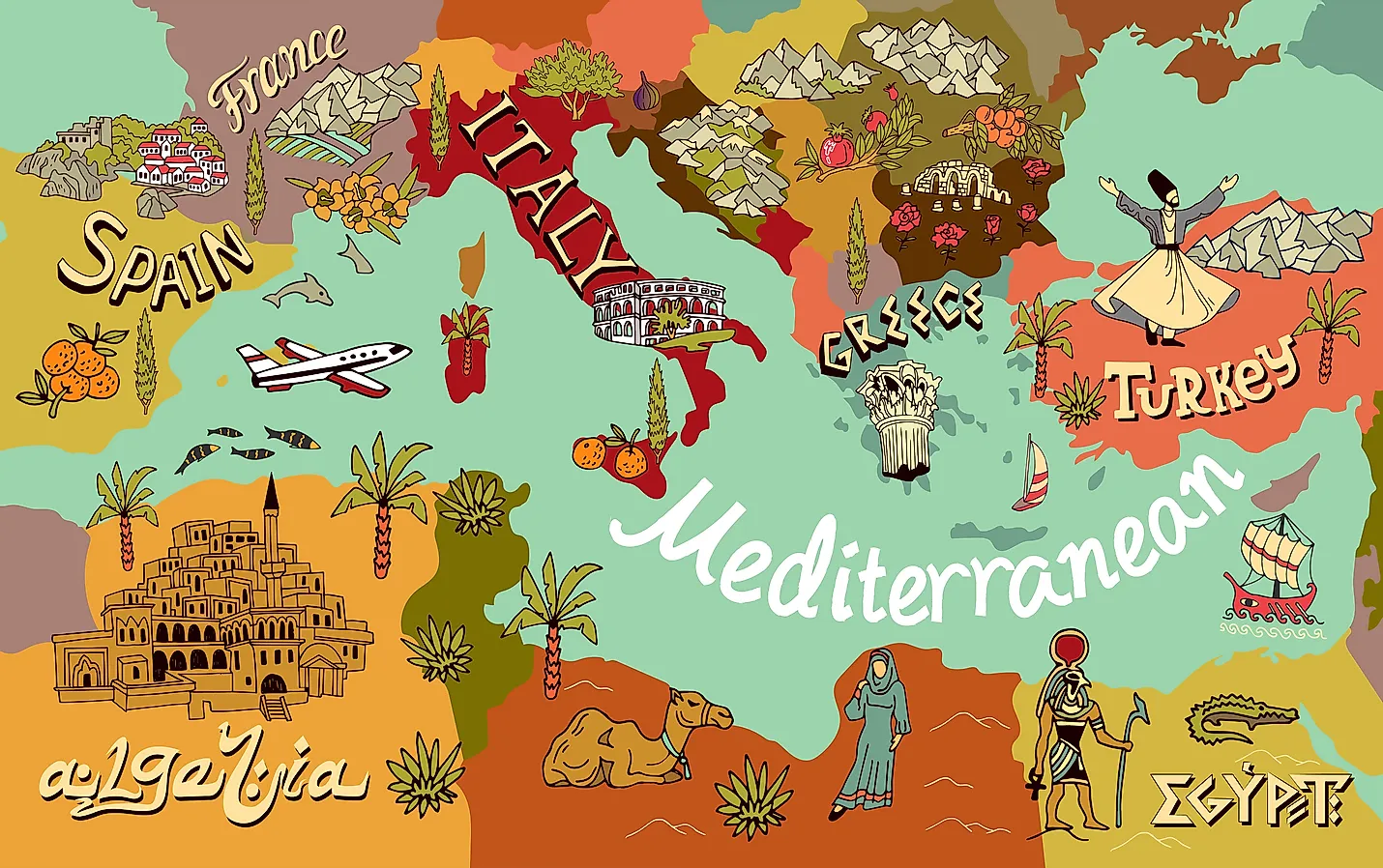 Dozens of diet plans have been created in recent years, from keto to Atkins to the military diet. Unlike many of these diet plans, the Mediterranean diet was never invented or created, but rather discovered. Mediterranean populations have been eating the same way for centuries, but in the 1950s, American Psychologist Ancel Keys noticed distinctive health patterns in individuals from this region. In his findings, the Italian population had noticeably lower levels of cholesterol and low rates of heart disease. Keys is notably recognized for widely popularizing the Mediterranean diet based on the proven health benefits the lifestyle offers.
The Mediterranean way of eating is deeply rooted in the daily lifestyle of Mediterranean people. For this reason, the diet does not merely consist of a meal plan but is rather a guide to a way of life. UNESCO, the United Nations Educational, Scientific and Cultural Organization, refers to the diet as "a social practice based on all the 'savoir-faire', knowledge, and traditions ranging from the landscape to the table and covering the Mediterranean Basin, cultures, harvesting, fishing, conservation, processing, preparation, and cooking…" (National Library of Medicine).
The Mediterranean Model
There is no distinct set of rules, list of cuisines, or specific recipes to follow in Mediterranean cooking. Rather, the model combines aspects of many countries' cooking with an emphasis on consuming good-for-you foods. Popular cuisines in the diet include but are not limited to, Italian, Greek, Spanish, Moroccan, Lebanese, and Egyptian.
To Good Health
Aside from the delicious ingredients and flavors of Mediterranean cuisine, following this lifestyle has many proven health benefits. In fact, the Mediterranean diet was named one of the three healthiest eating patterns recognized in the 2020-2025 Dietary Guidelines for Americans. This is also the sixth consecutive year that the diet was named the "Best Diet Overall" by the US News and World Report.
Research has shown that this healthy eating pattern can lower the risk of cardiovascular disease, support healthy body weight, and aid in healthy aging. Unlike many other diets, there is no set meal plan, which allows followers to create a dietary plan that works for them based on a suggested group of ingredients. Mediterranean people typically enjoy a diet full of anti-inflammatory foods like fresh fruits and vegetables, nuts and legumes, and healthy fats like extra virgin olive oil.
Mediterranean Mayhem
With proven health benefits and great-tasting meals, it's no wonder this diet has consistently been trending - see how Google searches for Mediterranean Food have steadily increased over the last five years. The diet's popularity is also attributed to its ease of use and sustainability. The Mediterranean diet is customizable and the lack of food restriction makes it much more achievable than fad diets (Mashed).
Consumers have even taken to social media to share their love and appreciation for the diet - see how the search term "Mediterranean diet" has been viewed over 25 million times on TikTok! Videos within the search include everything from culinary inspiration, recipes to try, and educational videos on the health benefits.
A Day in The Life

Interested in adopting a Mediterranean style of eating? We're breaking down how to follow this dietary plan, from ingredients to culinary inspiration!
The basis of the diet can be broken down into whole grains, nuts and legumes, seafood or poultry, healthy fats, and fruits and vegetables.
Whole Grains
Whole grains form the foundation of the Mediterranean diet - think bulgar, barley, farro, freekeh, and quinoa. Whole grains can be eaten in many ways and at almost any time of day! Try barley and fresh berries for breakfast, a quinoa Buddha bowl for lunch, and a farro salad for dinner!
Did you know that we offer pre- and par-cooked grains? Discover our selection of time-saving grain items!
Nuts and Legumes
Nuts and legumes are protein-packed, filling, and a delicious source of healthy fats. Like whole grains, legumes can act as the base of your meal. Consider combining the two and try a lentil-bulgar burger with fresh veggies. A few nutrient-packed nuts and legumes to incorporate into your Mediterranean diet include lentils, chickpeas, sesame seeds, pistachios, almonds, and pine nuts.
Seafood and Poultry
Seafood and poultry will be your go-to hearty source of protein. Salmon, sardines, herring, mackerel, anchovies, and tuna are just a few examples of lean protein emphasized in the Mediterranean diet. Tinned seafood is an easy and reliable way to have ready access to seafood, plus it's trendy! Fresh or tinned seafood pairs perfectly with pasta, topped on toast, or added to salads.
Ready to try tinned fish? Check out Roland Foods' entire assortment of tinned fish products here!
Healthy Fats
Olive oil, extra virgin olive oil, nut oils, and seed oils are all excellent sources of healthy fats and delicious cooking oils to use in the Mediterranean diet. These oils also make for a delicious base for salad dressings and marinades.
Mix and Match

As purveyors of fine ingredients, we believe that food should never be boring. One of the many enticing aspects of the Mediterranean diet is the room for creativity and flexibility. Mix and match components from each of the recommended food groups to craft uniquely delicious and healthy meals!
Need some Mediterranean inspiration? We've got you covered.
Combine olive oil and tahini paste with lemon juice to make an irresistible salad dressing for a couscous-based lunch bowl! We also made a delicious Mediterranean-inspired vinaigrette using hazelnut oil and anchovy paste to dress a rainbow chard and quinoa salad. Bottom line? The possibilities are endless with this diet.
Get the Rainbow Chard Salad with Hazelnut Anchovy Vinaigrette recipe here!
Sauce it Up!
Everything is better with sauce! Sauces offer a simple and effective way to elevate a dish's flavor, and Mediterranean versions are packed with nutrient-rich ingredients.
Basil pesto, a familiar favorite, is traditionally made with fresh basil, extra virgin olive oil, pine nuts and garlic. But just like the Mediterranean diet, pesto can be tweaked to your taste! Try making this sauce with alternative ingredients, like sundried tomato, arugula, or pistachio.
Tahini is a popular Mediterranean condiment made from ground sesame seeds. Typically, tahini is used as a base to create other sauces and condiments like hummus or dressing. We love the nutty flavor that tahini adds - try it with olive oil, lemon, and Dijon mustard for a delicious and creamy salad dressing.
From Our Pantry to Yours

Mediterranean ingredients have been at the core of the Roland Foods portfolio for nearly 90 years. And we were founded on the principle of importing the highest quality ingredients from around the globe. Our Mediterranean selection has always been authentically sourced and remains at the center of our assortment. With such a rich selection of these items, we've accumulated a few mouth-watering Mediterranean dishes. Check them out!
The Mediterranean Kitchen | QSR and Fast Casual
As the Mediterranean diet has gained popularity, it has quickly been adapted to fast-casual dining. As it turns out, many popular Mediterranean dishes like grain bowls, salads, and pita wraps are easy to customize and make quickly, making them ideal menu items for foodservice establishments. In addition, Mediterranean-inspired meals provide healthy options to those searching for balanced meals on the go.
Mediterranean quick-service restaurants have also begun to pop up across the nation, with hot spots like Cava opening its doors in 2011. Now, metropolitan cities throughout the US are packed with options such as Roti, NAYA, Zoe's Kitchen, and Garbanzo Mediterranean Fresh.
According to Datassential, a leading market research organization, the word "Mediterranean" can be found on 24% of fast-casual dining menus and 13% of QSR menus across the USA.
Menu Favorites
Many Mediterranean QSRs offer a similar menu, with customizable dishes based on the customer's preference. However, each menu features a different variety of toppings and sides to choose from! At Naya, you can get a side of stuffed grape leaves, an authentic, staple dish of many Mediterranean cuisines. The chickpea salad from Roti pairs perfectly with one of their pita wraps, and we love the traditional gyro from Garbanzo Mediterranean Fresh. They even offer baklava, a traditional Mediterranean dessert, for a sweet end to your meal.
Drawing the Customer In
It is no secret that American cuisine fast food options dominate the QSR space despite the popularity of Mediterranean food. To stand out among the crowds and competitors, Mediterranean QSR Cava has taken advantage of limited time offers and influencer partners.
In one of their most recent campaigns, the brand partnered up with TikTok chef personality Meredith Hayden, @wishbonekitchen, and launched "Meredith's Spicy Lamb Bowl", only available for a limited time. The collaboration was a hit on social media, accumulating thousands of likes and millions of views on TikTok and Instagram. Previous Cava collaborations include YouTube star Emma Chamberlain and internet chef Nasim Lahbichi.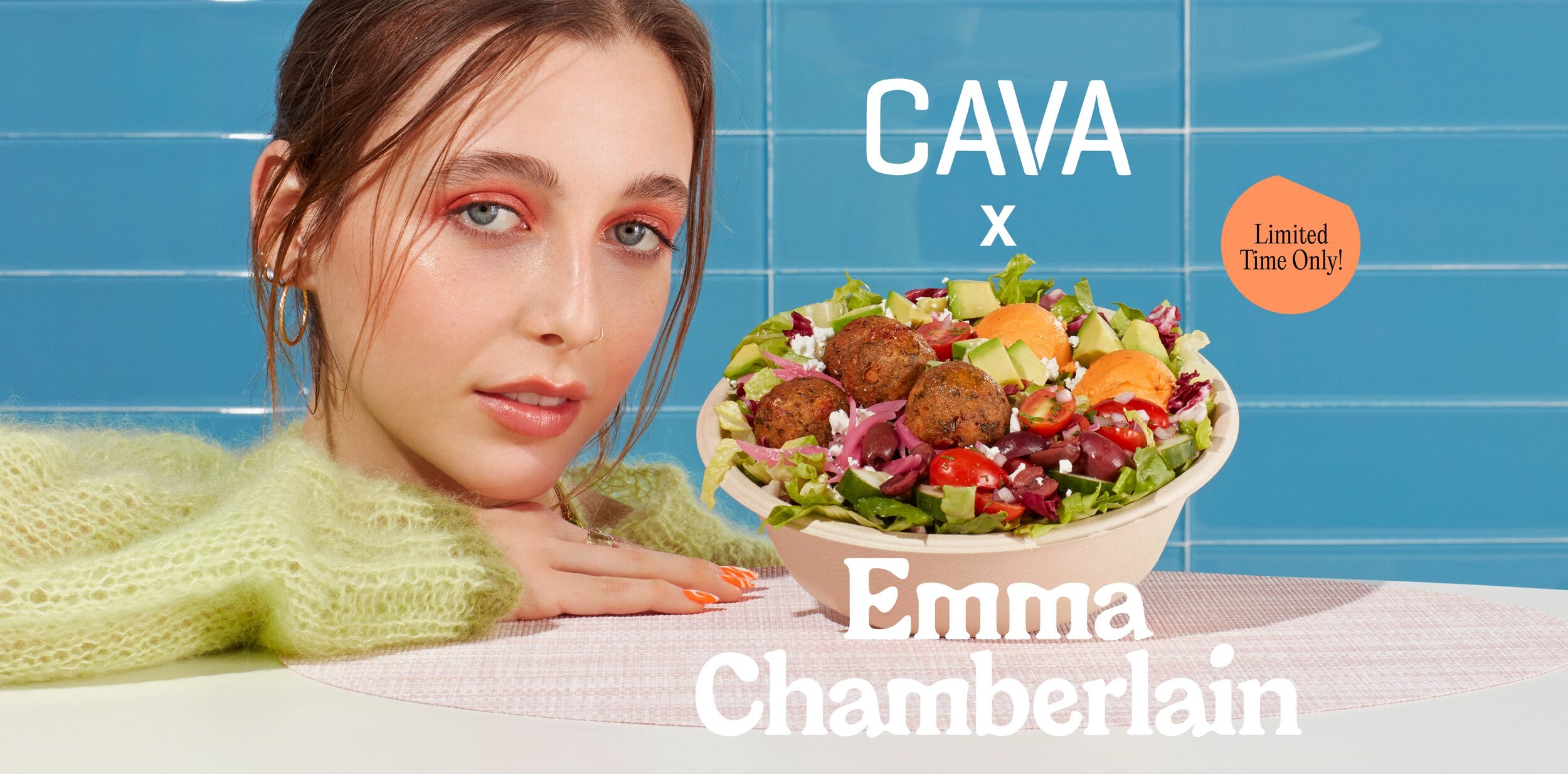 On The Back Burner
Based on current trends, we're predicting that Lebanese cuisine will be the next Mediterranean dining option to take over the fast-casual space. Just look at the spike in Google searches for "Lebanese cuisine" from 2021 to now! Plus, popular Lebanese dishes like shawarma and falafel are already trending - check out how these dishes are penetrating menus across the US.


The Mediterranean Kitchen | National Chains
Mediterranean dishes can also be adapted for fast-casual, family-casual, or fine dining establishments. The cuisine has made its way to national chains, penetrating some of the most frequented restaurants across the United States. Discover some of our favorite Mediterranean offerings from BJs, The Grand Lux Café, and Panera Bread.
Your Mediterranean Kitchen

As mentioned, the Mediterranean diet is based on the lifestyle of Mediterranean kitchens within that region of the world. Transfer the flavors, ingredients, and recipes of the Mediterranean region to your restaurant menu for a trendy and unique experience.
Looking for culinary inspiration? Here are just a few ideas to kickstart your Mediterranean offerings:
Summer Mediterranean Menu: The Mediterranean region is renowned for its beautiful summers and cuisine made for the warm weather. Consider adding a Mediterranean flair to your summer menu as a limited-time offer. Seasonal menus are great for attracting new customers also enticing existing customers to come back and try something new!
Want to learn more about crafting seasonal menus? Discover our guide here!
Authentic or Local Sourcing: Part of the Mediterranean lifestyle is focusing on consuming fresh, good-for-you ingredients. Sourcing fish, fruits, and vegetables from local purveyors is a great way to guarantee freshness and support nearby businesses. Take it one step further and consider authentically sourcing ingredients directly from the Mediterranean. Not only does this elevate flavor, but it is also a major selling point on menus!
Experiential Dining: Immerse your customers in the experience of Mediterranean culture and customs. Consider featuring a menu that samples unique and authentic dishes from multiple Mediterranean cuisines. Small, shareable portions of food are typical in some Mediterranean regions, which offers diners the chance to try many different flavors. Complete the experience with a full Mediterranean ambiance from music to décor.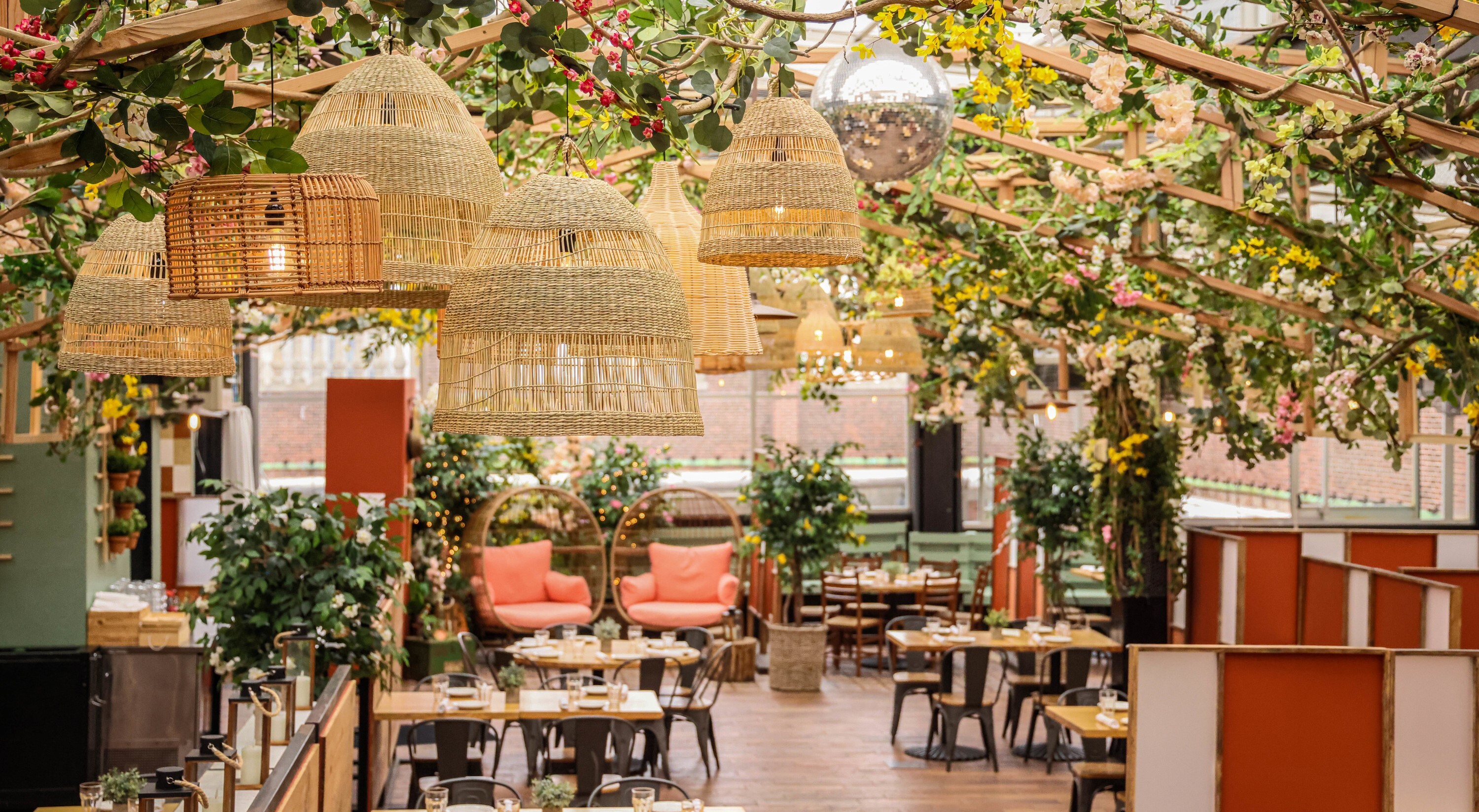 Looking for more inspiration on experiential dining? Check out our blog here!
Are you ready to embark on a journey of Mediterranean cuisine? Check out these restaurants across the USA for your next dinner reservation.
Iris NYC- Chef John Fraser draws inspiration from Greek and Turkish cuisines in his Mediterranean-style NYC restaurant. The menu includes a variety of authentic dishes along with mezze, which are small plates traditional to the Mediterranean region.
Aba Chicago, Austin, and Bal Harbour – A true Mediterranean fusion, Aba offers diners aspects of the Mediterranean diet with influences from Israel, Lebanon, Turkey, and Greece. The menu at Aba also features a rare selection of Mediterranean wines and spirits.
Massilia Santa Monica – Drawing culinary inspiration from French, Spanish, Italian, and Moroccan cuisines, Massilia truly offers an authentic Mediterranean experience. Their extensive dinner menu features highlights from each country's cuisines, including grilled branzino and baba ghanoush.
Create Your Own Mediterranean Kitchen with Roland Foods
At Roland Foods, we are proud to offer an extensive line of Mediterranean ingredients ideal for incorporating into your Mediterranean kitchen! Our authentically sourced products can assist in building your own personal Mediterranean diet or bringing a Mediterranean flair to your establishment.
We are always striving to share global cuisines and ingredients with our community. Stay tuned for which global gastronomy we dive into next!
Discover our entire selection of Mediterranean ingredients here!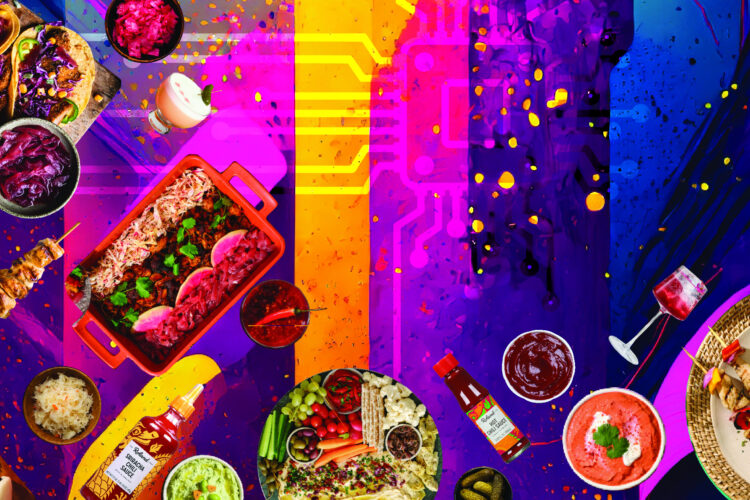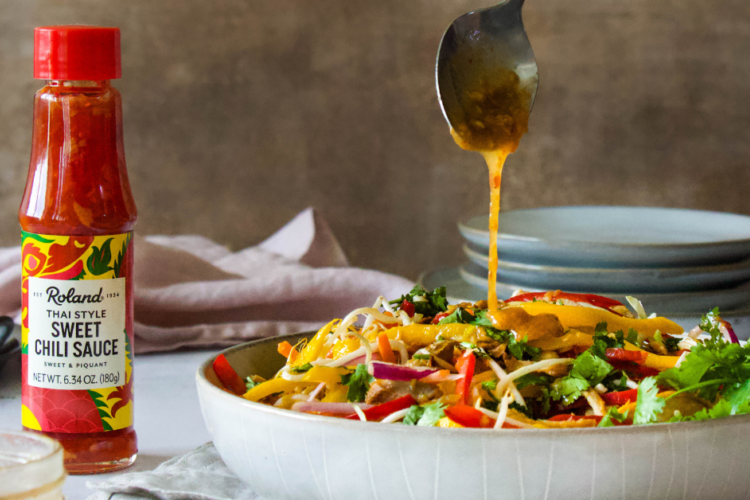 September 11, 2023 | Ingredients 101
---
What is Thai Sweet Chili Sauce?
What is Thai Sweet Chili Sauce? This in-depth guide explores the sauce's origins, suggested applications, and culinary inspiration.
July 07, 2023 | Foodservice Guides
---
Experiential Dining 101 | Giving Customers Unique Dining Experiences
Experiential dining is a valuable strategy to increase customer interest in your restaurant, as well as affiliation for your brand. In this blog, learn all about creating unique dining experiences for your guests. With ideas for every restaurant type, you can achieve experiential dining with something as simple as the ambiance or as elaborate as an immersive sensory meal.