Cornichon Pickle Whiskey Sour
Difficulty: Easy | Makes: 1 Serving
Try this tangy pickle-forward take on a classic cocktail. This one-of-a-kind combination of bold flavors is sure to pique the interest of all whiskey enthusiasts.
Directions
In a cocktail shaker combine pickle juice, ½ oz lemon juice, bourbon, simple syrup, and an egg white and shake. Add ice and shake vigorously again until frothy
Pour into a coupe glass and garnish with a cornichon and lemon twist
Cornichons
#46704 | 12 FL.OZ.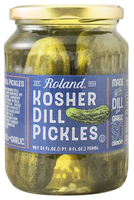 Kosher Dill Pickles
#45760 | 24 FL.OZ.