Zero Proof Raspberry Rosé Spritzer
Difficulty: Medium | Makes: 1 Serving
Perfect for the summer, this refreshing and bubbly alcohol-free drink is made using a DIY shrub as the base.
Raspberry Rosé Shrub
Raspberry Rosé Spritzer
2 ounces Raspberry Rosé Shrub
6 ounces sparkling water/club soda
½ cup cubed ice
Dried rose buds
Fresh raspberries
Directions
For the Shrub
In a mason jar or sealable container, combine all ingredients. Seal container and shake to combine.
Refrigerate for at least one hour, or up to two days.
If the rosemary was added, remove.
Using a blender, puree until smooth. Strain through cheese cloth or coffee filter. Return the mixture to the resealable container.
Final product can be used immediately or stored up to a week under refrigeration.
For the Spritzer
In a tall glass, pour the shrub into the bottom.
Layer the ice into the glass.
Top with club soda.
Garnish with dried rose buds and/or raspberries as desired.
Enjoy.
Maple Syrup, Grade A Amber Color, Rich Taste
#71686 | 12 FL.OZ.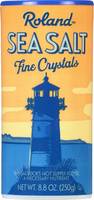 Fine Crystal Sea Salt
#70826 | 8.8 OZ.