Spicy Virgin Bloody Mary
Difficulty: Easy | Makes: 2 Servings
This spicy and flavorful drink incorporates our Roland® Clam Juice and Roland® Anchovies for a seafood twist on a classic cocktail.
Ingredients
Optional Garnishes
Directions
In a blender combine clam juice, anchovies, Worcestershire sauce, olive juice, celery seeds, fresh tomatoes, lemon juice, piquillo peppers and black pepper. Blend until smooth.
In a large drink pitcher combine the blended mixture with the vegetable juice and ice, stir to combine.
Add habanero pepper sauce to achieve the desired level of spice. Alternatively, this could be done in each individual glass if desired.
Serve in tall glasses a long celery stalk and a choice of additional garnishes.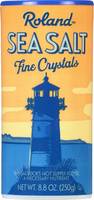 Fine Crystal Sea Salt
#70826 | 8.8 OZ.
Harissa Spice Blend
#75062 | 2.46 OZ.