East Side Manhattan
Difficulty: Medium | Makes: 1 Serving
The Manhattan is a timeless cocktail, and at one point was even the most famous cocktail in world! Here is our Roland Foods' twist on the Manhattan, involving toasted sesame oil fat washed bourbon and miso-brined Amarena cherries!
For the Cocktail
2 ounces toasted sesame fat washed Bourbon whiskey
1 ounce sweet vermouth (we used Carpano Antica)
2 dashes Angostura Bitters
3 Miso-brined Amarena Cherries, for garnish
For the Fat Washed Bourbon Whiskey
*see directions, only 2 ounces needed per cocktail
For the Miso-brined Amarena Cherries
Directions
For the Fat Washed Bourbon
Mix the toasted sesame oil and bourbon whiskey until well combined
Pour the mixture into a sealable container, freeze until the fat and liquid separate
Remove the layer of fat from the top and strain the remaining bourbon through a fine mesh strainer into a new container
If refrigerated, any left over fat washed bourbon can last for 2 weeks
(*there is no exact ratio for fat to alcohol, we suggest starting with small batches first. Try 3% fat to total alcohol)
For the Miso-Brined Amarena Cherries
Add the miso paste directly into the bucket of cherries, stir until they are well coated
Let soak until desired level of umami flavor is achieved (we recommend at least 2 hours)
For the Cocktail
Place your empty glass in the freezer to chill during the mixing process
In one cup of a cocktail shaker combine the fat washed bourbon, sweet vermouth, angostura bitters, and ice. Tightly seal the other shaker cup on top and shake vigorously until well combined (at least 12 seconds)
Remove glass from the freezer and strain the cocktail over the chilled glass.
Garnish with miso brined cherries and enjoy responsibly!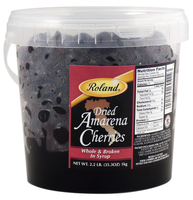 Dried Whole & Broken Amarena Cherries
#60422 | 35.3 OZ.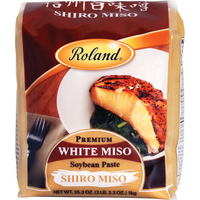 White Miso Paste
#87610 | 36.1 OZ.

Toasted Sesame Oil
#87124 | 6.28 FL.OZ.