Summer Melon Limeade
Difficulty: Medium | Makes: 2 Servings
This mocktail incorporates cantaloupe and lime for a sweet & tangy refresher!
Directions
In a small bowl, combine salt and lime zest; stir until combined. Set mixture aside.
Place fresh cantaloupe, mandarin orange syrup, lime juice and seed lip into the blender. Puree until smooth.
Use a lime wheel to moisten the rim of a glass, then dip into the salt mixture.
Careful not to disturb the salt rim, add lime wheel(s) and ice to the glass. Fill with the melon limeade.
Garnish with fresh lemon balls if desired.
Enjoy!
Fancy Whole Mandarin Orange Segments in Light Syrup
#64006 | 11 OZ.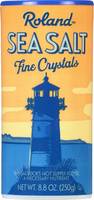 Fine Crystal Sea Salt
#70826 | 8.8 OZ.