Sun-Dried Tomato Pesto
Roland® | #46870
Roland® Sun-Dried Tomato Pesto is a unique blend of sun-dried tomatoes, olive oil, nuts, cheese and Italian spices. A dark, reddish-brown sauce with a paste-like consistency, it has a mellow sun-dried tomato aroma with a strong hint of sharp cheese. Try it in any Italian dish that calls for tomatoes.
You May Also Like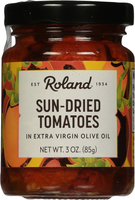 Sun-Dried Tomatoes in Extra Virgin Olive Oil
#46800 | 3 OZ.
Sun-Dried Tomatoes in Olive Oil
#46816 | 32 OZ.
Chopped Capers
#70056 | 5 GAL.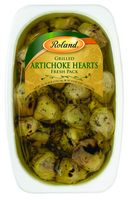 Grilled Artichoke Hearts Marinated in Vinegar and Oil
#31010 | 4.18 LB.