Double Truffle Farro-tto with Roasted Chestnuts
Difficulty: Medium | Makes: 4 Servings
Truffle Farro-tto swaps traditional rice risotto with farro, creating a creamy and dimensional side dish topped with a bright endive salad.
Farro-tto Ingredients
Endive Salad Ingredients
Directions
Separate the Belgian endives into separate petals, wash and dry thoroughly
Cut the petals longways into approximately ½ wide strips
In a medium mixing bowl combine the Dijon, lemon juice, water, EVOO, and honey for the dressing. Stir with a fork until combined
Add the red onion and endive and gently toss until evenly coated with dressing. Season with sea salt and set aside
Heat a medium saucepan over medium-high heat. Add the olive oil to the bottom of pan
Add the farro into the pan, stirring immediately, allowing the oil to evenly coat the grain. Next add in the onion and garlic, continue to stir until aromatic (approximately 1 minute)
Carefully add the brandy and allow the alcohol to cook off (approximately 30 seconds)
Add half of the total amount of broth, allow to come to a simmer, stirring occasionally. The grain will absorb the liquid. Once little left in the pan, add the remainder of the broth and the roasted chestnuts. Continue to stir occasionally until the liquid is absorbed. Stir in the 1/4 cup of Pecorino Romano cheese until incorporated
Season with sea salt
Add the truffle spread into the pan, stir until combined, then turn off the heat
Plate each serving with the farro first, and then top with the endive and chives if desired.
Add a drizzle of truffle oil if desired and enjoy!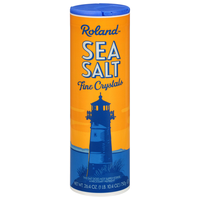 Fine Crystal Sea Salt
#70806 | 26.5 OZ.
Organic Grained Dijon Mustard
#76214 | 7 OZ.
Organic Black Truffle Oil
#70681 | 3.38 FL.OZ.