Quinoa Bibimbap
Difficulty: Easy | Makes: 8-10 Servings
A twist on a classic South Korean Dish! Check out this easy Quinoa Bibimbap and expand your dinner menu.
For the Bibimbap
For the Gochujang Sauce
Directions
For the Bibimbap
Cook Roland® Tri-Color Quinoa according to package instructions
In a large skillet, over medium heat, add 1 tablespoon sesame oil and 1
tablespoon doenjang paste. Add spinach to skillet, and cook until wilted
In a large bowl, combine cooked tri-color quinoa, bean
sprouts, sliced bamboo shoots, daikon radish, carrots, green onions
and cooked, seasoned spinach
In a small bowl, prepare the vinaigrette, by whisking together the remaining
sesame oil, doenjang paste, soy sauce, seasoned rice wine vinegar, ginger and honey until they emulsify
Add the doenjang vinaigrette to quinoa mixture and toss until well coated
Drizzle Roland Simple Gochujang Sauce over quinoa mixture and serve
For the Gochujang Sauce
Combine all ingredients in a small mixing bowl
Stir well until combined
Adjust seasoning to taste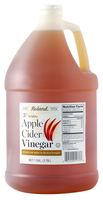 Apple Cider Vinegar- 5% Acidity
#70778 | 1 GAL.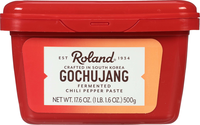 Gochujang
#87720 | 17.6 OZ.