Veggie Gyoza with Spicy Chili Onion Crisp Dipping Sauce
Difficulty: Medium | Makes: 24 Pieces of Gyoza
Digital creator and food photographer Swarnika (@swarnika) puts her spin on a veggie gyoza with dipping sauce utilizing Roland® Spicy Chili Onion Crisp.
Gyoza
Filling
200 grams shredded cabbage
4 shiitake mushrooms, finely sliced
2 small carrots, shredded
1 inch piece of ginger, finely grated
4 garlic cloves, minced
4 spring onions, finely sliced
2 tablespoons vegetable oil
1 tablespoons Roland® Soy Sauce
1 teaspoon sherry vinegar
½ teaspoon Roland® Sesame Oil (optional)
White pepper, to taste
Salt, to taste
Oil, for frying
Spicy Chili Onion Crisp Dipping Sauce
Directions
Heat 2 tablespoons of vegetable oil in a wok and add in all the vegetable ingredients for the filling. Stir fry on high heat for 3-4 minutes. Stir in the soy sauce, sherry vinegar, and sesame oil. Let cool completely
For assembling the gyoza, take a wonton wrapper and run a wet finger along its edges to soften it. Add a tablespoon of filling in the center of the wrapper. Working from one side, pinch and fold along the length to form pleats. Keep dumplings covered in a plate while you assemble the rest
Heat 1 tablespoon of oil in a non-stick frying pan. Add the dumplings, making sure they are not too crowded. Fry for 2 minutes until the bottom of the gyoza is golden. Add 1/3 cup of water and immediately put on the lid to trap the steam. Cook covered for 4-5 minutes on medium flame until all the water has evaporated and gyoza is cooked through
Mix all the ingredients for the Spicy Chili Onion Crunch Dipping Sauce and serve with the gyoza
*Find Swarnika on Instagram at @swarnika_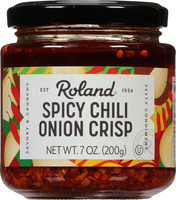 Spicy Chili Onion Crisp
#87723 | 7 OZ.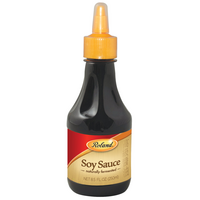 Soy Sauce
#87084 | 8.5 FL.OZ.

Toasted Sesame Oil
#87142 | 12.5 FL.OZ.