Kimchi Fried Rice with Gochujang
Difficulty: Easy | Makes: 4-5 Servings
This flavorful Kimchi Fried Rice with Gochujang from influencer and recipe developer @skillettoplate is a simple yet flavorful dinner option.
Directions
Strain the kimchi completely from its juices and set aside the strained kimchi and kimchi juice separately
In a wok heat the sesame oil. Add the garlic cloves and sauté for one minute
Add the strained kimchi and sauté for one minute or until the moisture evaporates
Add the cooked rice and gochujang and stir well
Finally, add the kimchi juice and mix well
Serve hot topped with a sprinkle of black sesame seeds and a fried egg
*Find Janani on Instagram at @skillettoplate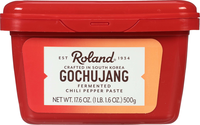 Gochujang
#87720 | 17.6 OZ.
Toasted Sesame Oil
#87122 | 6.28 FL.OZ.
Black Sesame Seeds
#84238 | 4.12 OZ.