Mini Turkey & Chestnut Pot Pies
Difficulty: Easy | Makes: 12 Servings
Repurpose your leftover holiday turkey with this delicious pot pie recipe!
Directions
Preheat oven to 350 degrees F
Place a sauce pot over medium high heat, add broth, mushrooms and the whole chestnuts to the pot. Bring the contents to a simmer for 3 minutes
Puree the contents of the pot using an immersion blender until a smooth slightly thickened appearance is achieved
Add the onion and kale to the pot, and return to a simmer for 3 minutes stirring occasionally
Season with salt and remove the pan from the heat and set aside
Locate a standard 12 count muffin tin; Spray each compartment with cooking spray and dust with flour
Use a 5 inch round cutter to cut out 12 circles from the pie crust, setup each mini crust into the muffin tin compartments
Evenly distributed the turkey into the muffin tins. Sprinkle the chopped chestnuts evenly on top of the turkey
Next, distribute the kale sauce mixture into each of the tins, care not to overfill the compartments
Sprinkle the tops with parmesan cheese, then place into the oven to bake for 20-25 minutes- until the cheese is melted and the crusts are lightly golden brown
Take the muffin tin out of the oven and allow to cool for 3-4 minutes, pop each mini pie out using and offset spatula
Serve with Roland® Wild Swedish Lingonberries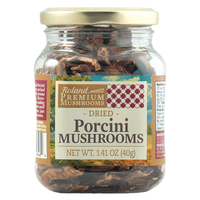 Dried Porcini Mushrooms
#44846 | 1.41 OZ.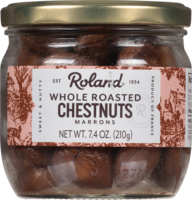 Roasted Chestnuts
#46604 | 7.4 OZ.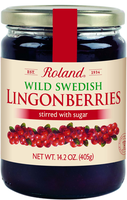 Wild Swedish Lingonberries Stirred with Sugar
#62000 | 14.2 OZ.