Organic Black Truffle Oil
Roland® | #70681
Our Organic Black Truffle Oil is made with organic truffles sourced from a multi-generational truffle oil producer in the Italian region of Umbria. Roland® Organic Black Truffle Oil is organic extra virgin olive oil infused with an unmistakable truffle aroma and includes pieces of organic black summer truffles in every bottle. This aromatic and earthy oil will add sophistication to any dish and goes particularly well drizzled over risotto, pasta, soup, or roasted vegetables.
You May Also Like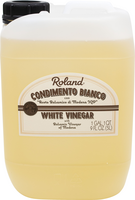 Condimento Bianco with Balsamic Vinegar of Modena
#70490 | 5 L.
Virgin Liquid Coconut Oil
#86050 | 16 FL.OZ.
Organic Red Wine Vinegar with the Mother
#70790 | 1 GAL.

French Raspberry-Flavored Red Wine Vinegar
#70534 | 16.9 FL.OZ.