Savory Polenta Cake with Citrus Salad
Difficulty: Easy | Makes: 6-8 Servings
A sophisticated polenta cake is juxtaposed against bright citrus flavors in this elevated autumn-inspired appetizer featuring Roland® Polenta and Blood Orange Glaze.
Ingredients
2 (8.8 ounce) boxes Roland® Yellow Polenta
2 teaspoon salt, divided
4 tablespoons butter
2 pink grapefruits, segmented
2 oranges, segmented
1 large fennel bulb, ¼ inch thick slices, ¼ cup fronds reserved
¼ cup parsley leaves
1 lemon, juiced
¾ cups olive oil, divided
¼ cup all-purpose flour
Parmesan, for serving
Roland® Blood Orange Glaze, for serving (get the Blood Orange Glaze on Amazon)
Directions
Line a 9x13 ¼ sheet tray with plastic wrap leaving an overhang, set aside
In a large stock pot add 6 cups of water and bring to a boil. Add 1 teaspoon of salt. While continuing to whisk slowly pour in the Roland® Yellow Polenta. Mix with the whisk until it becomes thicker then switch to a wooden spoon. Stir constantly, for about 6-8 minutes
Turn off the heat and add 4 tablespoons of butter. Allow to cool slightly
Pour the polenta into the prepared sheet tray. Cover with plastic and allow to chill in the fridge for at least 4 hours
Slice the fennel bulb into quarters lengthwise. Using a mandolin, slice the quarters a ¼ of an inch thick
In a large mixing bowl, combine grapefruit segments, orange segments, fennel slices, fennel fronds, parsley, lemon juice, ¼ cup olive oil, and 1 teaspoon salt. Mix to combine and set aside
Using a 3-inch cookie cutter cut out polenta cakes from chilled polenta
Dust the polenta cakes with flour
In a large sauté pan over high heat, add 1 tablespoon olive oil. Add the cakes to the pan and crisp on both sides, about 2 minutes per side or until golden. Repeat with remaining oil and polenta cakes
Serve with grated parmesan, fennel citrus salad, and top with Roland® Blood Orange Glaze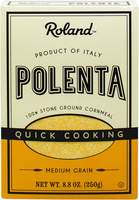 Medium Grain Yellow Polenta
#72150 | 8.8 OZ.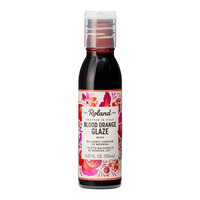 Blood Orange Glaze made with Balsamic Vinegar of Modena
#76308 | 5.07 FL. OZ.