June 29, 2023 | Ingredients 101
---
What is Gochujang? The Complete Gochujang Guide
---
What is Gochujang?
Gochujang is a spicy paste from Korea made of red chili peppers, fermented soybeans, rice, and salt. It can be used as a dip, spread, or marinade. Gochujang can be found on both casual and fine dining menus.
Gochujang is a versatile sauce that started off as a traditional Korean ingredient, but has become widely regarded world wide. Since 2018, gochujang has steadily grown in popularity, peaking in April 2023 and remaining on-trend ever since.
Recently, social media influencers have demonstrated that gochujang has no bounds, creating mixed-cultural dishes with tang and unmatched flavor - ranging from using the paste as a pork belly marinade to reinventing the classic Rice Krispies Treat.
A true modern pantry staple, gochujang can be used in a multitude of ways in the kitchen.
How Does Gochujang Taste?
Gochujang has a spicy and umami flavor that can be intense if consumed alone. We suggest combining it with water, liquid, or stock to thin out the sauce and mellow out the heat.
Because it is a fermented product, gochujang paste has a subtle sweetness that works well with the spiciness and salty, umami flavor it also possesses.
Want to learn more about spicy food trends? Check out our guide.
Where Does Gochujang Come From?
Making Gochujang: The Fermentation Process
The fermentation process may vary from producer to producer, but the ingredients rarely change, red chili peppers, sweet rice, fermented soybean powder, barley malt and a variety of other grains are needed to create a basic gochujang paste. Traditional fermentation methods begin by soaking barley malt to extract malt water. This milky liquid is then boiled with sweet rice, red chili peppers, fermented soybean powder and salt, resulting in the red umami paste.
The paste may be fermented in an earthenware pot called jangdok to achieve different, complex flavors of gochujang, allowing the slow fermentation to transform the starches in the rice to sugar for a delicate sweetness.
The History of Gochujang
Gochujang is an ancient Korean condiment that can be traced back to the 16th century. Now used in trendy Asian cuisine and cooking, gochujang was originally consumed for medicinal purposes. Its founder, Korean physician Si-Pil Yi, saw the many benefits the paste provided.
After centuries of use in kitchens all over Korea, gochujang was first commercially packaged and sold in the 1970s. Today, you can still find artisanal gochujang crafters in the Sunchang Gochujang Village located in the North Jeolla province (southern South Korea).
The chili paste is recognized as one of the mother sauces that serves as the basis of Korean cooking, the perfect starter ingredient for a multitude of dishes.
Cooking with Gochujang
Gochujang is great for adding a quick punch of flavor to any dish and can be simply used right out of the container (we suggest mixing it with another ingredient such as rice wine vinegar or water to thin it out).
As mentioned, in traditional Korean applications, gochujang is used in barbecue marinades, dipping sauces, and home-style stews and soups. Gochujang is also commonly used in other Korean condiments and spreads like Ssamjang, but we love using it to make a spicy mayo!
We recommend using gochujang to make Bibimbap chili sauce, which can be used to coat grilled chicken wings, top Korean beef tacos, or add a tangy blast of heat to almost any dish.
To make Bibimbap chili sauce, combine gochujang with other traditional Asian ingredients such as sesame oil, rice wine vinegar, garlic, and sugar.
Looking for other recipe ideas? We have you covered:
Check out this recipe for Salmon Burgers with Gochujang Mayonnaise! 
Discover our recipes for… Gochujang Bouillabaisse with Sesame Saffron Aioli and Crispy Fried Artichokes with Maple Gochujang Sauce
Gochujang is #Trending
Cooking with gochujang is trendy! Just look how google searches for the ingredient have grown in the past few years. The search term "gochujang" on Tiktok has over 24 million views, featuring hundreds of gochujang-inspired recipes and dishes.
These gochujang creations from TikTok recently caught our attention:
Abbyinthegalley gave us a behind-the-scenes look at how simple it is to make these delectable Gochujang Cookies using our paste!
Chungeats creates Gochujang Pasta by combining penne alla vodka with gochujang to form a mouthwatering dish.
Gochujang is also used by many modern chefs, adding classic Korean culture and rich flavors to kitchens in the world today. Here are some ways culinary artists are using gochujang:
Gochujang Gin Sour Cocktail - Chef and drink developer Dave Park of Chicago's Jeong restaurant combines gochujang with the bright flavors of raspberry, calamansi, and lime juice to create a sweet and sour drink.
Gochujang Caramel Cookies - Eric Kim from the New York Times delivers this subtly spicy rendition of a classic snickerdoodle cookie.
Gochujang-Ranch Crispy Chicken Bowl – Rick Martinez from Bon Appetit shared a recipe that pairs gochujang with ranch to create a modern comfort dish.
Interest in gochujang has consistently been trending upward for the last decade. After slowing increasing for five years, the home-chef revolution that emerged during Covid-19 led gochujang to a notable spike in the late spring and early summer of 2020. Since then, gochujang has stood at the top of Google Trends, peaking interest in both January and April of 2023.
Over the past four years, gochujang has seen a 59% increase in menu appearances in the United States, proving that the ingredient is on its way to popping up on even more menus in the future.
According to Datassential, the red chili paste is in the "adoption" phase, which means gochujang is still being discovered by many and used in experimental forms. In fine dining, gochujang currently appears in over 2.8x more menus than it did in 2020. In years to come, these numbers are sure to increase as more people are introduced to this versatile and flavorful ingredient.
Fast Facts
Gochujang has experienced a 5% increase in American restaurants in the past year (Datassential).
Gochujang has seen a 59% increase in American restaurants over the past four years (Datassential).
In the fine dining sector, gochujang has grown over 2.8x in American restaurants since 2020 (Datassential).
Gochujang has been gaining interest in casual dining establishments every year for the past decade (Datassential).

Roland® Gochujang
Our Roland® Gochujang is a sweet and spicy chili paste with a strong umami flavor. Authentically sourced from South Korea, the paste is fermented using traditional processes to create a deep, intense flavor. Already pre-packaged in convenient tubs, the ingredient is a pantry staple you should keep on hand to add depth of flavor to many dishes.
Roland® Gochujang pairs well with several of our other Roland® ingredients:
We hope you experiment with these authentically-sourced ingredients to create a dish of your own!
Gochujang, Your New Go-To
As you reach the end of this blog, we hope we've answered your "what is gochujang" question. As experts on global flavors, with more than 89 years of experience in the fine foods sector, we enjoy sharing this knowledge with you.
And now that you are well-versed on all things gochujang, we hope you are ready to experiment with the ingredient in your own kitchen.
Ready to learn more about global products and cooking? Explore our other blogs and product spotlights to continue your culinary education.
Want to learn more about Asian Cuisine? Check out our Product Spotlight.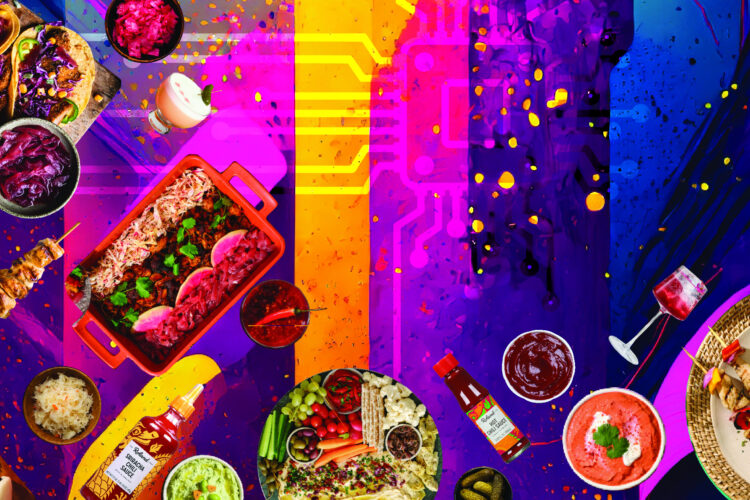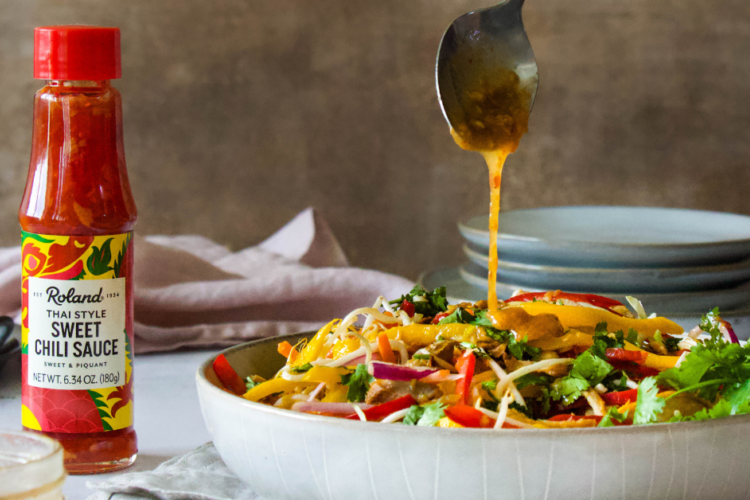 September 11, 2023 | Ingredients 101
---
What is Thai Sweet Chili Sauce?
What is Thai Sweet Chili Sauce? This in-depth guide explores the sauce's origins, suggested applications, and culinary inspiration.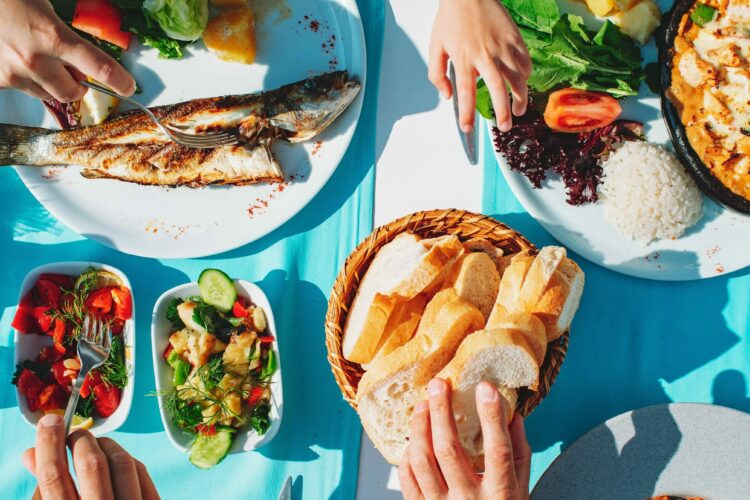 August 03, 2023 | Food Trends
---
The Mediterranean Kitchen | A Guide to Mediterranean Cuisine
Looking to create your own Mediterranean kitchen? In this comprehensive guide on the Mediterranean diet, we explain the method behind the Mediterranean lifestyle, how to follow the cuisine, its proven health benefits, and how it's popping up on restaurant menus across the United States.