Gochujang Bouillabaisse with Sesame Saffron Aioli
Gochujang adds a complex spiciness to this traditional French seafood-forward recipe.
Gochujang Bouillabaisse
2 tablespoons Roland® Grapeseed Oil
1 cup fresh fennel, large dice
1/2 cup leeks, large dice
1/2 cup fresh carrot, medium diced or batons
4 cloves garlic, thinly sliced
1 pinch Roland® Saffron Threads
1/2 cup tomatoes, peeled and diced
3 tablespoons Roland® Gochujang (get the Gochujang on Amazon)
1 cup Yukon gold potatoes, peeled and large diced
1/2 cup Pernod
2 bay leaves
6 cups vegetable broth
2 cups Roland® Clam Juice
1 pound shell-on shrimp (with or without heads)
12 little neck clams
12 mussels
Salt and pepper, to taste
Fennel fronds & fresh parsley, for garnish
Sesame Saffron Aioli
Directions
For the Bouillabaisse
Place a large heavy bottomed pot onto the stove over medium heat
Add the oil to the pot, and allow to heat until it is shimmering and able to be moved around the pan (about 30 seconds)
Add fennel, leeks, carrots, garlic and saffron to the pot, stir until evenly mixed. Allow the contents to simmer, stirring occasionally, until the leeks and fennel become translucent and fragrant
Add the Pernod and bay leaves to the pot, stir and simmer for 1 minute
Add the potatoes, gochujang, tomatoes, broth and clam juice into the pot. Bring the contents to a simmer
Season with salt and pepper to taste
Add the shell fish into the pot, stirring gently to incorporate. Cover the pot with the lid and reduce the heat to medium low. Allow the contents to cook until all the seafood is fully cooked (*145 degrees F internal temperature), approximately 10 minutes
Season to taste with salt and pepper. Remove from heat
Garnish with fennel fronds and herbs, if desired
Suggest serving with toasted or grilled bread on the side and a dollop of the Sesame Saffron Aioli
For the Sesame Saffron Aioli
In a small mixing bowl combine boiling water and saffron. Stir contents until combined, then allow to rest for 3-4 minutes
The contents should have achieved a vibrant yellow color. Add the sesame oil and lemon juice into the bowl
Using a whisk, incorporate the mayonnaise, and blend until it has a uniform yellow creamy texture
Season with salt
Finished product can be used immediately or stored in an airtight container under refrigeration for 2-3 days

Toasted Sesame Oil
#87124 | 6.28 FL.OZ.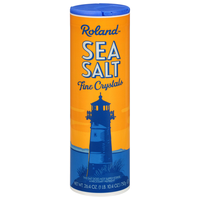 Fine Crystal Sea Salt
#70806 | 26.5 OZ.