Chinese Chicken Salad Lettuce Cups
Difficulty: Easy | Makes: 4 Servings
These lettuce cups are ideal for a light meal or appetizer, colorful and bright featuring several items from our Asian collection.
For the Chicken Salad
For the Sesame Chili Dressing
Directions
Heat the grapeseed oil to 350 degrees F. Using your hands and a pair of scissors, break the rice noodles apart into manageable amounts and separate them into 4-5 inch long strips
Once the oil is heated, drop in the rice noodles and fry for 10 seconds or until puffed up and crispy. Drain well and finish with a little salt
Mix all the dressing ingredients together and set aside
To assemble, lay the lettuce cups out and top with chicken, shredded carrot, shredded cabbage, water chestnuts, and mandarin oranges. Top with the sesame chili dressing and finish with crispy rice noodles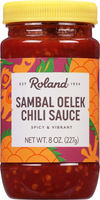 Sambal Oelek Chili Sauce
#87370 | 8 OZ.
Rice Wine Vinegar
#70522 | 1 GAL.

Grapeseed Oil
#70606 | 16.9 FL.OZ.