Ground Turkey Lettuce Wraps
Difficulty: Medium | Makes: 6 Servings
Ground turkey is cooked with vegetables and tossed in an Asian-inspired sauce, then spooned onto a bed of fresh lettuce.
Ingredients
Sauce Ingredients
Directions
Mix all sauce ingredients together and set aside
Heat avocado oil in a saucepan over medium to high heat. Add ground turkey and crumble; cook until meat starts to brown. Drain excess fat
Add onion and cook until translucent and turkey is cooked through, about 5 minutes
Add the peppers and water chestnuts, cook about 5 minutes or until peppers begin to soften
Add the sauce and simmer on low heat, coating the turkey and vegetables with the sauce
Scoop into butter lettuce, garnish with green onions, and serve with a side of dipping sauce

Avocado Oil
#70654 | 8.45 FL.OZ.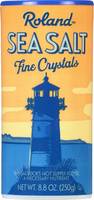 Fine Crystal Sea Salt
#70826 | 8.8 OZ.