Rice Wine Vinegar
Roland® | #70522
Rice wine vinegar finds its origin in Japanese and Chinese cuisine and offers a mellower taste than vinegars typically used in Europe. Roland® Rice Wine Vinegar has a bright, tart flavor and shines in any dish when combined with sesame seed oil or various citrus flavors.
You May Also Like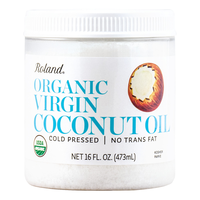 Organic Virgin Coconut Oil
#86060 | 16 FL.OZ.
Chianti Red Wine Vinegar
#70569 | 16 FL OZ.
Rosé Wine Vinegar
#76322 | 16.9 FL. OZ.
Walnut Oil
#70618 | 16.9 FL.OZ.