Spicy Sriracha Michelada
Difficulty: Easy | Makes: 1 Serving
A refreshing summer cocktail packed with flavor! Try this Spicy Sriracha Michelada in place of a Bloody Mary at your next brunch!
Directions
Rim the cocktail glass with half a lime and dip the rim into a plate with the harissa spice
In a large cocktail glass, combine sriracha, soy sauce, ½ oz lime juice, clam juice, and tomato juice. Mix to combine
Add ice and finish with a lager beer of your choice
Garnish with a lime wheel, shrimp, more harissa spice, and a cornichon and manzanilla olive skewer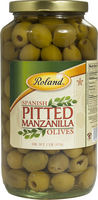 Spanish Pitted Manzanilla Olives - 340/360
#71862 | 32 FL.OZ.
Cornichons
#46704 | 12 FL.OZ.
Hot Sliced Jalapeño Peppers
#45770 | 11.5 FL.OZ.