Spicy Chili Onion Crisp Pasta
Difficulty: Medium | Makes: Serves 6
Digital creator and food photographer Swarnika (@swarnika_) developed a rich and hearty pasta dish highlighting our Spicy Chili Onion Crisp.
Ingredients
1 shallot, finely chopped
4 cloves garlic, minced
2 tablespoons Roland® Olive Oil
1 tablespoon fresh thyme
1 tablespoon fresh oregano, finely chopped
2 tablespoons Roland® Spicy Chili Onion Crisp
28 oz. can of Whole Peeled Tomatoes
1 cup fresh cream
Salt and pepper to taste
Parmesan cheese, for serving
Directions
Heat the olive oil in a heavy bottomed pot
Add the shallots and cook until translucent
Add garlic, thyme, and oregano. Cook stirring for a minute
Add the Spicy Chili Onion Crisp and cook for another minute
Add the whole peeled tomatoes, salt, and pepper. Cover and cook for 20 minutes
Using an immersion blender, blend the tomatoes until smooth
Return to heat and stir in the cream and cook for another ten minutes
Toss in the pasta and serve with freshly grated parmesan and a drizzle of the Spicy Chili Onion Crisp
*You can find Swarnika on Instagram at @swarnika_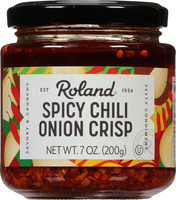 Spicy Chili Onion Crisp
#87723 | 7 OZ.

Olive Oil
#70626 | 16.9 FL.OZ.