Kalamata Olive Bread
Difficulty: Medium | Makes: 12 Servings
Kalamata olives are the star of the show in this baked bread recipe.
Directions
Dissolve yeast in water in bowl of a stand mixer. Let stand 5 minutes
Add flour, salt, garlic powder, and olive oil to bowl with yeast and water
Combine with wooden spoon just until ingredients are blended. Let stand another 10 minutes
Attach bowl to stand mixer with dough hook attachment
Run mixer on low, and slowly incorporate the chopped olives
Once all added, continue to mix on slow for 3 minutes
Turn mixer up to medium speed, mix for an additional 5 minutes, or until dough slaps the sides of the bowl
Turn dough into a greased ball and cover
Proof in a warm place until doubled in size, about 1 hour
Punch down dough and evenly divide into two round loaves
Allow to proof again until doubled in size, about another hour
Dust loaves with flour and using a sharp knife, make two cuts in the the top of the loaf
Bake at 425° degrees on a parchment lined sheet pan for 30 minutes
Apply steam if available
Allow to cool before slicing

Olive Oil
#70626 | 16.9 FL.OZ.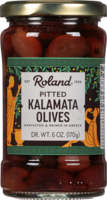 Pitted Kalamata Olives - 200/230
#71732 | 6 OZ. DW.