Spicy Chili Onion Crisp
Roland® | #87727
Comprised of simple ingredients, Roland® Spicy Chili Onion Crisp has a savory, mild heat with a sweet finish and delectable crunch. Try tossing it with grilled shrimp, chicken wings, or roasted vegetables, or as a finishing touch to pasta, noodle bowls, and soups. This ready-to-use condiment also adds a spicy kick to bruschetta, toasts, and sandwiches.
You May Also Like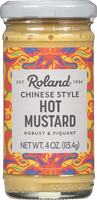 Chinese Hot Mustard
#70330 | 4 OZ.
Korean BBQ Marinade - Bulgogi
#87700 | 10.7 FL.OZ.

Habanero Pepper Sauce
#32916 | 32 FL.OZ.
Duck Sauce
#70346 | 10 LB.