Chipotle Grilled Chicken with Orange Honey Glaze
Difficulty: Easy
Fire up your BBQ and try this flavorful recipe for Chipotle Grilled Chicken with Orange Honey Glaze from Phillip Fryman @southernfatty.
For the Marinade
7 ounces Roland® Chipotle Peppers
4 tablespoons vegetable oil
2 tablespoons honey
3 garlic cloves
1 teaspoon salt
1/2 teaspoon black pepper
1/2 teaspoon paprika
1 tablespoon lime juice
1 - 2 pounds chicken, selection as desired
For the Orange Honey Glaze
1/2 cup orange juice, fresh (about 2 oranges)
3 tablespoons marinade, reserved from above
2 tablespoons Roland® Olive Oil
1 tablespoon honey
1 tablespoon apple cider vinegar
Pinch of salt
Directions
For the Marinade
Combine marinade ingredients in a blender
Blend until well mixed. Remove 3 tablespoons of this marinade and set aside
Place chicken into a container and cover with marinade mixture
Ideally, marinate overnight in a refrigerator. Alternatively, rest for at least 30 minutes

Grilling
Heat grill to medium-high heat. Remove chicken from marinade and grill until charred and cooked to desired doneness, about 15 minutes
Keep warm while preparing glaze (or prepare glaze ahead of time)
For the Orange Honey Glaze
Combine ingredients for glaze in a saucepan over medium heat
Stir constantly and bring to boil for at least 3-4 minutes. Reduce heat to simmer
Continue to stir until it coats a spoon, about 5-6 minutes in total
Glaze char-grilled chicken and enjoy!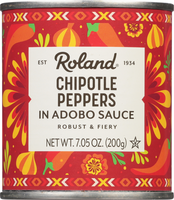 Chipotle Peppers in Adobo Sauce
#45780 | 7.05 OZ.

Olive Oil
#70626 | 16.9 FL.OZ.