Toasted Everything Flatbreads
Roland® | #71148
Roland® Toasted Everything Flatbreads are a crunchy and delicious treat. White sesame seeds, onion, garlic, and poppy seeds bring the classic New York bagel flavor to these otherwise mild crackers. Great eaten on their own, they are even better when garnished with the topping of your choice.
You May Also Like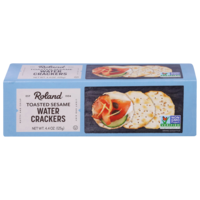 Toasted Sesame Water Cracker
#71016 | 4.4 OZ.
Quinoa with Vegetable Medley
#72674 | 7.4 OZ.
Traditional Crostini
#72800 | 7.05 OZ.
Holland Rusks Crackers
#71060 | 4.4 OZ.