Toasted Everything Flatbreads
Roland® | #71148
Made in small batches and using only the finest ingredients, Roland® Toasted Everything Flatbreads are crisp flatbreads that make a perfect addition to charcuterie boards, cheese tastings, tapas spreads, and antipasti. With a savory blend of garlic, onion, sesame, poppy, and caraway seeds, our Toasted Everything Flatbreads are the perfect balance of flavor in every bite. They are an ideal base to present dips, spreads, and bruschetta.
You May Also Like
Holland Rusks Crackers
#71060 | 4.4 OZ.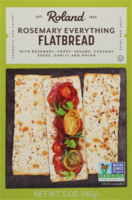 Rosemary Everything Flatbreads
#71152 | 5 OZ.

Classic Water Cracker
#71020 | 4.4 OZ.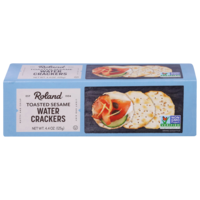 Toasted Sesame Water Cracker
#71016 | 4.4 OZ.