Classic Water Cracker
Roland® | #71020
Water crackers are thin, crisp crackers with an airy texture. Due to their mild flavor, water crackers pair very well with many ingredients. Roland® Classic Water Crackers are a great addition to cheese boards.
You May Also Like

Cracked Pepper Water Cracker
#71014 | 4.4 OZ.
Sea Salt Cracker Trays
#65601 | 5 oz.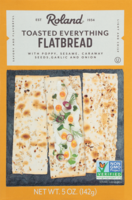 Toasted Everything Flatbreads
#71148 | 5 OZ.
Quinoa with Vegetable Medley
#72674 | 7.4 OZ.