Rosemary Everything Flatbreads
Roland® | #71152
Roland® Rosemary Everything Flatbreads are a crunchy and delicious treat. White sesame seeds, onion, garlic, and poppy seeds bring the classic New York bagel flavor to these otherwise mild crackers, while a touch of rosemary gives them a subtle Mediterranean appeal. Great eaten on their own, they are even better when garnished with the topping of your choice.
You May Also Like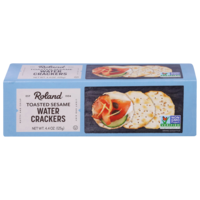 Toasted Sesame Water Cracker
#71016 | 4.4 OZ.

Everything Wheat Crackers
#71002 | 4.4 OZ.

Country Style Crackers
#71004 | 4.4 OZ.

Classic Water Cracker
#71020 | 4.4 OZ.