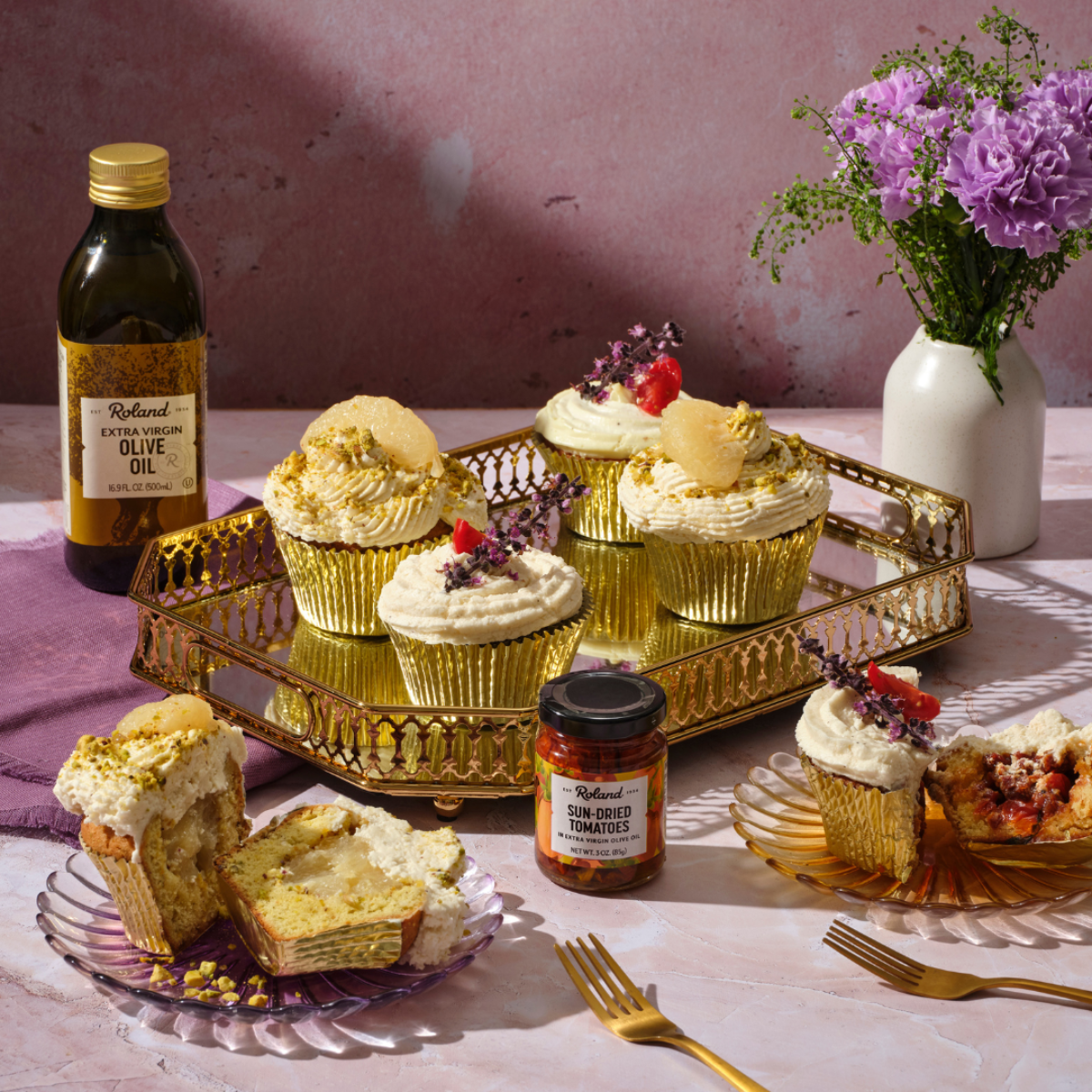 Savory Sundried Tomato Olive Oil Cake with Whipped Goat Cheese
Difficulty: Medium | Makes: 12 Servings
A deliciously savory dessert for those without a sweet tooth!
For the Olive Oil Cake
3 eggs
2 cups sugar
1 1/4 cups milk
1 1/2 cups Roland® Olive Oil
1/4 cup sun dried tomato syrup (see recipe below)
Zest of 1 lemon
1 tablespoon lemon juice
1 teaspoon salt
1/2 teaspoon baking soda
1/2 teaspoon baking powder
2 1/2 cups all-purpose flour
Sundried Tomato Syrup
1 cup sugar
1 cup water
4 sprigs thyme
Tomato Jam
Whipped Goat Cheese
10 ounces goat cheese, room temperature
1/4 cup heavy cream
2 tablespoons honey
Black pepper, to taste
Directions
For the Sun-Dried Tomato Syrup
Combine in a saucepan and blend tomatoes, water, and sugar using an immersion blender. Add thyme and boil for 2 minutes. Turn off the heat and let it cool
Strain well and set aside
For the Tomato Jam
Combine ingredients in a saucepan and simmer on low heat for 30 mins
For the Olive Oil Cake
In a mixer, beat the eggs well then slowly add the sugar and beat for a few minutes until light and fluffy
Next add the oil, sundried tomato syrup, lemon zest and juice, and milk. Sift the dry ingredients and slowly incorporate them to the wet ingredients
Preheat the oven to 350 degrees F. Grease large cupcake molds or a 9-inch cake pan
For cake, bake for 1 hour, for cupcakes bake for 30 minutes or until a cake tester comes out clean
For the Whipped Goat Cheese
Beat goat cheese in an electric mixer and whip until light and fluffy. Slowly add in the heavy cream and then finish with honey and black pepper. Transfer to piping bag
To Assemble
Scoop out the inside of the cupcake
Brush on the sundried tomato syrup. Layer the tomato jam on the bottom and top with basil chiffonade then whipped goat cheese
Garnish with basil and lemon zest

Olive Oil
#70626 | 16.9 FL.OZ.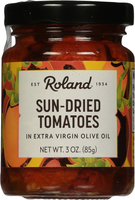 Sun-Dried Tomatoes in Extra Virgin Olive Oil
#46800 | 3 OZ.