Spicy Hearts of Palm Salad
Difficulty: Easy
A quick and simple vegetable-forward salad with an interesting meld of sweetness and spice.
Directions
Drain and rinse hearts of palm in water
Whisk together mustard, maple syrup, olive oil, and vinegar in a bowl. Season with salt and pepper
Immerse the hearts of palm in the vinaigrette and marinate for 2-4 hours in the refrigerator
Separate the hearts of palm and reserve the remaining vinaigrette
In the meantime, build your salad with arugula, red onions, and jalapenos
Remove hearts of palm from refrigerator and place on top of salad
Drizzle reserved vinaigrette on the salad
Garnish with cheese and enjoy
Rosé Wine Vinegar
#76320 | 8.45 FL. OZ.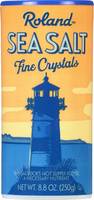 Fine Crystal Sea Salt
#70826 | 8.8 OZ.