Chicken Pesto Pasta Salad
Difficulty: Easy | Makes: 8 Servings
A delicious Mediterranean style pasta salad from creators Briana DeBolt and Chamere Orr.
For the Chicken
1 pound chicken breast cutlets
4 tablespoons Roland® Olive Oil
2 teaspoons kosher salt
1 1/2 teaspoons garlic powder
1 1/2 teaspoons onion powder
2 teaspoons Italian seasoning
1/2 teaspoon red pepper flakes
1 tablespoon lemon zest
4 tablespoons lemon juice
Fresh basil, to garnish
For the Pasta Salad
1 pound cavatappi pasta (cooked in heavily salted water)
1 pound chicken (cut into pieces)
6-8 ounces Roland® Basil Pesto
14 ounces Roland® Red Pepper Strips, cut into small pieces
10 ounces cherry or grape tomatoes, halved
1 1/2 tablespoons lemon juice
8 ounces mozzarella pearls
Salt and pepper, to taste
Directions
Prep the chicken by drying with paper towels, cutting them in half, and tenderizing with a meat mallet. Heat a grill pan or a large skillet over medium-high heat
Prepare the pasta in a large pot with heavily salted water. Cook for the suggested cooking time until al dente. Reserve about 1 cup of pasta water, drain, and set aside
Combine 4 tablespoons olive oil, 2 tablespoons lemon juice, lemon zest, 1.5 teaspoons onion powder, 1.5 teaspoons garlic powder, ½ teaspoon black pepper, 2 teaspoons Italian seasoning, ½ teaspoon red pepper flakes, and most of the salt to make a marinade in a large bowl. Add the chicken and let sit for 10 minutes
Add the chicken to the hot grill pan, top with a spoonful of the marinade, and grill for 2-3 minutes on one side before flipping over
Cook for an additional 3-4 minutes until the chicken reaches an internal temperature of 165°F. Let your cooked chicken rest for 5-10 minutes to seal in the juices, then cut into bite-sized pieces
In a large bowl, add the cooked pasta, tomatoes, mozzarella pearls, red peppers, and chicken
Mix the ingredients well and then add basil strips, salt, fresh parmesan, pepper, and basil pesto. With a rubber spatula, combine all of the ingredients together
In a serving dish, top with a little extra pesto, freshly grated parmesan, fresh basil leaves, salt, and pepper, and enjoy!
You can store the leftover pasta salad in an airtight container or the mixing bowl covered in saran wrap for 3-4 days in the fridge. Be aware that the tomatoes will begin to break down quickly, so if you plan to make this ahead of time, leave the tomatoes out until it's time to serve

Olive Oil
#70626 | 16.9 FL.OZ.
Basil Pesto
#46914 | 22.9 OZ.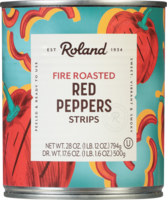 Fire-Roasted Red Pepper Strips
#45594 | 28 OZ.