Fire-Roasted Red Peppers
Roland® | #45654
Conveniently peeled, and packed in a simple brine, Roland® Fire Roasted Red Peppers are a vibrant shade of red and have a slightly smoky, sweet flavor. Our Fire Roasted Red Peppers are perfect for antipasti or sliced as a topping on pizza or sandwiches!
You May Also Like
Tri-Color Sliced Jalapeño & Aji Peppers
#45740 | 28 OZ.
Red Pimientos
#45520 | 7.7 OZ.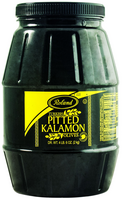 Turkish Pitted Kalamon Olives - 230/260
#71710 | 4.4 LB. DW.
Colossal Whole Cracked Green Olives
#71794 | 4.4 LB. DW