Pitted Oil-Cured Olives
Roland® | #71456
Roland® Oil Cured Pitted Olives are ripe olives that have been cured, pitted and packed. These Moroccan olives are oval and are approximately 3/4" in diameter. Their salty taste, oily, wrinkled skin and firm-texture flesh makes them irresistible!
You May Also Like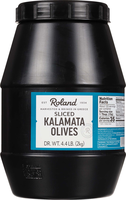 Sliced Kalamata Olives
#71736 | 4.4 LB. DW.
Colossal Whole Cracked Green Olives
#71794 | 4.4 LB. DW
Whole Long Red Peppers
#45672 | 12 OZ.
Black Olive Paste
#46944 | 6.17 LB.