Pineapple Dragon Fruit Margarita
Difficulty: Easy | Makes: 1 Serving
The ultimate summer cocktail. Transport yourself to a tropical destination with one sip of our Pineapple Dragon Fruit Margarita.
Ingredients
2 limes, divided
2 oz dragon fruit puree
1 teaspoon agave nectar
2 oz tequila
½ oz triple sec
Edible flower, for garnish
Dragon fruit, for garnish
Directions
In the carafe of a blender, add guava shells, pineapple, dragon fruit puree, ¼ oz lime juice, agave, tequila, and triple sec and 1- 1 ½ cups of ice. Blend until smooth.
Garnish with lime slices, edible flowers, and dragon fruit
Guava Shells in Heavy Syrup
#61800 | 14.1 OZ.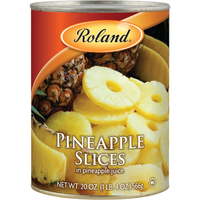 Pineapple Slices in Natural Juices
#64340 | 20 OZ.