Avocado Oil
Roland® | #70654
Our cold-pressed avocado oil has a mild flavor and rich buttery mouthfeel. Thanks to its high smoking point (+500°F), it is ideal for searing and sautéing, but just as delicious used in cold preparations such as salad dressings. Produced in France, Roland® Avocado Oil is packed in a tin which protects its color and aroma.
You May Also Like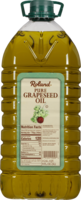 Grapeseed Oil
#70608 | 5 L.

Balsamic Vinegar of Modena
#70540 | 8.45 FL.OZ.
Virgin Liquid Coconut Oil
#86050 | 16 FL.OZ.

Balsamic Vinegar of Modena
#70542 | 16.9 FL.OZ.