Garden Art Focaccia
Difficulty: Easy
A beautiful display of olives, pesto, and bell peppers on top of delicious homemade focaccia. Recipe from @foodie_renee.
Ingredients
6 tablespoons Roland® Olive Oil, divided

4 cups all-purpose flour or bread flour


2 teaspoons kosher salt

2 teaspoons active dry yeast

2 cups water

Bell peppers

Herbs
Directions
Combine the warm water, yeast, and sugar in a small bowl. Put the bowl in a warm, not hot or cool, place until the yeast is bubbling and aromatic, at least 15 minutes

Add flour, salt, and mix with a spatula until a shaggy dough forms and no dry streaks remain

Pour 4 tablespoons extra-virgin olive oil into a big bowl. Transfer dough to bowl and turn to coat in oil. Cover with plastic wrap and chill until dough is doubled in size (overnight)

Coat an 11x11 pan with the remaining olive oil. Using two forks, deflate the dough by releasing it from the sides of the bowl and pulling it toward the center. Rotate the bowl in quarter turns as you deflate, turning the mass into a rough ball. Transfer the dough to the prepared pan. Pour any oil left in the bowl over and turn the dough to coat it in oil. Let rise, uncovered, in a dry, warm spot (like near a radiator or on top of the fridge or a preheating oven) until doubled in size

Preheat the oven to 425 degrees F

When the dough has finished rising, poke very shallow holes into its surface with your fingers, at even intervals. Drizzle the remaining tablespoon of olive oil over the top and add basil pesto

Decorate the top any way you like with veggies, herbs, and whole kalamata olives

Bake in the oven at 425F for 20-25 minutes or until the focaccia bread is nice and golden

Serve with more basil pesto if preferred

Olive Oil
#70626 | 16.9 FL.OZ.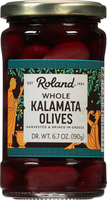 Whole Kalamata Olives - 180/200
#71742 | 6.7 OZ. DW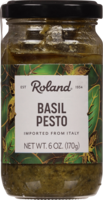 Basil Pesto
#46908 | 6 OZ.