Creamy Mushroom and Spinach Shakshuka
Difficulty: Easy | Makes: 4 Servings
Your new favorite go-to brunch recipe! Discover this creamy mushroom and spinach shakshuka recipe by Swarnika Prakash.
Ingredients
4 large eggs
4 tablespoons olive oil
1 yellow onion, diced
4 cloves garlic, minced
6 ounces baby spinach
3/4 cups heavy cream
2 tablespoons Roland® Sun-Dried Tomato Pesto
1/2 cup grated parmesan cheese
Salt and pepper to taste
Directions
Place the dried mixed wild mushrooms in a bowl. Pour enough hot water to cover it and let soak for 5 minutes. Transfer the mushrooms onto paper towels and pat dry
In a large skillet, heat 2 tablespoons olive oil. Over medium – high heat, add the mushrooms and cook stirring occasionally for 2-3 minutes until mushrooms are browned. Transfer to a bowl and keep aside
In the same pan, heat the remaining 2 tablespoons oil and stir fry the onions until translucent. Add garlic and cook for another 30 seconds
Add spinach and a sprinkle of salt and cook covered for 2-3 minutes to wilt the spinach
Add sundried tomato pesto and heavy cream and mix. Add the stir-fried mushrooms and salt and pepper to taste. Cook for 2-3 minutes until the cream is slightly thickened
With the back of a spatula, make wells in the spinach and crack 4 eggs in these wells. Sprinkle parmesan all over and cook covered for 5-8 minutes over medium-low heat depending on how you like your eggs. Serve with toast and enjoy!
Find Swarnika on Instagram @swarnika_!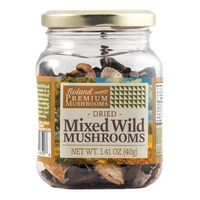 Dried Mixed Wild Mushrooms
#44850 | 1.41 OZ.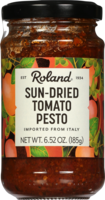 Sun-Dried Tomato Pesto
#46870 | 6.52 OZ.