Glaze made with Balsamic Vinegar of Modena
Roland® | #70412
Balsamic Vinegar was born in Italy nearly ten centuries ago. This sweet and tart vinegar is made from cooked grape must, which lends the vinegar a beautiful dark color. Balsamic glaze is produced with authentic Balsamic Vinegar of Modena, thickened to the ideal consistency. Try drizzling it on salads, grilled vegetables, and even ice cream or fresh strawberries.
You May Also Like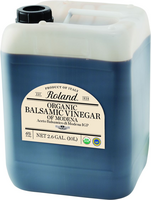 Organic Balsamic Vinegar
#70458 | 2.6 GAL.

French Red Wine Vinegar
#70530 | 16.9 FL. OZ.
Traditional Balsamic Vinegar of Modena Aged 25 Years
#76318 | 3.38 FL. OZ.
Balsamic Vinegar of Modena
#70568 | 33.8 FL.OZ.