Strawberry Fig Bars with Toasted Quinoa Almond Crust
Difficulty: Easy | Makes: 8-12 Servings
Sweet and jammy with a deliciously nutty crust! This strawberry-fig bar recipe by Phillip Fryman is the perfect sweet summer treat.
For the Crust
For the Strawberry Fig Jam Topping
1/2 cup Roland® Fig Jam (get the Fig Jam on Amazon)
2 cups strawberries, roughly chopped
2 tablespoons honey
1 tablespoon lemon juice
1/4 cup sugar
1 tablespoon cornstarch
Directions
Pre-heat oven to 350 degrees F. Grease an 8x8 pan and set aside
Combine the white quinoa, almond flour, and 1/2 of the oats in a food processor
Process for about 1 minute, until the quinoa is well-ground
Add the remaining oats, sugar, syrup, butter, vanilla, and a pinch of salt
Pulse for 30 seconds or so until it comes together. Press into a greased pan
Bake at 350 F for 20-25 minutes, remove and cool
Add all of the topping ingredients (note -- NOT the fig jam) to a bowl and mix well
Transfer on top of the crust
Add dollops or pipe fig jam on top of the strawberry topping
Return to oven and bake at 350 F for 30 minutes, turning halfway through
Cool completely, cut into squares, and enjoy!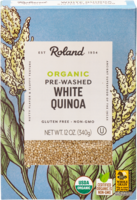 Organic White Quinoa
#72683 | 12 OZ.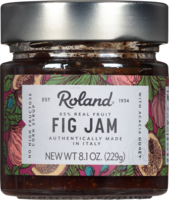 Fig Jam
#65603 | 8.1 OZ.