Dijon Mustard with Provençal Herbs
Roland® | #70290
Roland® Dijon Mustard is produced from ground black mustard seeds and contains added herbs typical of Provence for a distinctive flavor. The texture is smooth and the yellow color is speckled with dark herbs.
You May Also Like

Oyster Flavored Sauce
#87030 | 7.03 FL.OZ.
Green Jalapeño Pepper Purée
#45732 | 15 OZ.
Roasted Red Pepper Purée
#45706 | 28 OZ.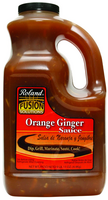 Fusion Solutions® Orange Ginger Sauce
#33006 | 9.7 LB.