Sherry Wine Vinegar
Don Bruno® | #70554
Don Bruno® label sherry wine vinegar by American Roland® results from the acetic fermentation of sherry wine from the Jerez de la Frontera region, Spain. This delicate, yet full-bodied vinegar is aged in oak barrels by traditional methods. Tawny golden color and sweet sherry flavor and aroma.
You May Also Like

Garlic Infused Oil
#70694 | 6.25 FL.OZ.

Organic Balsamic Glaze
#76326 | 5.07 FL. OZ.

Black Truffle Oil – Extra Virgin Olive Oil with Black Truffle Pieces
#70665 | 3.38 FL.OZ.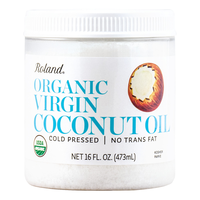 Organic Virgin Coconut Oil
#86060 | 16 FL.OZ.