Garlic Sesame Seeds
Roland® | #82456
Roland® Garlic Sesame Seeds are small sesame seeds with a light tan color. They have a prominent rich and nutty sesame flavor with savory garlic undertones.
You May Also Like
Dukkah Spice Blend
#75058 | 16 OZ.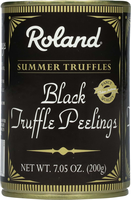 Black Scorzoni Summer Truffle Peelings
#46170 | 7.05 OZ.
White Truffle Cream
#46562 | 9.8 OZ.

Green Peppercorns in Vinegar
#70350 | 3.55 OZ.