Garlic Sesame Seeds
Roland® | #82456
Roland® Garlic Sesame Seeds are small sesame seeds with a light tan color. They have a prominent rich and nutty sesame flavor with savory garlic undertones.
You May Also Like

Roasted White Sesame Seeds
#82440 | 16 OZ.
Sriracha Sea Salt
#70889 | 25 OZ. DW.

Black Sesame Seeds
#84240 | 16 OZ.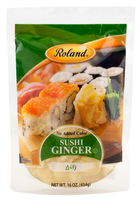 Sushi Ginger with No Added Color
#60370 | 16 OZ.