Demerara Rough Cut Sugar
Roland® | #70834
Roland® Rough Cut Demerara Sugar is a product of Mauritius where high-quality sugar cane has been cultivated for the past 300 years. Demerara sugar is a raw sugar without further refining. Its characteristic coarse crystals have a unique aroma and taste, and a distinctive golden color.
You May Also Like
Mini Bouchées Pastry Shells
#71030 | 480 Count
Rough Cut White Sugar Cubes
#70842 | 17.6 OZ.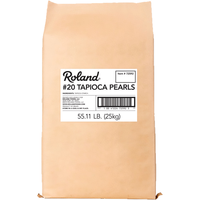 Tapioca Pearls
#72592 | 55.11 LB.
Dutch Process Cocoa Powder
#77240 | 5 LB.