Black Truffle Oil – Extra Virgin Olive Oil with Black Truffle Pieces
Roland® | #70666
Roland® Black Truffle Oil with Truffle Pieces has a golden color and has an intense, earthy flavor. Only a few drops are necessary to infuse dishes with a tantalizing truffle aroma.
You May Also Like
Special Reserve French White Wine Vinegar
#70536 | 16.9 FL.OZ.

Diamond-Quality Balsamic Vinegar of Modena
#70558 | 8.45 FL.OZ.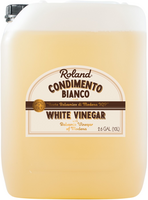 Condimento Bianco with Balsamic Vinegar of Modena
#70492 | 10 L
Organic Balsamic Glaze
#76328 | 12.84 FL.OZ.