White Truffle Oil
Roland® | #70663
Roland® White Truffle Oil with White Truffle Pieces and Artificial Flavor has a pale golden color and a subtle yet heady truffle flavor. Only a few drops are necessary to infuse dishes with a tantalizing truffle aroma.
You May Also Like

Organic Balsamic Glaze
#76326 | 5.07 FL. OZ.

Hazelnut Oil
#70624 | 8.45 FL.OZ.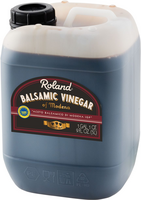 Balsamic Vinegar of Modena
#70600 | 5 L.
Sherry Cooking Wine
#70706 | 55 GAL.