Product Spotlight
Tinned Fish Is In: The Tinned Fish Pantry Guide
Tinned fish is trendy, but we consider tinned fish pantry staples. From sardines to anchovies, these flavorful proteins are so versatile. Learn all about tinned fish and how to use it here.

TINNED FISH, THE NEW GOURMET
A quiet revolution is afoot in the aisles of your grocery store. In years past, tiny tins crammed with oil-packed ingredients were hardly deemed "gourmet" by most home cooks. Tinned sardines seemed synonymous with sad singlehood, or worse, bad taste. But a recent surge of awareness about these preserved goodies—and an uptick in quality, design-forward tinned fish —has brought them back to the fore. Certain tinned foods like pungent anchovies, tender mackerel, smoked mussels, and more are no longer considered ingredients non grata by cooks in the know. On the contrary, they're required components to any properly stocked pantry.
Need more convincing?


Nothing in the fridge? Sardines have you covered.
Tinned fish has a wonderfully long shelf life, meaning that you can stockpile a bunch of your favorites without worrying that they'll go bad before you have a chance to use them. On nights when you're not in the mood to run to the grocery store, sardines are here to save the day: Just toast a few slices of bread, slather them with good mayo or butter, and top them off with a few sardine fillets. A sprinkle of whatever tender herbs you have around—cilantro, parsley, dill, what have you—and you've got yourself a surprisingly sophisticated supper.
Need a flavor punch? Add some anchovies.
There are many, many amazing things about anchovies—their depth of flavor, their wonderful brininess, their soft texture, and so on—but the most appealing attribute of these tiny fish might be their versatility. Anchovies add a deeper level of complexity to any dish, without turning the overall flavor fishy (we know you were wondering). If you don't believe us, mash some anchovies together with garlic, rosemary, and sea salt, then slather the whole mixture over a marbled roast of beef. The resulting dish will boast the exact right balance of salt, fat, and savory that, we assure you, will win over even the most noted anchovy-haters.
Anchovies vs Sardines:
Can you tell the difference between these small and salty tinned fish? Anchovies and sardines are both versatile small fish found in oceans worldwide. The two offer an abundance of protein, healthy fats, and vitamins, but differ in many other ways.
Anchovies belong to the herring family, and on average, are smaller than sardines. When tinned, you will most likely find anchovies skinless, and broken down into fillets. Ancient methods of preserving anchovies involved tinting them with salt brine, which gives them a pungent and assertive sort of umami flavor. These are what you will find in Caesar dressing, and other dishes that will balance their strong flavor. Unlike the sardine, anchovies are easily "melted away" into dishes, and may only be noticeable by flavor (Healthline).
Sardines are the larger of the two, and typically packaged whole with their heads still intact! These fish offer a much milder taste than anchovies, making them more versatile and applicable to a variety of dishes. Sardines are mostly found preserved in oil, giving them a flakey texture and slightly buttery taste. Their size makes the meatier and denser than anchovies, and their skin can easily be removed after brining (Healthline).
Roland Foods offers a wide variety of Sardine and Anchovy products, check them out!
Like pretty things? The packaging makes a statement.
There is something to be said about food that doesn't just taste good, but looks good, too. Such is the case for quality tinned food packaging. As these foods have become more trendy, their packaging has followed suit. For example, check out the two-toned, high-design packaging of Roland Foods' sardines. Finally, tinned fish packaging you won't be embarrassed to show your dinner guests!
Unsure how to use tinned fish? Take notes from the pros.
On-trend chefs all over the country are using tinned food in their restaurants. Just look at Hayden in Los Angeles. Here, open tins of "conservas"—that's Spanish for "preserves"—are served alongside a platter of house-made pickles, which depending on the time of year, might include briny watermelon radishes, lemon cucumbers, or even watermelon rinds. A fat hunk of salted butter, slices of crusty baguette, and a mustardy gribiche sauce finish off the platter. Meanwhile, at Achilles Heel in Brooklyn, anchovies are a key ingredient in the anchovy-almond vinaigrette, which anoints the escarole and roasted beet dish. And on the menu at Boston's Saltie Girl are more than 60 different kinds of tinned seafood, from Costa Rican tuna fillets swimming in spring water to cod liver from Iceland. They're served with artisanal bread, house-churned sea salt butter, and a bright Spanish piquillo jam. Delicious!
Of course, the best way to be convinced that tinned fish is the real deal is to actually try it. Go ahead, you'll be glad you did.
8 TINNED FISH ROLAND FOODS® PRODUCTS YOU SHOULD HAVE IN YOUR PANTRY
Let's face it, there are days when you arrive home after a long day at work, the refrigerator is empty, and your stomach is grumbling. That's when an expertly stocked pantry is most essential, enabling you to whip up satisfying and delicious dishes on the fly. Of course, knowing what you actually need is the first step. With these eight tinned fish products, you're on your way to a properly stocked pantry. Sardines in Olive Oil
These hearty fillets are the perfect dinnertime fix when the idea of ordering in pizza for the third time in one week seems downright unappealing. Pile olive oil-slicked sardines atop a crusty piece of toast accented with thin strips of pickled carrot and onion. Alternatively, chop up a few sardines and toss them into a pot of al dente linguine and envelope the whole thing in a garlicky tomato sauce.
Flat Fillets of Anchovies in Olive Oil
There is very little these umami-rich fillets won't improve. Blitz a few of them into a tangy salad dressing for a hit of salt, or mash them into a paste and stir into a rich tomato sauce to deepen its flavor. Other options: Rub a mash of anchovies onto a standing roast, eat them on buttered-slathered toasts, or, if you're really craving a salt bomb, enjoy them straight from the tin (judgement free!) Smoked Anchovies in Oil
Everything you can do with regular anchovies, you can do with smoked anchovies. But the flavor is subtly—but importantly!—different. Unlike regular anchovies, smoked varieties are brined rather than salted, then cold smoked to lend the fillets a smoky flavor. Use the smoked version when you're in the mood for barbecue flavors.
Smoked Baby Clams in Oil
Add these little guys, oil and all, to a plate of steaming hot spaghetti dressed with lemon juice and sautéed garlic. They're also great on, you guessed it, toast. Smoked Herring Fillets in Oil
Herring are very similar to sardines, and you can enjoy them all the ways you might prepare sardines: on toast, in pasta, straight from the can, sautéed over a bed of rice, and so on. They tend to be overlooked, however, because many people hear the word "herring" and think of pickled herring, which can have a strong flavor that some find off putting. Rest assured though, smoked herring is much milder with a light and flaky texture.
Smoked Sprats in Oil
These tiny fish are a popular snack in Russia and the Baltic states, often layered on dense black rye bread slathered with butter or mayonnaise and topped with thinly sliced raw onions. When prepared this way, sprats are best (or most authentic, at least) when chased with a shot of vodka! Alternatively, throw them on top of your regular avocado toast—trust us, it works.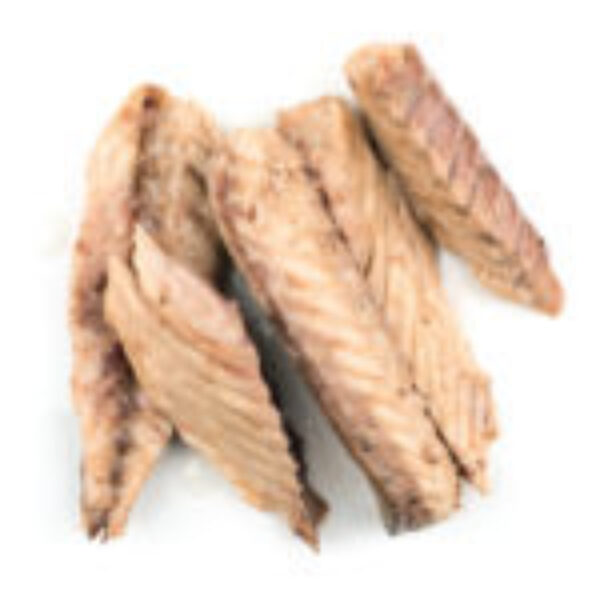 Skinless & Boneless Mackerel Fillets in Soybean Oil
Fresh mackerel can sometimes have an unpleasantly fishy flavor, but this canned variety is mild. Chop up a few fillets and sub them in for tuna in an elevated salad nicoise, or whip up some elegant hors d'oeuvres with crackers topped with mackerel, cubed cucumber, and creamy horseradish sauce.
Smoked Rainbow Trout Fillets in Olive Oil
These pale pink fillets have their skins intact, which bumps up their flavor considerably. The silvery skin is also an attractive sight, making them great add-ons for elegant cocktail party fare like crostini drizzled with green goddess dressing or shot glasses of chilled green gazpacho.​ 5 ELEGANT WAYS TO SERVE TINNED FISH ALL YEAR ROUND
Throwing a party requires time and resources, which is why tinned fish products —anchovies, sardines, and more—deserve a place on your table. Prepared thoughtfully, these preserved items will more than satisfy your guests. They might even steal the show. Need ideas? Here are five ways to make tinned fish shine at any festivity.
Ready to take a dive into tinned fish?