December 16, 2022 | Food Trends
---
Roland Foods' 2023 Fine Foods Industry Trends & Predictions Guide
---
As another year ends, we reflect on the past and passionately look forward to creating and inspiring in the new year. With over 85 years of food industry experience, we embrace the importance of innovation and truly believe in the value creation for operators and consumers. Roland Foods is excited to celebrate and share the greatest trends in food, dining, and retail in our 2023 trends and predictions guide.
In this Guide:
Global Flavors and New Fusions – Indian and African Cuisines Gain Momentum Among the Masses. Unique Cuisine Crossovers Inspire.
Trending Ingredients – The Year of Umami. Plant-Based Seafood Alternatives. Global Peppers.
Moving Forward in the Restaurant Industry – Experiential Dining. Tech Takeovers. Tables for One. Robust Loyalty Programs.
Read on for all our 2023 trend predictions!
Prefer a PDF version? Get the digital version here.
Global Cuisine Trends and Crossovers
An Emphasis on Indian Cuisine
Heat is still hot! As we predicted early in the year, the online search for spicy food was strong in 2022. We anticipate this focus will shift slightly in 2023 to a concentration on spices, with Indian ingredients and spice blends taking center stage.
Spices like coriander, Turmeric, and masala blends are essential to Indian cuisine and are incorporated in breakfast, lunch, dinner, snacks, desserts, and even beverages.
We predict that interest in Indian dishes will gain momentum in 2023. Butter Chicken and Chicken Tikka Masala are already viral on social media, with many users on TikTok documenting their experiences trying the the classics for the first time. The hashtag #indianfood has over 6 billion views on the platform! Google Searches for "Indian Cuisine" are on the rise, as well as searches for specific dishes like Tikka Masala, Vindaloo, and Korma.
At Roland Foods, we've seen an increased interest in our Indian Products; in particular, we've seen a 45% increase in orders for large format Tikka Masala Curry Sauce from 2021 to 2022, demonstrating that restaurants are further adopting Indian flavors.
As consumer interest in Indian cuisine grows, we predict a stronger focus on authentic dishes from different regions. Each region has developed its own culinary style, meaning there are endless recipes, flavors, and ingredients to try!
Indian Ingredient Glossary
Tikka Masala: One of the most recognizable Indian dishes in the U.S., Tikka Masala consists of pieces of chicken cooked in a tandoor that are then added to a tomato-based cream-curry sauce (Britannica). And while it is a favorite of many in the United States, it is perhaps even more popular across the pond, where it is often referred to as the national dish of England. The origins of this dish are unclear–some believe that it was created by a Bangladeshi chef after he moved to Britain, while others believe it was derived from multiple different adaptations of Butter Chicken.
Hungry for Chicken Tikka Masala? Get our ready-to-use Roland® Tikka Masala Curry Sauce
Vindaloo: The origins of Vindaloo can be traced back to the colonial era in Goa, a state on the Southwestern coast of India. The dish is a result of colonization and assimilation, which is seen in its ingredients and flavors. While many think it is original to India, it was actually derived from the Portuguese dish carne de vinho e alhos (meat marinated with garlic and wine), adapted when Portuguese explorers came to India the early 15th century. This curry is characterized by intense flavors of heat and vinegar, and is even referred to as the "King of Curries" (SCMP).
Ready to try Vindaloo Curry? Discover our Roland® Vindaloo Curry Sauce
Korma: Korma, originally spelled Quorema or Kurma, was a favorite of many rulers during the Mughal Empire (16th- 19th centuries) in India. This classic north-Indian dish made with yogurt, ginger, coconut milk, whole black cardamom, and coriander has a mild heat and rich yellow color. Ghee (clarified butter), which is a staple ingredient in Indian cuisine, is a critical component in Korma recipes (Dawn).
Discover our Roland® Korma Curry Sauce
Chutney: Originating in the Indian subcontinent, chutneys can be traced back to 500 BC. Chutneys are a simple formula of slow cooking sugar, vinegar, spices, and fruits or vegetables together for a few hours until it takes on a jam-like consistency (How To Make Dinner). This ancient method of preserving food has been adopted by many other traditions and can be seen all over the world. Chutneys are varied and can be made sweet or spicy and served with many different dishes. Perhaps one of the most famous chutneys is Mango Chutney, which is a topping or glaze that lends complex sweetness to a meal (Reluctant Gourmet).
Check out our assortment of Roland® Chutneys!
Want to explore more? We have highlighted some of our most popular Indian Cuisine ingredients in a Product Spotlight and check out our full Indian Cuisine Guide!
African Flavors Garner Attention
Like Indian Cuisine, we predict that African flavors will begin their rise to the top of the "on trend" food chain. Like the Indian food TikToks, social media content for African food has also begun to surface. And Google Searches for African food have grown tremendously, even just within the last 12 months. The large continent features many different cuisines and recipes specific to each region. A West African dish called fufu is gaining traction on TikTok, with over 1.6 billion views. Traditionally, fufu is made from cassava root and green plantains, but recipes will vary based on country or region. This side dish has a doughy and fluffy texture and is eaten in tandem with soups and stews, as its consistency is great for soaking up flavor (African Bites).
Cuisine from the continent varies by country and geographical region, making each dish unique. A few popular regional dishes include Koshari, Alloco, and Koki. Koshari, which is from Egypt, is a mixture of rice, lentils, and pasta, topped off with a spicy tomato-based sauce, chickpeas, and fried onions. Alloco, from Côte d'Ivoire, is a snack made of fried plantain with chili pepper, egg, and a tomato sauce. Koki, a bean cake appetizer from Cameroon, is made from mashed peas then wrapped in banana leaves and steamed (Demand Africa).
A report from Innova Market Insights via Food Processing concluded that global flavors are on the rise. Consumers are eager to try new cuisines, mirroring a 65% growth rate in food and beverage products that highlight global ingredients.

African Ingredient Glossary:
As palates expand and consumer trends catch on further, we predict an increase in African flavors, both on restaurant menus and retail shelves in 2023.
Cuisine Crossovers Become More Creative
Crossovers between different global cuisines, often referred to as fusions, have been around for years, but today we are seeing more unique and unexpected mashups. 74% of people say they love to discover new flavors (Innova). Chefs are already experimenting with unexpected flavors and ingredients, and 2023 will only increase that culinary exploration. Geographical cuisines will continue to meld in fresh new ways, resulting in a new merge of interesting flavors.
Some exciting combinations that have garnered recent attention include Japanese-Italian (known in Japan as "Itameshi"), Mexican Soul Food, Korean-French Pastry, and Thai-Tex Mex.

When it comes to culinary crossovers in 2023, prepare to be amazed - and hungry! Think combinations like Southern Fried Chicken Bao Buns, Mediterranean Ramen Bowls, and Lox Sushi Bowls.
Did You Know: The ethnic food market size is expected to expand at a compound annual growth rate (CAGR) of 10.33% from 2021 to 2028.
As a global fine foods brand, we encourage you to explore our unique portfolio of globally sourced items and discover what you can create by leveraging ingredients from different parts of the world.
Love cuisine crossovers? Check out our recipes for:
Trending Ingredients
A great dish is dependent on great ingredients. We break down the top ingredients that we think will have a moment in 2023 based on their versatility, health benefits, culinary usage, and overall impressive flavors.
Flavor Profile of the Year: Umami
Umami flavor is becoming increasingly popular again. Identified as the distinct fifth taste in 1990, the term "umami" directly translates to "essence of deliciousness" in Japanese and the flavor is usually described as meaty and savory (Ajinomoto). Umami flavors had a moment in the early 2000s, but are trending again in exciting new formats and applications - from beverages to desserts. Ingredients that naturally have umami flavor, like miso and mushrooms, will soar in the coming year!
Mad for Miso
In the past year alone, we've seen a 20% increase in sales of our Roland® White Miso Paste and expect those numbers to continue to climb in 2023. The umami-forward ingredient provides a great depth of flavor, even with only a small amount added to a dish. Experimentation with miso will evolve in 2023, and you can expect to see it incorporated in new ways, including interesting dessert and cocktail applications.
Are you already mad for miso? You'll love our Miso Roasted Carrots with Black Truffle Crema.
A Mushroom Boom
Mushrooms are staple ingredients in umami-centered dishes. Did you know that there are over 10,000 species of mushrooms? With that many varietals, there is of room for experimentation with flavor, texture, preparation, and appearance. Some species can even mimic the texture of meat, making them a favorite for those on a plant-based diet.
Mushrooms also offer a plethora of health benefits including gut and digestion support! With all these perks, it's no wonder mushrooms can be found on 80% of restaurant menus (Exploding Topics).
When it comes to the Roland Foods assortment, we've seen significant increase in demand for several mushroom products over the past two years, from dried varieties to canned button mushrooms. We expect to see even more interest in mushrooms this year.
See our Roland® Mushroom Selection here.
Plant-Based Seafood Alternatives

Jackfruit and Hearts of Palm are already popular vegetarian ingredients. Their textures make them ideal for imitating popular meat-based proteins (Check out our recipe for Jackfruit "Chicken" Salad). But, have you considered using them as seafood alternatives? We predict that the conversation around plant-based ingredients as seafood replacements will advance in 2023.
The demand for seafood alternatives is rising, with environmental concerns and the rapid depletion of global fish stocks driving interest (Future Marketing Insights). Both jackfruit and hearts of palm can easily be used to make convincing and tasty seafood alternatives - think jackfruit crab cakes or hearts of palm calamari.
New research suggest that the plant based seafood industry will reach a net worth of over $95 billion in 2029, and will grow at CAGR of 12.4%. As jackfruit and hearts of palm are two versatile ingredients for faux fish, we are confident you'll see them pop up more on restaurant menus in the coming year.
The possibilities for plant-based alternatives are endless and stretch beyond just these two ingredients. Have you heard of vegan caviar? A little couscous in a salty brine will mimic the sophisticated appetizer.
Interested in exploring more veggie options? Check out our assortment of Roland® Vegetables.
Global Peppers
Peppers are bringing the heat this year, and we expect to see a greater variety of peppers hit the mainstream. Some of our favorites are:
The Calabrian Chili Pepper: Grown in the tip of the boot of Italy, these peppers get their unique flavor from the Mediterranean climate. Calabrian chili peppers offer notes of smoke and spicy flavors and are used as condiments or toppings. We love Calabrian chili peppers because of their versatility—even though they are Italian peppers, they can easily be used in other cuisines.
The Rocoto Pepper: Found from Columbia to Chile, in Central America and Mexico, these peppers are similar in heat to a jalapeno pepper, but their spice will vary. The rocoto pepper is a staple in Bolivian and Peruvian cuisine and can also be found in many hot sauces and salsas.
The Piri Piri Pepper: This pepper is native to South America, but for centuries has had a massive presence all throughout Africa. These peppers are sought after by many and are well known within the foodie world. The piri piri has serious spice, but if prepared properly, can offer amazing flavor and balanced heat. In many cuisines and cultures, the piri piri is incorporated in marinades for different proteins.
The Aji Pepper: A versatile pepper that comes in a variety of colors, flavors, and levels of heat, this chili is more commonly referred to as the Peruvian hot pepper. There are many ways to use these peppers, but one delicious method is blending them into sauces!
The Sichuan Pepper: The first thing to know about Sichuan peppers is that they are not actually peppers at all! Sichuan peppers are peppercorn berries from the prickly ash tree. These peppercorns are interesting in many ways, but perhaps the most fascinating is the way they present their heat--they will not burn your tongue or feel fiery on the palate, instead offering a similar sensation to drinking a carbonated beverage. It is common to feel a tingling sensation on your tongue and lips when eating a Sichuan.
Care to pick a different pepper? Explore our selection of Roland® Pepper Products. And take a look at our exciting innovation item, Roland® Spicy Chili Onion Crisp.


Moving Forward in the Service Industry
Experiential Dining
The restaurant industry was hit hard by the pandemic in 2020 and 2021. During this time, home cooks were inspired to get crafty in the kitchen, as we saw an increase in home entertaining and people testing their culinary skills. 25% of Americans said they were more inclined than before the pandemic to host at home, and 50% said they were hosting at least once per week (Tasting Table).
Similarly, as we continue in the post-pandemic world, consumers have a different outlook on the concept of dining out. Many who were unable to dine in restaurants during the height of the pandemic are now craving more elevated dining experiences. Restaurants that offer memorable experiences, inclusive of more than just the food, will fill seats across the country. Diners are seeking new and exciting restaurant concepts to make these occasions more purposeful. From themed brunches to tableside cocktail experiences, restaurants across the country are innovating to impress guests. Prepare to see more unique restaurant concepts and exclusive dining experiences in 2023.
Some restaurant concepts that piqued our interest:
Miladys- New York, NY: A former dive bar turned upscale cocktail lounge, Milady's is a decades old New York establishment that was closed in 2014 and recently reopened as a cocktail bar. The establishment boasts a fresh bar menu and food selection that pays homage to its storied past. With Julie Reiner at the helm, new cocktail menu additions include Jell-O shot clamshells and a Big Apple martini.
Ultraviolet Shanghai: The first multi-sensory dining experience in the world, Ultraviolet fosters a controlled atmosphere where food is enhanced by sight, sound, and smell. All diners sit together at one 10-top table and the dining room is equipped with high end sensory technology. Each course is accompanied by lights, sounds, music and even scents!
The Stinking Rose- San Francisco, CA: The spot for all things garlic. A fun, upbeat dining experience that incorporates garlic into every dish, even their ice cream! "All you have to do is follow your nose to The Stinking Rose!"
Tech to Elevate the Experience
Incorporating new technology into foodservice also creates an exciting new experience, and we predict we may see more use of augmented reality (AR) and virtual reality (VR) in 2023. Augmented reality is the integration of digital information with the user's environment in real time (Tech Target), while virtual reality is a technological innovation that creates a totally artificial environment, allowing users to enter a simulated environment that creates a vivid, immersive experience (University of Toronto).
Companies like Tom Shoes and Marriott Hotels have been adopting virtual reality technologies to provide consumers with never-been-seen experiences. And augmented reality has been popular with brands as well. Wine brand 19 Crimes leverages AR to give consumers insights into old world crime stories, all the user needs to do is download the app and scan a bottle to access the experience.
We predict the restaurant industry will further explore AR and VR this year. We believe we'll see more usage of VR in upscale fine dining establishments, while AR could be explored in QSR. Some restaurants, like San Jose's iChina, have already ventured into the world of virtual reality to create sensory experiences for guests. We're interested to see how restaurants will continue to bring augmented and virtual reality into the world of dining.
Table For One, Please
As self-care and mental health become increasingly important, the stigma around dining alone is heading out the door. The hashtags #solodate and #diningalone have over 150 million views on TikTok. We predict more restaurants will adapt their seating options and service structures to make dining alone more convenient for their guests.
Did you know there is a week every year dedicated to dining alone? It takes place from February 1st through 7th, and this year we may see an increase in participation, or at least increased awareness about the topic of solo dining.
Think about how your restaurant can better accommodate singular diners and improve the experience. A few options include designated seating areas for solo diners, priority bar seating, and unique forms of entertainment.
Loyalty Programs Get an Upgrade
It's always been important for restaurants to show their appreciation to customers. Loyalty programs allow them to do just that, while encouraging repeat business at the same time. 84% of consumers say they're more apt to stick with a brand that offers a loyalty program (Shopify). The concept of a loyalty program is far from new, but businesses are getting more creative with their offerings.
In 2023, we're confident we'll see more restaurants roll out enticing loyalty programs, increasing unique partnerships and limited time offers. In the wake of a potential economic downturn, purchase savings will be even more important to consumers, too.
Starbucks and Delta are already ahead of the trend, having recently announced a new partnership. The two giants teamed up to combine their loyalty programs, allowing every dollar spent at Starbucks to translate to one Delta mile. In addition, on days you're flying Delta, you get double star rewards at Starbucks—a win-win for the consumer!
In 2023, we predict more foodservice companies will not only create more robust loyalty programs, but also develop strategic, incentive-based partnerships with brands in other industries to sweeten the deal.

What to Watch for in 2023
At Roland Foods, we are always thinking about food and the future, especially when it comes to product innovation and unique culinary concepts. We cannot wait to see what 2023 has in store for the fine foods industry and predict that these three trends will be leading the way. From exciting global flavors to interesting ingredients and elevated dining experiences, there are several ways for restaurants to leave a lasting impression on diners.
As we enter 2023, keep an eye out for fresh flavors, cultural influences, and tons of tech. We can't wait to see what trends you implement.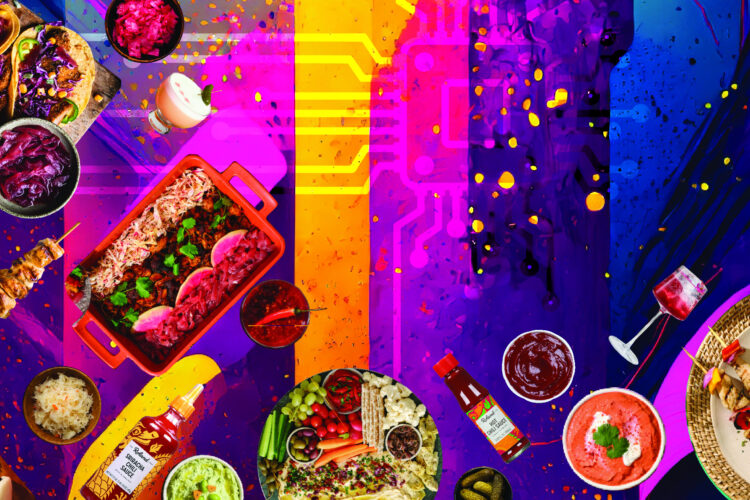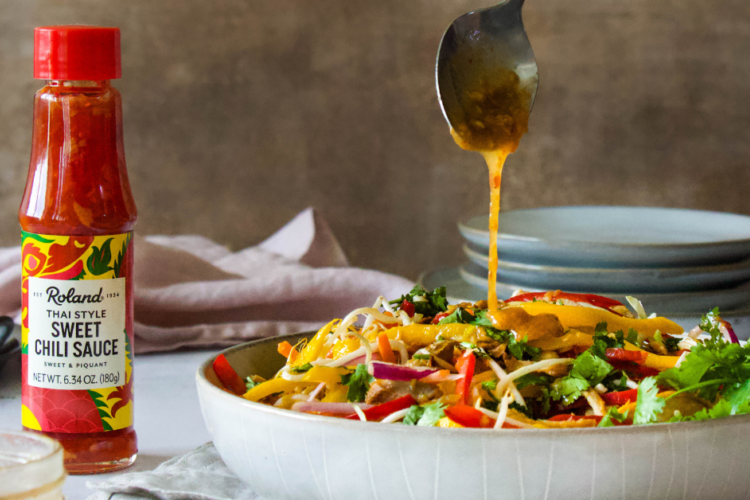 September 11, 2023 | Ingredients 101
---
What is Thai Sweet Chili Sauce?
What is Thai Sweet Chili Sauce? This in-depth guide explores the sauce's origins, suggested applications, and culinary inspiration.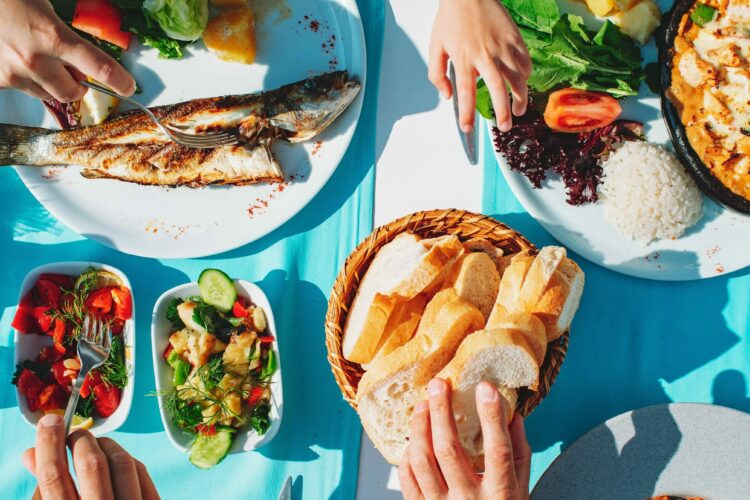 August 03, 2023 | Food Trends
---
The Mediterranean Kitchen | A Guide to Mediterranean Cuisine
Looking to create your own Mediterranean kitchen? In this comprehensive guide on the Mediterranean diet, we explain the method behind the Mediterranean lifestyle, how to follow the cuisine, its proven health benefits, and how it's popping up on restaurant menus across the United States.