Truffled Butternut Squash Soup
Difficulty: Easy | Makes: 5-6 Servings
A comforting and flavorful soup perfect for cold months, this dish by @skillettoplate incorporates our Roland® Organic Black Truffle Oil for a luxurious feel.
Directions
Preheat oven to 400 degrees F
In a baking tray cut the squash into two halves. Scoop out the seeds. Place on a baking tray with the cut sides up. Throw in some garlic and drizzle with olive oil and roast for 50-60 minutes until they are done. Scoop out the squash and set aside
In a stockpot, add some olive oil. Once the oil is heated, add the onions and ginger. Sauté well
Add in the scooped out roasted squash, garlic, and vegetable broth. Bring to a boil
Add all the spices (cumin powder, salt, and pepper) at this time
Cover and let simmer covered for 20 minutes on low heat. Lastly, stir in the coconut milk. Remove from heat and add the black truffle oil
Blend the mixture using a hand blender. Season the soup with lots of black pepper. Adjust the seasonings by drizzling with more black truffle oil or adding more salt or pepper, to taste
Enjoy with crusty bread
*Find Janani on Instagram at @skillettoplate
Organic Black Truffle Oil
#70681 | 3.38 FL.OZ.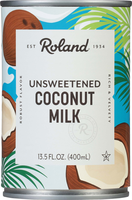 Unsweetened Coconut Milk
#86002 | 13.5 FL.OZ.